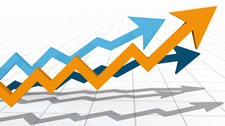 In ironic fashion, a single penny will push US Mint collector gold coin prices higher.
The UHR Gold Double Eagle will increase by $50 to $1,489, the newly released 2009 Gold Buffalo Proof Coins will jump $50 to $1,410 and First Spouse Gold Coins will rise $25 to $729 for the proofs and to $716 for the uncirculated options.
The US Mint uses a London Fix weekly gold average to determine whether to keep gold coin prices the same, or adjust them up or down. An upward adjustment seemed unlikely as the several day average as of Tuesday was well below the $1100 threshold that would trigger them. However, the Wednesday AM London Fix came in higher by over a dozen dollars to $1114.75 an ounce, which was exactly enough to tip the balance.
Had the price been one penny lower, the 5-day gold average would have come in at $1099.99 and prices would have remained unchanged.
It would seem collectors can hardly catch a break of late. Two weeks back when gold prices dipped for several days, 28.8 cents kept price reductions from occurring. Had they, the UHR and Gold Buffalo Proof would have been $100 cheaper than what they will be listed at with the increase.
The following are the figures the US Mint will use to arrive at the $1100 gold average:
London Fix Gold Prices

AM
PM
11/11/2009 – Wednesday
1114.75
–
11/10/2009 – Tuesday
1099.75
1101.50
11/9/2009 – Monday
1108.50
1106.75
11/6/2009 – Friday
1095.00
1096.75
11/5/2009 – Thursday
1088.00
1089.00
As of this writing, prices are still unchanged. The US Mint will normally freeze ordering for the affected products for several minutes and then implement the increases. If the Mint followed its usual time frame, that would have happened before noon ET on Wednesday. When the Mint's gold coin pricing policy was first introduced, adjustments took place on Thursday before noon. That may be what to expect this time since Wednesday is a federal holiday.
The London gold-fixing is a benchmark for gold traded directly between big institutions.
[Editor's update: The US Mint raised the prices of the above mentioned gold coins before noon on Thursday, Nov. 12]