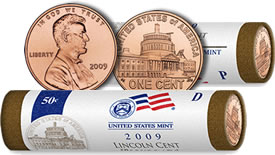 The fourth and final redesigned 2009 Lincoln cent launched in Washington, D.C., on Thursday, Nov. 12. By the following Sunday and according to the latest US Mint sales report, 153,427 of the two-roll sets were scooped up by collectors. Crunching the numbers and moving the decimal point, that is 15.3 million pennies.
During the same initial days following the launch of the previous two pennies, 15.2 million of the third Professional Life cents sold, and 20 million of the second Rail Splitter pennies sold.
In contrast, it took almost two weeks for collectors to purchase 9.6 million of the first 2009 Lincoln Birthplace cents — although these set the demand tone for the next three cents when the Mint unexpectedly stopped selling them. The following table provides the latest sales data for the Lincoln penny rolls.
Read the rest of this numismatic news article »
{ 0 comments }