Starting sales for the 2013 White Mountain National Forest Quarters Three-Coin Set clocked in at the lowest level for any in the series to date.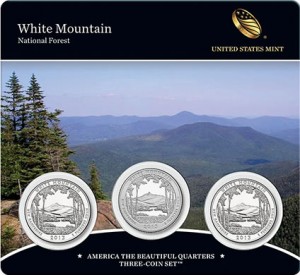 Between its release on Tuesday, Feb. 12 and Monday, Feb. 18, sales reached 9,907 units. The immediate previous release of the 2012 Denali Quarters Three-Coin Set opened with sales of 10,509. This difference is fairly trivial and there was a holiday in the mix with Presidents Day. Plus, the sets are available for a long time and that makes their sales starts less predictive and important to their overall performances.
One of a few United States Mint multi-year products dedicated to one coin program and the only one where collectors can backtrack to place orders for any released, the following table shows debut and current sales for every three-coin set issued.
Sales of 2010-2013 America the Beautiful Quarters Three-Coin Sets
Site Honored
Price
Debut Sales
Latest Sales
2013 White Mountain National Forest
$9.95 each
9,907
2012 Denali National Park
10,509
13,451
2012 Hawai'i Volcanoes National Park
11,074
17,116
2012 Acadia National Park
10,701
16,725
2012 Chaco Culture National Historical Park
10,666
16,422
2012 El Yunque National Forest
11,391
19,501
2011 Chickasaw National Recreational Area
$14.95 each
10,483
14,297
2011 Vicksburg National Military Park
10,727
15,946
2011 Olympic National Park
10,891
15,691
2011 Glacier National Park
10,620
16,731
2011 Gettysburg National Military Park
12,500
19,612
2010 Mount Hood National Forest
11,282
16,445
2010 Grand Canyon National Park
12,418
19,128
2010 Yosemite National Park
11,441
19,424
2010 Yellowstone National Park
11,115
21,912
2010 Hot Springs National Park
10,684
21,233
Every set has three numismatic America the Beautiful Quarters of the specific national park or national site they honor. 2013 White Mountain sets have a 2013-S proof White Mountain quarter, a 2013-P uncirculated White Mountain quarter and a 2013-S uncirculated White Mountain quarter. These coins are held in an attractive and protective card that features an image of White Mountain National Forest in New Hampshire.
Three-coin sets are available online from the U.S. Mint website located here.