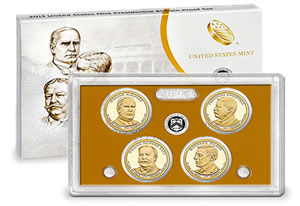 As expected, the newly released 2013 Presidential Dollar Proof Set is the most popular product the U.S. Mint has for collectors right now.
Released Thursday, Feb. 14, the proof set captured sales of 119,765 units by Monday, Feb. 18. At $18.95 per, the U.S. Mint collected nearly $2.27 million through the set's opening days and with one of them being Presidents Day.
While sales were strong and at a level other world mints would consider spectacular, they represent a declining trend for the U.S. Mint. Like other annual products from the bureau, the set's starting sales are weaker than in recent years. The following table provides some comparisons.
Debut Sales of 2010 – 2012 Presidential Dollar Proof Set
Issue
Price
Issue
Date
Debut Sales
Reporting Date
Debut Sales
Ending Sales
2013
$18.95
Feb. 14, 2013
Feb. 18, 2013
119,765
N/A
2012
$18.95
April 24, 2012
April 30, 2012
146,097
249,298*
2011
$19.95
Feb. 22, 2011
Feb. 27, 2011
163,129
299,853
2010
$15.95
Feb. 11, 2010
Feb. 14, 2010
224,426
535,463
2009
$14.95
Feb. 10, 2009
Feb. 15, 2009
82,168
627,925
*The proof set from 2012 would have notched higher ending sales but it unexpectedly sold out. The U.S. Mint apparently capped its mintage at 250,000.
A major reason some collectors hold off on buying a Presidential $1 Coin Proof Set is because the coins in it are also within annual clad and annual silver proof sets that they do order. The clad 2013 Proof Set and 2013 Silver Proof Set launch in March and May.
This year's set includes four proof dollars honoring the 25th through 28th Presidents of the United States. As such, the proof coins feature portraits of William McKinley, Theodore Roosevelt, William Howard Taft and Woodrow Wilson. Each dollar has an "S" mint mark on its edge to denote production at the U.S. Mint facility in San Francisco.
The 2013 Presidential $1 Coin Proof Set may be ordered directly from the U.S. Mint's online store at http://www.usmint.gov/catalog or by calling 1-800-USA-MINT (872-6468).