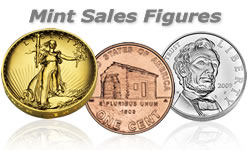 The latest US Mint sales report shows stronger demand for proof and uncirculated sets, higher interest in all silver coins, and opening figures for three recently released products.
In a quick review of the new products:
7,207 of the allotted 8,000 American Platinum Eagle Proof Coins were purchased by collectors in four days. In contrast, the Mint sold 4,769 of the one ounce 2008-dated coins through all of last year. Given that the new eagles are the only platinum option available from the Mint this year — no bullion versions, fractional sizes, etc. — it seems likely they will sell out, and soon.

Northern Mariana Islands quarters in bags and rolls were released on Nov. 30. While the 1000-coin bags are not as strong as the opening numbers for the prior US Virgin Islands quarter, the 100-coin bags and two-roll sets are selling slightly better. Now that collectors have learned that the new quarters have the lowest mintages of any in decades, it would seem logical for short term demand to remain strong.

Margaret Taylor First Spouse Gold Coins went on sale Dec. 3. Opening numbers have the proofs at 1,791 and the uncirculated options at 1,048. They beat the inaugural sales of the September released Sarah Polk First Spouse Coins, which came in at 1,684 and 921.
Read the rest of this numismatic news article »
{ 0 comments }