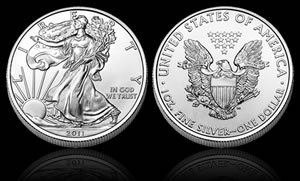 A sluggish final two weeks in December stopped sales of American Silver Eagle bullion coins from reaching 40 million in 2011. But it was close. The all-time Silver Eagle annual sales record finished at 39,868,500.
Having already sprinted past the old annual record back on October 6, the bullion coin series failed to show much excitement in ending the year — November's Silver Eagle monthly total of less than 1.4 million was the worst since July 2008 and December's sales total of just over 2 million was the second weakest of the year. December did show some early spark with most of the Eagle buying activity occurring during the first two weeks, and the month was up 45.2% from November and 13.4% from the same time last year.
Volatile silver prices triggered unprecedented Silver Eagle demand through much of the year as many monthly sales records were also shattered. The seven bolded months in the table below are for record months that were the "best ever" in the series history. And that history dates back to November 1986.
| | |
| --- | --- |
| January | 6,422,000 |
| February | 3,240,000 |
| March | 2,767,000 |
| April | 2,819,000 |
| May | 3,653,500 |
| June | 3,402,000 |
| July | 2,968,000 |
| August | 3,679,500 |
| September | 4,460,500 |
| October | 3,064,000 |
| November | 1,384,000 |
| December | 2,009,000 |
Three types of American Silver Eagles were sold in 2011. One for investors, the bullion coins, and the other two for collectors in proof and uncirculated qualities. Key differences include the finish and the mint mark. Bullion coins lack a special finish and a mint mark. The collector versions have either a proof or uncirculated finish and bear a mint mark denoting where they were produced.
As was the case last year, silver's direction in 2012 will also largely dictate Eagle demand this year. The United States Mint launched its 2012 American Gold and Silver Eagle bullion coins on Tuesday, January 3. Debuting Silver Eagle one-day sales rallied with 3,197,000 taken, which is higher than six of the monthly totals from last year.
Other Gold and Silver Bullion Coins Sold in 2011
In other bullion coins for the year, the United States Mint registered American Gold Eagle sales of exactly 1 million ounces, placing 2011 in seventh place for all-time annual sales. In number of 22-karat Gold Eagles sold, 910,000 were one ounce coins, 65,000 were half ounce coins, 82,000 were quarter ounce coins and 370,000 were tenth ounce coins.
Rounding out gold bullion, the 24-karat American Gold Buffalo reached sales of 174,500. The annual amount was down 16.5% from the previous year's total of 209,000 ounces.
Finally, America the Beautiful 5 Ounce Silver Bullion Coins hit 398,700 during their second year of production. A smaller 165,000 were purchased during the debut year of the series, but then the United States Mint had imposed sharp mintage limits.