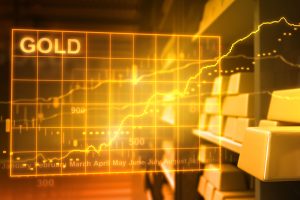 Setting palladium aside, precious metals edged lower on Friday, as both gold and silver retreated from their multi-week highs. Nevertheless, they all achieved weekly gains, with the range extending from nearly 2.5% for gold to over 8% for palladium.
Gold for December delivery shed $2.60, or 0.1%, to settle at $1,984.70 an ounce on the Comex division of the New York Mercantile Exchange. In the prior session, the yellow metal registered its best settlement since Nov. 6.
"There is a strong potential for gold to continue to rally a bit more but prices have to move a bit lower, before the next leg up in the rally and perhaps test $2,000 level at the same time," Reuters quoted Everett Millman, chief market analyst at Gainesville Coins.

"Data that came out this week cemented the fact that the Fed is likely done with rate hikes, helping gold. Gold's move will depend on incoming data and market response to the data."
Gold prices advanced by 2.4% this week after having fallen 3.1% last week. Prior to that, gold had registered four straight weeks of increases that had lifted prices by a total of 8.1%. Year-to-date, the precious metal is 8.7% higher.
Looking to the week ahead, Kitco News offers the following forecasts via their Wall Street vs. Main Street surveys:
"This week, 12 Wall Street analysts participated in the Kitco News Gold Survey. Like last week, three experts, or 25%, expected to see higher gold prices next week, but this week only one expert, representing 8%, predicted a drop in price. The overwhelming majority, or 67%, were neutral on gold for the coming week.

Meanwhile, 595 votes were cast in Kitco's online polls, and market participants were even more optimistic than they were in last week's survey. 394 retail investors, or 66%, looked for gold to rise next week. Another 125, or 21%, expected it would be lower, while 76 respondents, or 13%, were neutral on the near-term prospects for the precious metal."
Elsewhere, silver for December slipped by 8.1 cents, or 0.3%, closing at $23.852 an ounce. On Thursday, silver marked its best settlement since Sept. 1. Silver priced jumped by 7.1% this week after falling 4.3% last week. They are 0.8% lower on the year to date.
In other precious metals, both on Friday and for the week:
January platinum ended down $1.10, or 0.1%, to $901.70 an ounce, resulting in a weekly gain of 6.6%.

Palladium for December delivery rose by $9.30, or 0.9%, to $1,058.90 an ounce, padding its weekly increase to 8.2%.
When evaluating their performance from the start of the year to the present, platinum has registered a decrease of 16.7%, while palladium has experienced a more substantial loss of 41.1%.
US Mint Bullion Sales in 2023
U.S. Mint bullion sales last changed on Thursday, and those gains were the second for this month. Advances included 18,500 ounces in American Gold Eagles, 1.083 million ounces in American Silver Eagles, and 6,500 ounces in American Gold Buffalos.
The table below presents a breakdown of U.S. Mint bullion products sold, with columns indicating the number of coins sold (not total ounces) during different time periods.
US Mint Bullion Sales (# of coins)
Friday
Last Week
This Week
August
September
October
November
2023 Sales
$50 American Eagle 1 Oz Gold Coin
0
7,000
15,500
78,000
27,500
97,000
22,500
891,500
$25 American Eagle 1/2 Oz Gold Coin
0
1,000
3,000
2,000
13,000
7,000
4,000
99,000
$10 American Eagle 1/4 Oz Gold Coin
0
4,000
6,000
2,000
30,000
18,000
10,000
192,000
$5 American Eagle 1/10 Oz Gold Coin
0
0
45,000
150,000
40,000
30,000
45,000
650,000
$50 American Buffalo 1 Oz Gold Coin
0
3,500
6,500
19,500
18,500
36,500
10,000
377,500
$1 American Eagle 1 Oz Silver Coin
0
356,000
1,083,000
3,124,000
2,970,000
3,938,000
1,439,000
23,286,000
$100 American Eagle 1 Oz Platinum Coin
0
0
0
0
0
0
0
12,700