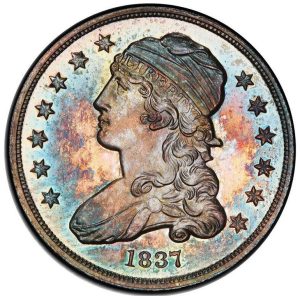 Friday, Nov. 3, marked a wrap on Regency Auction 61. The team at LRCA (www.legendauctions.com) could not be happier with both the turnout and performance of this auction. Numerous coins sold for record prices, and collectors and dealers alike got a chance to get their hands on some incredible pieces.
Just a small handful of the highlights from this auction include:
Lot 40: 5C 1913-s TYPE 1 PCGS MS66+ CAC realized for $4,230.
Lot 45: 5C 1916-S PCGS MS67 CAC realized for $32,250.
Lot 54: 5C 1935-S PCGS MS67+ CAC realized for $8,812.
Lot 64: 5C 1915 PCGS PR68 CAC realized for $31,725.
Lot 84: 25C 1806 BROWNING 10 PCGS MS64 CAC realized for $58,750.
Lot 99: 25C 1835 PCGS MS64+ CAC realized for $12,337.50.
Lot 101: 25C 1837 PCGS MS67 PL CAC realized for $282,000.
This is beyond a world record. No 1837 has realized for even half this.
Over 30 bids were placed on this lot, with half of them coming in during live bidding.
Lot 115: 25C 1917 TYPE 1 PCGS MS64 FH realized for $3,760.
Lot 186: $1 1893-S PCGS XF45 CAC realized for $17,625.
Lot 226: $10 1893 CACG PR65+ DCAM realized for $135,125.
Lot 254: 50C 1926-S OREGON PCGS MS67+ CAC realized for $8,225.
Work has already begun on photographing and prepping Regency 62 to prepare for auction at the PCGS Members Only Show in Las Vegas, NV on December 7th. Legend will be at the Whittman Expo, November 8-11, with select highlights from the upcoming auction.
Legend is now accepting consignments for Regency Auction 63, which will take place early next year at the PCGS Members Only show in the city of Brotherly Love, Philadelphia.