In time for gift-giving this holiday season, the United States Mint today at noon ET will begin offering the 2022 American Women Quarters Ornaments for sale to the public.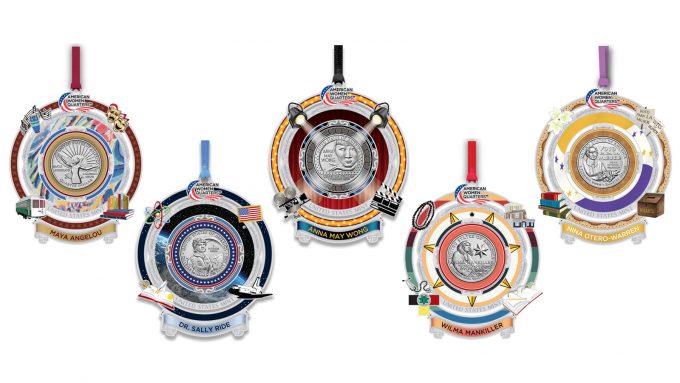 The products are the newest issues from the U.S. Mint's American Women Quarters™ Program and feature each of the 2022 released quarters in their own ornament. Pricing will be $30.95 per piece with a product limit of 5,000 each.
Found at the center of every ornament is an uncirculated quarter from the Philadelphia Mint featuring one of five women honored in the series this year:
Maya Angelou – celebrated author
Dr. Sally Ride – physicist and first American woman in space
Wilma Mankiller – first female Principal Chief of the Cherokee Nation
Nina Otero-Warren – a leader in New Mexico's suffrage movement
Anna May Wong – first Chinese-American film star in Hollywood
Each ornament is hand-crafted in solid brass with a rhodium finish and features colorful design elements surrounding the quarter highlighting the accomplishments of the honored individual.
For instance, the Angelou ornament includes books acknowledging her authorship of more than 30 published works; a streetcar recognizing her as the first African American woman streetcar conductor in San Francisco; the masks of theatre symbol for her work as a director and producer; and drum and musical staff represent her talent for singing and dancing Calypso.
Ride's ornament displays her historic journey on the space shuttle and the American flag that was on her flight jacket sleeve. Also shown is a book recognizing her accomplishments as an author of children's books and swirling atoms represent representing her career as a physicist.
Mankiller's advocacy for improved housing, education, and healthcare is shown on her ornament with Otero-Warren's ornament depicting images promoting her intense activism for women's right to vote and the improvement of bicultural education.
Finally, Anna May Wong ornament offers elements showcasing her status as a noted film industry actor, director, and producer.
Ordering
2022 American Women Quarters Ornaments can be found on the U.S. Mint's online store dedicated to quarter products.
Each ornament ships in a Mint presentation case with a certificate of authenticity and brief information about the program.