Ten coins are included as part of the newest product released today at noon ET by the United States Mint, the 2023 Silver Proof Set. Seven of these coins are struck in 99.9% pure silver.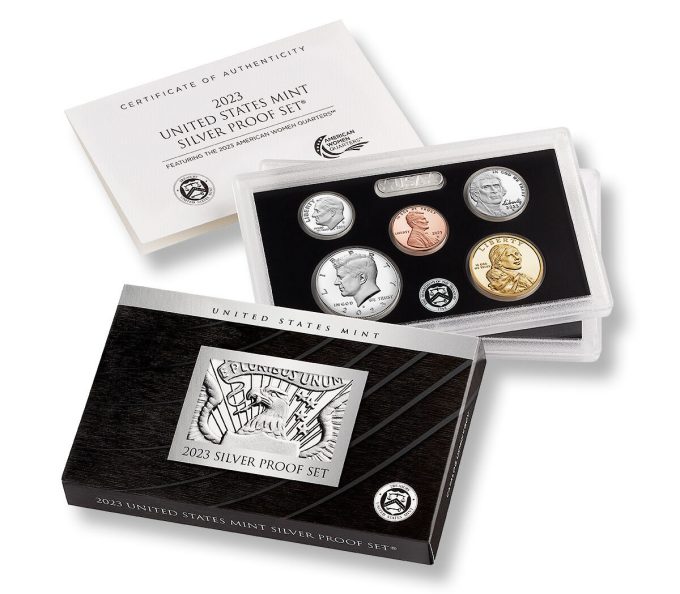 This annually issued set is consistently popular among collectors, generating hundreds of thousands in sales. When the 2022-dated set launched, collectors snapped up 173,861 of them in the first four days. This year's set does have a higher price barrier, at $130, compared to last year's set which was initially sold for $105, but has since increased to $130.
The coins within the set are produced at the U.S. Mint's facility in San Francisco and showcase a proof quality finish, distinguished for its frosted foregrounds and mirror-like backgrounds. Additionally, these coins undergo multiple strikes to ensure an elevated level of detail.
2023 Silver Proof Set Contents
A total of ten coins are featured in the 2023 Silver Proof Set. These include:
2023-S Maria Tallchief Native American $1 Coin
2023-S Silver Kennedy Half Dollar
2023-S Silver Bessie Coleman Quarter
2023-S Silver Edith Kanakaʻole Quarter
2023-S Silver Eleanor Roosevelt Quarter
2023-S Silver Jovita Idar Quarter
2023-S Silver Maria Tallchief Quarter
2023-S Silver Roosevelt Dime
2023-S Jefferson Nickel
2023-S Lincoln Cent
Among the strikes, six of them feature designs that are exclusive to this year's coins — the Maria Tallchief Native American $1 Coin and the five quarters. These quarter dollars mark the second year of the U.S. Mint's American Women Quarters™ Program.
Regarding the seven .999 fine silver coins, they encompass the quarters, the Kennedy half-dollar, and the Roosevelt dime. Their collective silver weight amounts to 1.473 troy ounces. The remaining three coins maintain their standard base metal compositions.
The five quarter dollars are presented in a single protective lens, while the remaining five coins are offered in a second lens. Both sets of coins are shipped together in a single protective cardboard sleeve.
Silver Proof Set Popularity
As a reference, the sales of some previous silver proof sets are provided below, based on the latest unaudited U.S. Mint sales figures through Aug. 13:
2022 Silver Proof Set – 244,034*
2021 Silver Proof Set – 300,767*
2020 Silver Proof Set – 313,183
2019 Silver Proof Set – 412,708
2018 Silver Proof Set – 332,274
*The sets from 2021 and 2022 are still available, with recent weekly gains of 81 and 175, respectively.
Ordering
2023 Silver Proof Sets are available directly from the U.S. Mint via its online page dedicated to proof sets, located here.
While no mintage or household limit has been set, there is a product cap of 260,040 sets.