Many collectors are anticipating the release of the 2023-W Uncirculated American Silver Eagle, which will be available for purchase from the United States Mint starting today at noon EDT.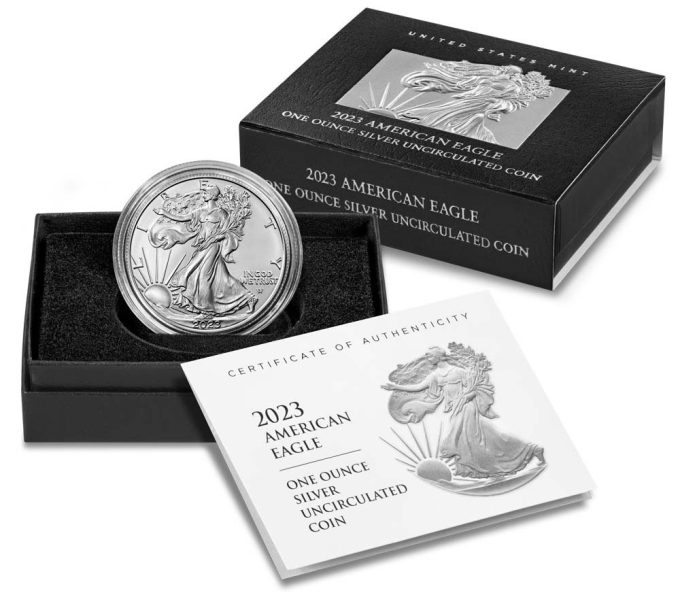 Each coin is crafted from 1-ounce of .999 fine silver at the U.S. Mint's West Point facility. The tradition of offering uncirculated versions of the American Silver Eagle dates back to 2006, two decades after the launch of the associated bullion Silver Eagle program in 1986.
Coin Designs
Adolph A. Weinman's classic Walking Liberty design has graced the obverse (heads side) of all Silver Eagles since their debuts. It was originally featured on the 1916-1947 half-dollars and shows Liberty in full stride. She is enveloped in folds of the flag with her right hand extended and her left hand holding branches of laurel and oak. Inscriptions include "LIBERTY," "IN GOD WE TRUST" and "2022."
The design, of note, was enhanced in 2021 when the Mint utilized its historical artifacts along with modern-day technology to better represent Weinman's original intent. Weinman's traditional artist mark was also added to the image.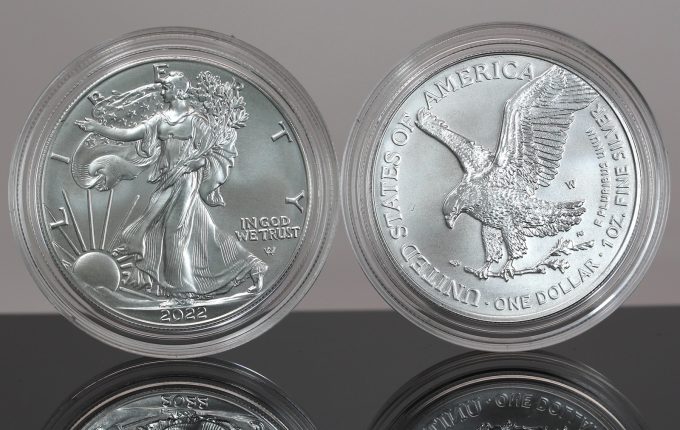 2021 also saw the debut of a new reverse (tails side) design for all of the Silver Eagles — bullion, proof and uncirculated. The image was created by Emily Damstra and sculpted by Michael Gaudioso
The reverse depict an eagle as it approaches a landing, carrying an oak branch, as if to add it to a nest. Reverse inscriptions read: "UNITED STATES OF AMERICA," "E PLURIBUS UNUM," "1 OZ. FINE SILVER," and "ONE DOLLAR."
A reeded edge variation is included as an enhanced security measure.
Coin Specifications
Denomination:
$1
Finish:
Uncirculated
Composition:
99.9% Silver
Weight:
1.000 troy oz.
(31.103 grams)
Diameter:
1.598 inches
(40.60 mm)
Edge:
Reeded
Mint and Mint Mark:
West Point – W
Ordering
The 2023-W Uncirculated American Silver Eagle may be ordered by visiting the Mint's online store for American Eagle coins. Pricing of each is $76, an increase over last year's $67 price tag.
No mintage or product limit is specified, but there is an initial household order limit of 10 coins.