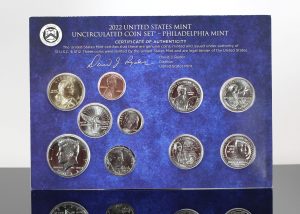 The latest U.S. Mint sales stats lack any new product releases for a second week in a row, and as a result, the Mint's best weekly sellers were their core offerings, including American Silver Eagles and annual sets.
Once again, the the 2023-W Proof Silver Eagle was the top-selling product for the second consecutive week. Sales of its standalone option (product code 23EA) increased by 5,785 coins from the previous week, totaling 386,173 coins, and sales of the Congratulations Set (product code 23RF) increased by an additional 529 coins, totaling 29,815 coins.
Surprisingly, last year's uncirculated Mint Set ranked second for the week, with an increase of 1,056 sets to a total of 229,433. This marks its highest weekly increase since March 5 and only the third time this year that it has surpassed 1,000 in weekly sales. As an aside, the release date for this year's Mint Set is yet to be determined ('TBD').
U.S. Mint Top Sellers
Here's the listing of the U.S. Mint's most popular numismatic products for the week ending April 30:
2023-W Proof Silver Eagle (+5,785 to 386,173)
2022 Mint Set (+1,056 to 229,433)
2023 Congratulations Set (+529 to 29,815)
2023 American Women Quarters Proof Set (+407 to 40,941)
2023-W $50 American Gold Buffalo Proof Coin (+361 to 9,272)
2021 Proof Set (+177 to 511,742)
2022 Limited Edition Silver Proof Set (+172 to 44,446)
2022 Silver Proof Set (+156 to 240,685)
2022-P American Liberty Silver Medal (+126 to 67,725)
2021 Mint Set (+125 to 221,712)
In its latest report, the U.S. Mint published sales data for 315 numismatic products. Among these products, 50 outperformed their sales from the previous week, compared to 82 in the prior report. Two products saw an increase of more than 1,000 units, just like in the previous report.
Elsewhere, the report revealed that five products had negative weekly sales, which is half the previous amount. The sales reductions varied from 5 to 2,306 units, with the largest decrease attributed to the 100-coin bag of 2023-P Edith Kanakaʻole quarters. Looking back, this option logged a large jump of 4,109 during its first full week of release, while other Kanakaʻole quarter options made more typical moves. Since then, its successive weekly changes have been -167, 67, and now -2,306.
US Mint Sales: Numismatic Products
Below are tables showing the latest available sales for U.S. Mint numismatic products. The sales period covers from April 23 to 30. Products with an asterisk (*) are no longer available or had no reported sales.
Armed Forces Silver Medals

Old
Sales
Latest
Sales
Gain/
Loss
%
Increase
U.S. Army 2.5 Ounce Silver Medal
9,982
9,991
9
0.09%
U.S. Marine Corps 2.5 Ounce Silver Medal
9,567
9,576
9
0.09%
U.S. Navy 2.5 Ounce Silver Medal
9,978
9,985
7
0.07%
U.S. Coast Guard 2.5 Ounce Silver Medal
9,922
9,955
33
0.33%
U.S. Air Force 2.5 Ounce Silver Medal
9,953
9,953
–
–
U.S. Coast Guard 1 Ounce Silver Medal
15,411
15,461
50
0.32%
U.S. Air Force 1 Ounce Silver Medal
16,513
16,559
46
0.28%

American Liberty Products

Old
Sales
Latest
Sales
Gain/
Loss
%
Increase
2022-P American Liberty Silver Medal
67,599
67,725
126
0.19%
2021-W $100 American Liberty Gold Coin
12,470
12,471
1
0.01%
2019-W $100 American Liberty Gold Coin
24,609
24,609
–
–
2019-P American Liberty Silver Medal
44,928
44,928
–
–
2018-W $10 American Liberty Gold Coin
55,371
55,428
57
0.10%
2017 American Liberty Silver Four-Medal Set*
32,647
32,647
–
–
2017-S Enhanced Uncirculated Coin Set*
210,419
210,419
–
–
2017-W $100 American Liberty Gold Coin
38,568
38,589
21
0.05%
2017-P Proof American Liberty Silver Medal*
55,187
55,187
–
–

Clad Proof Sets

Old
Sales
Latest
Sales
Gain/
Loss
%
Increase
2022 Proof Set
399,713
399,731
18
0.00%
2021 Proof Set
511,565
511,742
177
0.03%
2020 Proof Set*
464,658
464,658
–
–
2019 Proof Set*
601,327
601,327
–
–
2018 Proof Set*
517,081
517,081
–
–
2017 Proof Set*
568,678
568,678
–
–
2022 American Innovation Dollars Proof Set
74,727
74,713
-14
-0.02%
2021 American Innovation Dollars Proof Set
83,488
83,540
52
0.06%
2020 American Innovation Dollars Proof Set
107,052
107,052
–
–
2019 American Innovation Dollars Proof Set
145,403
145,454
51
0.04%
2023 American Women Quarters Proof Set
40,534
40,941
407
1.00%
2022 American Women Quarters Proof Set*
42,619
42,619
–
–
2020 America the Beautiful Quarters Proof Set*
64,242
64,242
–
–
2019 America the Beautiful Quarters Proof Set
82,518
82,534
16
0.02%
2018 America the Beautiful Quarters Proof Set*
86,697
86,697
–
–

Silver Proof Sets

Old
Sales
Latest
Sales
Gain/
Loss
%
Increase
2022 Silver Proof Set
240,529
240,685
156
0.06%
2021 Silver Proof Set
299,743
299,806
63
0.02%
2020 Silver Proof Set*
313,183
313,183
–
–
2019 Silver Proof Set*
412,708
412,708
–
–
2018 Silver Proof Set*
332,274
332,274
–
–
2018 Silver Reverse Proof Set*
199,116
199,116
–
–
2023 American Women Quarters Silver Proof Set
37,291
37,308
17
0.05%
2022 American Women Quarters Silver Proof Set
57,641
57,644
3
0.01%
2020 America the Beautiful Quarters Silver Proof Set*
64,012
64,012
–
–
2019 America the Beautiful Quarters Silver Proof Set*
78,585
78,585
–
–
2018 America the Beautiful Quarters Silver Proof Set*
79,301
79,301
–
–
2023 Congratulations Gift Set
29,286
29,815
529
1.81%
2022 Congratulations Gift Set
29,710
29,710
–
–
2021 Congratulations Gift Set*
39,997
39,997
–
–
2020 Congratulations Gift Set*
24,468
24,468
–
–
2019 Congratulations Gift Set*
31,638
31,638
–
–
2022 Limited Edition Silver Proof Set
44,274
44,446
172
0.39%
2021 Limited Edition Silver Proof Set
48,712
48,712
–
–
2020 Limited Edition Silver Proof Set*
50,061
50,061
–
–

US Mint Uncirculated Sets

Old
Sales
Latest
Sales
Gain/
Loss
%
Increase
2022 Uncirculated Mint Set
228,377
229,433
1,056
0.46%
2021 Uncirculated Mint Set
221,587
221,712
125
0.06%
2020 Uncirculated Mint Set*
211,787
211,787
–
–
2019 Uncirculated Mint Set*
346,117
346,117
–
–
2018 Uncirculated Mint Set*
257,536
257,536
–
–
2017 Uncirculated Mint Set*
286,813
286,813
–
–

Kids Coin Sets

Old
Sales
Latest
Sales
Gain/
Loss
%
Increase
2019 Youth Coin and Currency Set
24,371
24,451
80
0.33%
2019 Explore and Discover Coin Set
41,335
41,347
12
0.03%
2019 Rocketship*
49,921
49,921
–
–
2014 Coin Discovery Set*
13,151
13,151
–
–

Ornaments

Old
Sales
Latest
Sales
Gain/
Loss
%
Increase
2022 U.S. Mint Ornament
5,335
5,338
3
0.06%
2022 Mighty Minters Ornament
3,875
3,877
2
0.05%
2022 Maya Angelou Ornament
2,866
2,866
–
–
2022 Dr. Sally Ride Ornament
2,981
2,984
3
0.10%
2022 Wilma Mankiller Ornament
2,079
2,087
8
0.38%
2022 Nina Otero-Warren Ornament
1,713
1,713
–
–
2022 Anna May Wong Ornament
3,016
3,017
1
0.03%
2021 Mighty Minters Ornament
4,821
4,821
–
–
2021 U.S. Mint Ornament
7,756
7,757
1
0.01%
2020 Mighty Minters Ornament
4,456
4,456
–
–
2020 U.S. Mint Ornament
6,478
6,479
1
0.02%
2019 Mighty Minters Ornament
6,984
6,984
–
–
2019 U.S. Mint Ornament
11,663
11,663
–
–

Proof & Reverse Proof Silver Eagles

Old
Sales
Latest
Sales
Gain/
Loss
%
Increase
2022-S Proof Silver Eagle
199,563
199,663
100
0.05%
2022-S Proof Silver Eagle (Bulk – 40 Coins)
2,925
2,925
–
–
2023-W Proof Silver Eagle
380,388
386,173
5,785
1.52%
2023-W Proof Silver Eagle (Bulk – 40 Coins)
1,835
1,835
–
–
2022-W Proof Silver Eagle
496,990
496,990
–
–
2022-W Proof Silver Eagle (Bulk – 40 Coins)
4,107
4,107
–
–
2021 Reverse Proof American Silver Eagle Two-Coin Set*
124,822
124,822
–
–
2021-S Proof Silver Eagle, Type 2*
199,566
199,566
–
–
2021-S Proof Silver Eagle, Type 2 (Bulk – 40 Coins)*
652
652
–
–
2021-W Proof Silver Eagle, Type 2*
300,096
300,096
–
–
2021-W Proof Silver Eagle, Type 2 (Bulk – 40 Coins)*
2,142
2,142
–
–
2021-W Proof Silver Eagle, Type 1*
299,830
299,830
–
–
2021-W Proof Silver Eagle, Type 1 (Bulk – 40 Coins)*
686
686
–
–

Uncirculated Silver Eagles

Old
Sales
Latest
Sales
Gain/
Loss
%
Increase
2022
159,596
159,713
117
0.07%
2022 Bulk 40
987
987
–
–
2021*
174,470
174,470
–
–
2021 Bulk 40*
324
324
–
–

2023 Proof American Eagle Gold Coins

Old
Sales
Latest
Sales
Gain/
Loss
%
Increase
1 oz
6,388
6,442
54
0.85%
1/2 oz
1,683
1,732
49
2.91%
1/4 oz
4,392
4,448
56
1.28%
1/10 oz
8,471
8,563
92
1.09%
4-Coin Set
7,934
7,987
53
0.67%

2022 Proof American Eagle Gold Coins

Old
Sales
Latest
Sales
Gain/
Loss
%
Increase
1 oz
5,912
5,912
–
–
1/2 oz
1,970
1,970
–
–
1/4 oz
4,464
4,464
–
–
1/10 oz
13,804
13,804
–
–
4-Coin Set
9,904
9,904
–
–

2021 Proof American Eagle Gold Coins

Old
Sales
Latest
Sales
Gain/
Loss
%
Increase
1/10 oz Two-Coin Proof Set*
4,985
4,985
–
–
1 oz (Type 2)*
5,583
5,583
–
–
1/2 oz (Type 2)*
1,989
1,989
–
–
1/4 oz (Type 2)*
3,340
3,340
–
–
1/10 oz (Type 2)
9,871
9,871
–
–
4-Coin Set (Type 2)*
10,191
10,191
–
–
1 oz (Type 1)*
4,448
4,448
–
–
1/2 oz (Type 1)*
1,589
1,589
–
–
1/4 oz (Type 1)*
2,689
2,689
–
–
1/10 oz (Type 1)*
7,975
7,975
–
–
4-Coin Set (Type 1)*
8,176
8,176
–
–

Uncirculated American Eagle Gold Coins

Old
Sales
Latest
Sales
Gain/
Loss
%
Increase
2022
8,817
8,821
4
0.05%
2021*
8,914
8,914
–
–
2020*
6,284
6,284
–
–
2019*
5,851
5,851
–
–
2018*
8,518
8,518
–
–
2017*
5,800
5,800
–
–

Proof American Buffalo Gold Coins

Old
Sales
Latest
Sales
Gain/
Loss
%
Increase
2023 Proof Gold Buffalo
8,911
9,272
361
4.05%
2022 Proof Gold Buffalo
15,936
15,936
–
–
2021 Proof Gold Buffalo
16,958
16,958
–
–
2020 Proof Gold Buffalo*
11,887
11,887
–
–
2019 Proof Gold Buffalo*
14,844
14,844
–
–
2018 Proof Gold Buffalo*
15,756
15,756
–
–
2017 Proof Gold Buffalo*
15,810
15,810
–
–

Proof American Platinum Eagle

Old
Sales
Latest
Sales
Gain/
Loss
%
Increase
2023
7,064
7,082
18
0.25%
2022
9,878
9,873
-5
-0.05%
2021
9,880
9,880
–
–
2020
9,805
9,815
10
0.10%
2019
11,268
11,268
–
–
2018
15,910
15,922
12
0.08%
2017*
8,890
8,890
–
–

American Palladium Eagle

Old
Sales
Latest
Sales
Gain/
Loss
%
Increase
2022-W Reverse Proof
7,341
7,342
1
0.01%
2021-W Proof
5,169
5,169
–
–
2020-W Uncirculated
9,742
9,742
–
–
2019-W Reverse Proof
18,772
18,772
–
–
2018-W Proof*
14,986
14,986
–
–

Presidential Silver Medals

Old
Sales
Latest
Sales
Gain/
Loss
%
Increase
2023 James Buchanan Presidential Silver Medal
11,411
11,456
45
0.39%
2021 Franklin Pierce Presidential Silver Medal
12,132
12,145
13
0.11%
2022 Millard Fillmore Presidential Silver Medal
12,345
12,354
9
0.07%
2022 Zachary Taylor Presidential Silver Medal
12,757
12,765
8
0.06%
2022 James Knox Polk Presidential Silver Medal
12,985
12,992
7
0.05%
2021 John Tyler Presidential Silver Medal
13,410
13,416
6
0.04%
2021 William Henry Harrison Presidential Silver Medal
13,343
13,353
10
0.07%
2021 Martin Van Buren Presidential Silver Medal
13,500
13,507
7
0.05%
2020 Andrew Jackson Presidential Silver Medal
16,345
16,360
15
0.09%
2019 John Quincy Adams Presidential Silver Medal
14,492
14,502
10
0.07%
2019 James Monroe Presidential Silver Medal
15,003
15,008
5
0.03%
2019 James Madison Presidential Silver Medal
16,479
16,490
11
0.07%
2019 Thomas Jefferson Presidential Silver Medal
23,478
23,505
27
0.12%
2018 George Washington Presidential Silver Medal
34,008
34,041
33
0.10%
2018 John Adams Presidential Silver Medal
23,200
23,213
13
0.06%

American Innovation Reverse Proof Sets

Old
Sales
Latest
Sales
Gain/
Loss
%
Increase
2022
47,424
47,482
58
0.12%
2021
49,526
49,527
1
0.00%

2023 American Innovation Dollars – Louisiana

Old
Sales
Latest
Sales
Gain/
Loss
%
Increase
25-coin roll set (P)
7,226
7,279
53
0.73%
25-coin roll set (D)
6,568
6,629
61
0.93%
100-coin bag (P)
1,952
1,979
27
1.38%
100-coin bag (D)
1,895
1,946
51
2.69%

2023 American Innovation Dollars – Ohio

Old
Sales
Latest
Sales
Gain/
Loss
%
Increase
25-coin roll set (P)
7,938
7,942
4
0.05%
25-coin roll set (D)
6,907
6,910
3
0.04%
100-coin bag (P)
2,493
2,509
16
0.64%
100-coin bag (D)
2,314
2,333
19
0.82%

2022 American Innovation Dollars – Tennessee

Old
Sales
Latest
Sales
Gain/
Loss
%
Increase
25-coin roll set (P)
7,009
7,009
–
–
25-coin roll set (D)
7,004
7,005
1
0.01%
100-coin bag (P)
2,770
2,770
–
–
100-coin bag (D)
2,771
2,771
–
–

2022 American Innovation Dollars – Kentucky

Old
Sales
Latest
Sales
Gain/
Loss
%
Increase
25-coin roll set (P)
7,004
7,004
–
–
25-coin roll set (D)
6,973
6,975
2
0.03%
100-coin bag (P)
2,768
2,768
–
–
100-coin bag (D)
2,778
2,778
–
–

2022 American Innovation Dollars – Vermont

Old
Sales
Latest
Sales
Gain/
Loss
%
Increase
25-coin roll set (P)
7,023
7,023
–
–
25-coin roll set (D)
7,011
7,011
–
–
100-coin bag (P)
2,785
2,787
2
0.07%
100-coin bag (D)
2,775
2,775
–
–

2022 American Innovation Dollars – Rhode Island

Old
Sales
Latest
Sales
Gain/
Loss
%
Increase
25-coin roll set (P)
7,010
7,010
–
–
25-coin roll set (D)
7,007
7,007
–
–
100-coin bag (P)
2,785
2,786
1
0.04%
100-coin bag (D)
2,786
2,786
–
–

2021 American Innovation Dollars – North Carolina

Old
Sales
Latest
Sales
Gain/
Loss
%
Increase
25-coin roll set (P)
6,985
6,985
–
–
25-coin roll set (D)
6,999
6,999
–
–
100-coin bag (P)
2,785
2,785
–
–
100-coin bag (D)
2,787
2,787
–
–

2021 American Innovation Dollars – New York

Old
Sales
Latest
Sales
Gain/
Loss
%
Increase
25-coin roll set (P)
6,986
6,986
–
–
25-coin roll set (D)
6,989
6,989
–
–
100-coin bag (P)
2,766
2,766
–
–
100-coin bag (D)
2,764
2,764
–
–

2021 American Innovation Dollars – Virginia

Old
Sales
Latest
Sales
Gain/
Loss
%
Increase
25-coin roll set (P)
6,984
6,984
–
–
25-coin roll set (D)
6,969
6,969
–
–
100-coin bag (P)
2,795
2,795
–
–
100-coin bag (D)
2,778
2,778
–
–

2021 American Innovation Dollars – New Hampshire

Old
Sales
Latest
Sales
Gain/
Loss
%
Increase
25-coin roll set (P)
6,997
6,997
–
–
25-coin roll set (D)
7,004
7,004
–
–
100-coin bag (P)
2,789
2,789
–
–
100-coin bag (D)
2,787
2,787
–
–

2020 American Innovation Dollars – South Carolina

Old
Sales
Latest
Sales
Gain/
Loss
%
Increase
Reverse Proof (S)
40,411
40,482
71
0.18%
25-coin roll set (P)
6,378
6,378
–
–
25-coin roll set (D)
6,399
6,399
–
–
100-coin bag (P)
2,734
2,734
–
–
100-coin bag (D)
2,378
2,378
–
–

2020 American Innovation Dollars – Maryland

Old
Sales
Latest
Sales
Gain/
Loss
%
Increase
Reverse Proof (S)
49,671
49,678
7
0.01%
25-coin roll set (P)
6,493
6,493
–
–
25-coin roll set (D)
6,471
6,471
–
–
100-coin bag (P)
2,725
2,725
–
–
100-coin bag (D)
2,737
2,737
–
–

2020 American Innovation Dollars – Massachusetts

Old
Sales
Latest
Sales
Gain/
Loss
%
Increase
Reverse Proof (S)
47,289
47,341
52
0.11%
25-coin roll set (P)
6,486
6,486
–
–
25-coin roll set (D)
6,481
6,481
–
–
100-coin bag (P)
2,746
2,746
–
–
100-coin bag (D)
2,744
2,744
–
–

2020 American Innovation Dollars – Connecticut

Old
Sales
Latest
Sales
Gain/
Loss
%
Increase
Reverse Proof (S)
46,109
46,126
17
0.04%
25-coin roll set (P)
6,496
6,496
–
–
25-coin roll set (D)
6,425
6,425
–
–
100-coin bag (P)
2,736
2,736
–
–
100-coin bag (D)
2,747
2,747
–
–

2019 American Innovation Dollars – Georgia

Old
Sales
Latest
Sales
Gain/
Loss
%
Increase
Reverse Proof (S)
46,297
46,308
11
0.02%
25-coin roll set (P)
7,734
7,740
6
0.08%
25-coin roll set (D)
7,225
7,227
2
0.03%
100-coin bag (P)
3,281
3,283
2
0.06%
100-coin bag (D)
3,175
3,179
4
0.13%

2019 American Innovation Dollars – New Jersey

Old
Sales
Latest
Sales
Gain/
Loss
%
Increase
Reverse Proof (S)
49,703
49,718
15
0.03%
25-coin roll set (P)
8,610
8,619
9
0.10%
25-coin roll set (D)
7,700
7,702
2
0.03%
100-coin bag (P)
3,737
3,741
4
0.11%
100-coin bag (D)
3,371
3,374
3
0.09%

2019 American Innovation Dollars – Pennsylvania

Old
Sales
Latest
Sales
Gain/
Loss
%
Increase
Reverse Proof (S)
54,143
54,157
14
0.03%
25-coin roll set (P)
9,814
9,817
3
0.03%
25-coin roll set (D)
8,156
8,157
1
0.01%
100-coin bag (P)
3,354
3,358
4
0.12%
100-coin bag (D)
2,886
2,887
1
0.03%

2019 American Innovation Dollars – Delaware

Old
Sales
Latest
Sales
Gain/
Loss
%
Increase
Reverse Proof (S)
69,433
69,455
22
0.03%
25-coin roll set (P)
8,754
8,755
1
0.01%
25-coin roll set (D)
8,104
8,106
2
0.02%
100-coin bag (P)
3,078
3,081
3
0.10%
100-coin bag (D)
3,259
3,261
2
0.06%

2018 American Innovation Dollars

Old
Sales
Latest
Sales
Gain/
Loss
%
Increase
Reverse Proof (S)*
74,720
74,720
–
–
Proof Coin (S)
250,819
250,860
41
0.02%
25-coin roll set (P)
21,827
21,838
11
0.05%
25-coin roll set (D)
24,755
24,761
6
0.02%
100-coin bag (P)*
2,935
2,935
–
–
100-coin bag (D)*
2,954
2,954
–
–

George H.W. Bush Coin & Chronicles Set

Old
Sales
Latest
Sales
Gain/
Loss
%
Increase
$1 Coin & Set
10,991
11,004
13
0.12%

2020 Bush Presidential $1 Coin & First Spouse Medal Set

Old
Sales
Latest
Sales
Gain/
Loss
%
Increase
$1 Coin & Set
9,876
9,876
–
–

2020 George H.W. Bush Presidential $1 Coins

Old
Sales
Latest
Sales
Gain/
Loss
%
Increase
25-coin roll (P)
24,335
24,390
55
0.23%
25-coin roll (D)
21,118
21,158
40
0.19%
100-coin bag (P)
2,695
2,695
–
–
100-coin bag (D)
2,098
2,098
–
–
250-coin bag (P)
2,541
2,544
3
0.12%
250-coin bag (D)
4,080
4,085
5
0.12%

Native American Dollar Rolls

Old
Sales
Latest
Sales
Gain/
Loss
%
Increase
2023-P Native American $1 25 Coin Roll
11,869
11,953
84
0.71%
2023-D Native American $1 25 Coin Roll
11,352
11,421
69
0.61%
2023-P Native American $1 100-Coin Bag
1,528
1,548
20
1.31%
2023-D Native American $1 100-Coin Bag
1,507
1,521
14
0.93%
2023-P Native American $1 250-Coin Box
911
924
13
1.43%
2023-D Native American $1 250-Coin Box
1,049
1,070
21
2.00%
2022-P Native American $1 25 Coin Roll
13,940
13,995
55
0.39%
2022-D Native American $1 25 Coin Roll
13,912
13,912
–
–
2022-P Native American $1 100-Coin Bag
1,696
1,696
–
–
2022-D Native American $1 100-Coin Bag
1,610
1,610
–
–
2022-P Native American $1 250-Coin Box
1,698
1,698
–
–
2022-D Native American $1 250-Coin Box
1,699
1,699
–
–

Kennedy Half Dollar Rolls

Old
Sales
Latest
Sales
Gain/
Loss
%
Increase
2022-dated 200-coin bag (P&D)
10,998
10,998
–
–
2022-dated 2-roll set (P&D)
21,882
21,925
43
0.20%
2021-dated 200-coin bag (P&D)
9,968
9,968
–
–
2021-dated 2-roll set (P&D)
21,953
21,990
37
0.17%
2020-dated 200-coin bag (P&D)
11,776
11,776
–
–
2020-dated 2-roll set (P&D)
24,312
24,312
–
–
2019-dated 200-coin bag (P&D)*
11,534
11,534
–
–
2019-dated 2-roll set (P&D)*
24,132
24,132
–
–

2023 Edith Kanakaʻole Quarters

Old
Sales
Latest
Sales
Gain/
Loss
%
Increase
Three-Roll Set
12,582
12,574
-8
-0.06%
100-Coin Bag (P)
6,454
4,148
-2,306
-35.73%
100-Coin Bag (D)
2,157
2,083
-74
-3.43%
Two-Roll Set
4,365
4,437
72
1.65%

2023 Bessie Coleman Quarters

Old
Sales
Latest
Sales
Gain/
Loss
%
Increase
Three-Roll Set
12,499
12,502
3
0.02%
100-Coin Bag (P)
4,973
4,990
17
0.34%
100-Coin Bag (D)
4,531
4,543
12
0.26%
Two-Roll Set
5,077
5,092
15
0.30%

2022 Anna May Wong Quarters

Old
Sales
Latest
Sales
Gain/
Loss
%
Increase
Three-Roll Set
7,617
7,617
–
–
100-Coin Bag (P)
1,860
1,860
–
–
100-Coin Bag (D)
1,858
1,858
–
–
Two-Roll Set
5,936
5,936
–
–

2022 Nina Otero-Warren Quarters

Old
Sales
Latest
Sales
Gain/
Loss
%
Increase
Three-Roll Set
7,639
7,639
–
–
100-Coin Bag (P)
1,852
1,852
–
–
100-Coin Bag (D)
1,853
1,853
–
–
Two-Roll Set
5,879
5,879
–
–

2022 Wilma Mankiller Quarters

Old
Sales
Latest
Sales
Gain/
Loss
%
Increase
Three-Roll Set
7,616
7,616
–
–
100-Coin Bag (P)
1,848
1,848
–
–
100-Coin Bag (D)
1,822
1,822
–
–
Two-Roll Set
5,909
5,909
–
–

2022 Dr. Sally Ride Quarters

Old
Sales
Latest
Sales
Gain/
Loss
%
Increase
Three-Roll Set
7,603
7,603
–
–
100-Coin Bag (P)
1,853
1,853
–
–
100-Coin Bag (D)
1,852
1,852
–
–
Two-Roll Set
5,924
5,924
–
–

2022 Maya Angelou Quarters

Old
Sales
Latest
Sales
Gain/
Loss
%
Increase
Three-Roll Set
7,588
7,588
–
–
100-Coin Bag (P)
1,858
1,858
–
–
100-Coin Bag (D)
1,861
1,861
–
–
Two-Roll Set
5,940
5,940
–
–