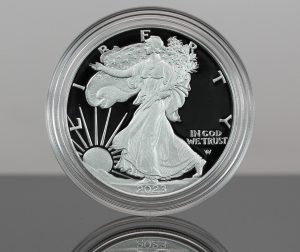 It's been nearly two weeks since the U.S. Mint released a product, which means their latest sales report lacks anything "new" to see. The bureau's biggest weekly sellers were their 2023-dated proof American Eagle silver and gold coins.
The solid gains of 2023-W Proof American Gold Eagles across multiple options stand out, as increases in both magnitude and breadth are not typical several weeks after the debut of higher-priced products. Their sudden gains suggest extra interest due to marketing efforts or changes in the price of precious metals.
The same could be true of the 2023-W Proof Silver Eagle. It was actually the Mint's best weekly seller, and enjoyed advances across all its product options. However, Silver Eagle sales spikes are reasonably common given their popularity and more affordable prices. Changes from a week earlier include:
an addition of 8,056 coins to 380,388 coins for the standalone option (product code 23EA),
an addition of 280 coins to 73,400 coins for the 40-coin bulk option (23EA040), and
an addition of 774 coins to 29,286 coins as a part of the Congratulations Set (product code 23RF).
Considering the three options, 2023-W Proof Silver Eagle sales combine to 483,074 coins.
U.S. Mint Top Sellers
Here's the listing of the U.S. Mint's most popular numismatic products for the week ending April 23:
2023-W Proof Silver Eagle (+8,056 to 380,388)
2023-W $5 Proof Gold Eagle (+1,273 to 8,471)
202-W Proof Gold Eagle Four-Coin Set (+997 to 7,934)
2023 Congratulations Set (+774 to 29,286)
2023-W $50 American Gold Buffalo Proof Coin (+606 to 8,911)
2022 Mint Set (+514 to 228,377)
2023 American Women Quarters Proof Set (+509 to 40,534)
2021 Proof Set (+264 to 511,565)
2022 Silver Proof Set (+237 to 240,529)
2021 American Innovation Dollar Reverse Proof Set (+230 to 49,526)
In its latest report, the U.S. Mint published sales data for 314 numismatic products. Among these products, 82 outperformed their sales from the previous week, compared to 41 in the prior report. Two products saw an increase of more than 1,000 units, just like in the previous report.
Sales of Louisiana Innovation Dollars Decline
Elsewhere, the report revealed that 10 products had negative weekly sales, doubling the previous amount. The sales reductions varied from 1 to 2,535 units, with the largest decrease being attributed to the 2023 American Women Quarters Silver Proof Set.
It is worth noting that there were also sizable reductions across the recently released rolls and bags of Innovation dollars for Louisiana. In their debut week, the Mint reported combined sales of 785,825 coins. However, the total has since dropped by 56,275 coins to 729,550 coins.
US Mint Sales: Numismatic Products
Below are tables showing the latest available sales for U.S. Mint numismatic products. The sales period covers from April 17 to 23. Products with an asterisk (*) are no longer available or had no reported sales.
Armed Forces Silver Medals

Old
Sales
Latest
Sales
Gain/
Loss
%
Increase
U.S. Army 2.5 Ounce Silver Medal
9,929
9,982
53
0.53%
U.S. Marine Corps 2.5 Ounce Silver Medal
9,567
9,567
–
–
U.S. Navy 2.5 Ounce Silver Medal
9,978
9,978
–
–
U.S. Coast Guard 2.5 Ounce Silver Medal
9,922
9,922
–
–
U.S. Air Force 2.5 Ounce Silver Medal
9,953
9,953
–
–
U.S. Coast Guard 1 Ounce Silver Medal
15,384
15,411
27
0.18%
U.S. Air Force 1 Ounce Silver Medal
16,464
16,513
49
0.30%

American Liberty Products

Old
Sales
Latest
Sales
Gain/
Loss
%
Increase
2022-P American Liberty Silver Medal
67,399
67,599
200
0.30%
2021-W $100 American Liberty Gold Coin
12,470
12,470
–
–
2019-W $100 American Liberty Gold Coin
24,609
24,609
–
–
2019-P American Liberty Silver Medal
44,928
44,928
–
–
2018-W $10 American Liberty Gold Coin
55,286
55,371
85
0.15%
2017 American Liberty Silver Four-Medal Set*
32,647
32,647
–
–
2017-S Enhanced Uncirculated Coin Set*
210,419
210,419
–
–
2017-W $100 American Liberty Gold Coin
38,540
38,568
28
0.07%
2017-P Proof American Liberty Silver Medal*
55,187
55,187
–
–

Clad Proof Sets

Old
Sales
Latest
Sales
Gain/
Loss
%
Increase
2022 Proof Set
399,624
399,713
89
0.02%
2021 Proof Set
511,301
511,565
264
0.05%
2020 Proof Set*
464,658
464,658
–
–
2019 Proof Set*
601,327
601,327
–
–
2018 Proof Set*
517,081
517,081
–
–
2017 Proof Set*
568,678
568,678
–
–
2022 American Innovation Dollars Proof Set
74,646
74,727
81
0.11%
2021 American Innovation Dollars Proof Set
83,428
83,488
60
0.07%
2020 American Innovation Dollars Proof Set
107,052
107,052
–
–
2019 American Innovation Dollars Proof Set
145,351
145,403
52
0.04%
2023 American Women Quarters Proof Set
40,025
40,534
509
1.27%
2022 American Women Quarters Proof Set*
42,616
42,619
3
0.01%
2020 America the Beautiful Quarters Proof Set*
64,242
64,242
–
–
2019 America the Beautiful Quarters Proof Set
82,489
82,518
29
0.04%
2018 America the Beautiful Quarters Proof Set*
86,697
86,697
–
–

Silver Proof Sets

Old
Sales
Latest
Sales
Gain/
Loss
%
Increase
2022 Silver Proof Set
240,292
240,529
237
0.10%
2021 Silver Proof Set
299,661
299,743
82
0.03%
2020 Silver Proof Set*
313,183
313,183
–
–
2019 Silver Proof Set*
412,708
412,708
–
–
2018 Silver Proof Set*
332,274
332,274
–
–
2018 Silver Reverse Proof Set*
199,116
199,116
–
–
2023 American Women Quarters Silver Proof Set
39,826
37,291
-2,535
-6.37%
2022 American Women Quarters Silver Proof Set
57,641
57,641
–
–
2020 America the Beautiful Quarters Silver Proof Set*
64,012
64,012
–
–
2019 America the Beautiful Quarters Silver Proof Set*
78,585
78,585
–
–
2018 America the Beautiful Quarters Silver Proof Set*
79,301
79,301
–
–
2023 Congratulations Gift Set
28,512
29,286
774
2.71%
2022 Congratulations Gift Set
29,710
29,710
–
–
2021 Congratulations Gift Set*
39,997
39,997
–
–
2020 Congratulations Gift Set*
24,468
24,468
–
–
2019 Congratulations Gift Set*
31,638
31,638
–
–
2022 Limited Edition Silver Proof Set
44,114
44,274
160
0.36%
2021 Limited Edition Silver Proof Set
48,712
48,712
–
–
2020 Limited Edition Silver Proof Set*
50,061
50,061
–
–

US Mint Uncirculated Sets

Old
Sales
Latest
Sales
Gain/
Loss
%
Increase
2022 Uncirculated Mint Set
227,863
228,377
514
0.23%
2021 Uncirculated Mint Set
221,416
221,587
171
0.08%
2020 Uncirculated Mint Set*
211,787
211,787
–
–
2019 Uncirculated Mint Set*
346,117
346,117
–
–
2018 Uncirculated Mint Set*
257,536
257,536
–
–
2017 Uncirculated Mint Set*
286,813
286,813
–
–

Kids Coin Sets

Old
Sales
Latest
Sales
Gain/
Loss
%
Increase
2019 Youth Coin and Currency Set
24,312
24,371
59
0.24%
2019 Explore and Discover Coin Set
41,316
41,335
19
0.05%
2019 Rocketship*
49,921
49,921
–
–
2014 Coin Discovery Set*
13,151
13,151
–
–

Ornaments

Old
Sales
Latest
Sales
Gain/
Loss
%
Increase
2022 U.S. Mint Ornament
5,333
5,335
2
0.04%
2022 Mighty Minters Ornament
3,873
3,875
2
0.05%
2022 Maya Angelou Ornament
2,856
2,866
10
0.35%
2022 Dr. Sally Ride Ornament
2,974
2,981
7
0.24%
2022 Wilma Mankiller Ornament
2,076
2,079
3
0.14%
2022 Nina Otero-Warren Ornament
1,713
1,713
–
–
2022 Anna May Wong Ornament
3,014
3,016
2
0.07%
2021 Mighty Minters Ornament
4,821
4,821
–
–
2021 U.S. Mint Ornament
7,754
7,756
2
0.03%
2020 Mighty Minters Ornament
4,454
4,456
2
0.04%
2020 U.S. Mint Ornament
6,478
6,478
–
–
2019 Mighty Minters Ornament
6,984
6,984
–
–
2019 U.S. Mint Ornament
11,661
11,663
2
0.02%

Proof & Reverse Proof Silver Eagles

Old
Sales
Latest
Sales
Gain/
Loss
%
Increase
2022-S Proof Silver Eagle
199,528
199,563
35
0.02%
2022-S Proof Silver Eagle (Bulk – 40 Coins)
2,925
2,925
–
–
2023-W Proof Silver Eagle
372,332
380,388
8,056
2.16%
2023-W Proof Silver Eagle (Bulk – 40 Coins)
1,828
1,835
7
0.38%
2022-W Proof Silver Eagle
496,990
496,990
–
–
2022-W Proof Silver Eagle (Bulk – 40 Coins)
4,106
4,107
1
0.02%
2021 Reverse Proof American Silver Eagle Two-Coin Set*
124,822
124,822
–
–
2021-S Proof Silver Eagle, Type 2*
199,566
199,566
–
–
2021-S Proof Silver Eagle, Type 2 (Bulk – 40 Coins)*
652
652
–
–
2021-W Proof Silver Eagle, Type 2*
300,096
300,096
–
–
2021-W Proof Silver Eagle, Type 2 (Bulk – 40 Coins)*
2,142
2,142
–
–
2021-W Proof Silver Eagle, Type 1*
299,830
299,830
–
–
2021-W Proof Silver Eagle, Type 1 (Bulk – 40 Coins)*
686
686
–
–

Uncirculated Silver Eagles

Old
Sales
Latest
Sales
Gain/
Loss
%
Increase
2022
159,572
159,596
24
0.02%
2022 Bulk 40
987
987
–
–
2021*
174,468
174,470
2
0.00%
2021 Bulk 40*
324
324
–
–

2023 Proof American Eagle Gold Coins

Old
Sales
Latest
Sales
Gain/
Loss
%
Increase
1 oz
6,232
6,388
156
2.50%
1/2 oz
1,502
1,683
181
12.05%
1/4 oz
4,218
4,392
174
4.13%
1/10 oz
7,198
8,471
1,273
17.69%
4-Coin Set
6,937
7,934
997
14.37%

2022 Proof American Eagle Gold Coins

Old
Sales
Latest
Sales
Gain/
Loss
%
Increase
1 oz
5,912
5,912
–
–
1/2 oz
1,970
1,970
–
–
1/4 oz
4,463
4,464
1
0.02%
1/10 oz
13,804
13,804
–
–
4-Coin Set
9,901
9,904
3
0.03%

2021 Proof American Eagle Gold Coins

Old
Sales
Latest
Sales
Gain/
Loss
%
Increase
1/10 oz Two-Coin Proof Set*
4,985
4,985
–
–
1 oz (Type 2)*
5,583
5,583
–
–
1/2 oz (Type 2)*
1,989
1,989
–
–
1/4 oz (Type 2)*
3,340
3,340
–
–
1/10 oz (Type 2)
9,871
9,871
–
–
4-Coin Set (Type 2)*
10,191
10,191
–
–
1 oz (Type 1)*
4,448
4,448
–
–
1/2 oz (Type 1)*
1,589
1,589
–
–
1/4 oz (Type 1)*
2,689
2,689
–
–
1/10 oz (Type 1)*
7,975
7,975
–
–
4-Coin Set (Type 1)*
8,176
8,176
–
–

Uncirculated American Eagle Gold Coins

Old
Sales
Latest
Sales
Gain/
Loss
%
Increase
2022
8,816
8,817
1
0.01%
2021*
8,914
8,914
–
–
2020*
6,284
6,284
–
–
2019*
5,851
5,851
–
–
2018*
8,518
8,518
–
–
2017*
5,800
5,800
–
–

Proof American Buffalo Gold Coins

Old
Sales
Latest
Sales
Gain/
Loss
%
Increase
2023 Proof Gold Buffalo
8,305
8,911
606
7.30%
2022 Proof Gold Buffalo
15,933
15,936
3
0.02%
2021 Proof Gold Buffalo
16,958
16,958
–
–
2020 Proof Gold Buffalo*
11,887
11,887
–
–
2019 Proof Gold Buffalo*
14,844
14,844
–
–
2018 Proof Gold Buffalo*
15,756
15,756
–
–
2017 Proof Gold Buffalo*
15,810
15,810
–
–

Proof American Platinum Eagle

Old
Sales
Latest
Sales
Gain/
Loss
%
Increase
2023
7,022
7,064
42
0.60%
2022
9,866
9,878
12
0.12%
2021
9,880
9,880
–
–
2020
9,799
9,805
6
0.06%
2019
11,268
11,268
–
–
2018
15,896
15,910
14
0.09%
2017*
8,890
8,890
–
–

American Palladium Eagle

Old
Sales
Latest
Sales
Gain/
Loss
%
Increase
2022-W Reverse Proof
7,342
7,341
-1
-0.01%
2021-W Proof
5,169
5,169
–
–
2020-W Uncirculated
9,742
9,742
–
–
2019-W Reverse Proof
18,772
18,772
–
–
2018-W Proof*
14,986
14,986
–
–

Presidential Silver Medals

Old
Sales
Latest
Sales
Gain/
Loss
%
Increase
2023 James Buchanan Presidential Silver Medal
11,372
11,411
39
0.34%
2021 Franklin Pierce Presidential Silver Medal
12,122
12,132
10
0.08%
2022 Millard Fillmore Presidential Silver Medal
12,331
12,345
14
0.11%
2022 Zachary Taylor Presidential Silver Medal
12,752
12,757
5
0.04%
2022 James Knox Polk Presidential Silver Medal
12,977
12,985
8
0.06%
2021 John Tyler Presidential Silver Medal
13,406
13,410
4
0.03%
2021 William Henry Harrison Presidential Silver Medal
13,339
13,343
4
0.03%
2021 Martin Van Buren Presidential Silver Medal
13,499
13,500
1
0.01%
2020 Andrew Jackson Presidential Silver Medal
16,334
16,345
11
0.07%
2019 John Quincy Adams Presidential Silver Medal
14,485
14,492
7
0.05%
2019 James Monroe Presidential Silver Medal
14,995
15,003
8
0.05%
2019 James Madison Presidential Silver Medal
16,465
16,479
14
0.09%
2019 Thomas Jefferson Presidential Silver Medal
23,447
23,478
31
0.13%
2018 George Washington Presidential Silver Medal
33,939
34,008
69
0.20%
2018 John Adams Presidential Silver Medal
23,189
23,200
11
0.05%

American Innovation Reverse Proof Sets

Old
Sales
Latest
Sales
Gain/
Loss
%
Increase
2022
47,325
47,424
99
0.21%
2021
49,296
49,526
230
0.47%

2023 American Innovation Dollars – Louisiana

Old
Sales
Latest
Sales
Gain/
Loss
%
Increase
25-coin roll set (P)
7,668
7,226
-442
-5.76%
25-coin roll set (D)
6,845
6,568
-277
-4.05%
100-coin bag (P)
2,164
1,952
-212
-9.80%
100-coin bag (D)
2,066
1,895
-171
-8.28%

2023 American Innovation Dollars – Ohio

Old
Sales
Latest
Sales
Gain/
Loss
%
Increase
25-coin roll set (P)
7,913
7,938
25
0.32%
25-coin roll set (D)
6,907
6,907
–
–
100-coin bag (P)
2,459
2,493
34
1.38%
100-coin bag (D)
2,278
2,314
36
1.58%

2022 American Innovation Dollars – Tennessee

Old
Sales
Latest
Sales
Gain/
Loss
%
Increase
25-coin roll set (P)
7,009
7,009
–
–
25-coin roll set (D)
7,004
7,004
–
–
100-coin bag (P)
2,770
2,770
–
–
100-coin bag (D)
2,771
2,771
–
–

2022 American Innovation Dollars – Kentucky

Old
Sales
Latest
Sales
Gain/
Loss
%
Increase
25-coin roll set (P)
7,005
7,004
-1
-0.01%
25-coin roll set (D)
6,972
6,973
1
0.01%
100-coin bag (P)
2,767
2,768
1
0.04%
100-coin bag (D)
2,778
2,778
–
–

2022 American Innovation Dollars – Vermont

Old
Sales
Latest
Sales
Gain/
Loss
%
Increase
25-coin roll set (P)
7,023
7,023
–
–
25-coin roll set (D)
7,011
7,011
–
–
100-coin bag (P)
2,784
2,785
1
0.04%
100-coin bag (D)
2,775
2,775
–
–

2022 American Innovation Dollars – Rhode Island

Old
Sales
Latest
Sales
Gain/
Loss
%
Increase
25-coin roll set (P)
7,010
7,010
–
–
25-coin roll set (D)
7,007
7,007
–
–
100-coin bag (P)
2,784
2,785
1
0.04%
100-coin bag (D)
2,786
2,786
–
–

2021 American Innovation Dollars – North Carolina

Old
Sales
Latest
Sales
Gain/
Loss
%
Increase
25-coin roll set (P)
6,985
6,985
–
–
25-coin roll set (D)
6,999
6,999
–
–
100-coin bag (P)
2,785
2,785
–
–
100-coin bag (D)
2,787
2,787
–
–

2021 American Innovation Dollars – New York

Old
Sales
Latest
Sales
Gain/
Loss
%
Increase
25-coin roll set (P)
6,986
6,986
–
–
25-coin roll set (D)
6,989
6,989
–
–
100-coin bag (P)
2,766
2,766
–
–
100-coin bag (D)
2,764
2,764
–
–

2021 American Innovation Dollars – Virginia

Old
Sales
Latest
Sales
Gain/
Loss
%
Increase
25-coin roll set (P)
6,984
6,984
–
–
25-coin roll set (D)
6,969
6,969
–
–
100-coin bag (P)
2,795
2,795
–
–
100-coin bag (D)
2,778
2,778
–
–

2021 American Innovation Dollars – New Hampshire

Old
Sales
Latest
Sales
Gain/
Loss
%
Increase
25-coin roll set (P)
6,997
6,997
–
–
25-coin roll set (D)
7,004
7,004
–
–
100-coin bag (P)
2,789
2,789
–
–
100-coin bag (D)
2,787
2,787
–
–

2020 American Innovation Dollars – South Carolina

Old
Sales
Latest
Sales
Gain/
Loss
%
Increase
Reverse Proof (S)
40,356
40,411
55
0.14%
25-coin roll set (P)
6,378
6,378
–
–
25-coin roll set (D)
6,399
6,399
–
–
100-coin bag (P)
2,734
2,734
–
–
100-coin bag (D)
2,378
2,378
–
–

2020 American Innovation Dollars – Maryland

Old
Sales
Latest
Sales
Gain/
Loss
%
Increase
Reverse Proof (S)
49,667
49,671
4
0.01%
25-coin roll set (P)
6,493
6,493
–
–
25-coin roll set (D)
6,471
6,471
–
–
100-coin bag (P)
2,725
2,725
–
–
100-coin bag (D)
2,737
2,737
–
–

2020 American Innovation Dollars – Massachusetts

Old
Sales
Latest
Sales
Gain/
Loss
%
Increase
Reverse Proof (S)
47,239
47,289
50
0.11%
25-coin roll set (P)
6,486
6,486
–
–
25-coin roll set (D)
6,481
6,481
–
–
100-coin bag (P)
2,746
2,746
–
–
100-coin bag (D)
2,744
2,744
–
–

2020 American Innovation Dollars – Connecticut

Old
Sales
Latest
Sales
Gain/
Loss
%
Increase
Reverse Proof (S)
46,086
46,109
23
0.05%
25-coin roll set (P)
6,496
6,496
–
–
25-coin roll set (D)
6,425
6,425
–
–
100-coin bag (P)
2,736
2,736
–
–
100-coin bag (D)
2,747
2,747
–
–

2019 American Innovation Dollars – Georgia

Old
Sales
Latest
Sales
Gain/
Loss
%
Increase
Reverse Proof (S)
46,272
46,297
25
0.05%
25-coin roll set (P)
7,727
7,734
7
0.09%
25-coin roll set (D)
7,220
7,225
5
0.07%
100-coin bag (P)
3,271
3,281
10
0.31%
100-coin bag (D)
3,162
3,175
13
0.41%

2019 American Innovation Dollars – New Jersey

Old
Sales
Latest
Sales
Gain/
Loss
%
Increase
Reverse Proof (S)
49,679
49,703
24
0.05%
25-coin roll set (P)
8,598
8,610
12
0.14%
25-coin roll set (D)
7,694
7,700
6
0.08%
100-coin bag (P)
3,724
3,737
13
0.35%
100-coin bag (D)
3,360
3,371
11
0.33%

2019 American Innovation Dollars – Pennsylvania

Old
Sales
Latest
Sales
Gain/
Loss
%
Increase
Reverse Proof (S)
54,114
54,143
29
0.05%
25-coin roll set (P)
9,805
9,814
9
0.09%
25-coin roll set (D)
8,147
8,156
9
0.11%
100-coin bag (P)
3,348
3,354
6
0.18%
100-coin bag (D)
2,885
2,886
1
0.03%

2019 American Innovation Dollars – Delaware

Old
Sales
Latest
Sales
Gain/
Loss
%
Increase
Reverse Proof (S)
69,407
69,433
26
0.04%
25-coin roll set (P)
8,745
8,754
9
0.10%
25-coin roll set (D)
8,097
8,104
7
0.09%
100-coin bag (P)
3,068
3,078
10
0.33%
100-coin bag (D)
3,251
3,259
8
0.25%

2018 American Innovation Dollars

Old
Sales
Latest
Sales
Gain/
Loss
%
Increase
Reverse Proof (S)*
74,720
74,720
–
–
Proof Coin (S)
250,769
250,819
50
0.02%
25-coin roll set (P)
21,802
21,827
25
0.11%
25-coin roll set (D)
24,740
24,755
15
0.06%
100-coin bag (P)*
2,935
2,935
–
–
100-coin bag (D)*
2,954
2,954
–
–

George H.W. Bush Coin & Chronicles Set

Old
Sales
Latest
Sales
Gain/
Loss
%
Increase
$1 Coin & Set
10,978
10,991
13
0.12%

2020 Bush Presidential $1 Coin & First Spouse Medal Set

Old
Sales
Latest
Sales
Gain/
Loss
%
Increase
$1 Coin & Set
9,876
9,876
–
–

2020 George H.W. Bush Presidential $1 Coins

Old
Sales
Latest
Sales
Gain/
Loss
%
Increase
25-coin roll (P)
24,284
24,335
51
0.21%
25-coin roll (D)
21,088
21,118
30
0.14%
100-coin bag (P)
2,695
2,695
–
–
100-coin bag (D)
2,098
2,098
–
–
250-coin bag (P)
2,532
2,541
9
0.36%
250-coin bag (D)
4,069
4,080
11
0.27%

Native American Dollar Rolls

Old
Sales
Latest
Sales
Gain/
Loss
%
Increase
2023-P Native American $1 25 Coin Roll
11,766
11,869
103
0.88%
2023-D Native American $1 25 Coin Roll
11,269
11,352
83
0.74%
2023-P Native American $1 100-Coin Bag
1,510
1,528
18
1.19%
2023-D Native American $1 100-Coin Bag
1,494
1,507
13
0.87%
2023-P Native American $1 250-Coin Box
900
911
11
1.22%
2023-D Native American $1 250-Coin Box
1,039
1,049
10
0.96%
2022-P Native American $1 25 Coin Roll
13,939
13,940
1
0.01%
2022-D Native American $1 25 Coin Roll
13,909
13,912
3
0.02%
2022-P Native American $1 100-Coin Bag
1,696
1,696
–
–
2022-D Native American $1 100-Coin Bag
1,610
1,610
–
–
2022-P Native American $1 250-Coin Box
1,698
1,698
–
–
2022-D Native American $1 250-Coin Box
1,699
1,699
–
–

Kennedy Half Dollar Rolls

Old
Sales
Latest
Sales
Gain/
Loss
%
Increase
2022-dated 200-coin bag (P&D)
10,997
10,998
1
0.01%
2022-dated 2-roll set (P&D)
21,882
21,882
–
–
2021-dated 200-coin bag (P&D)
9,968
9,968
–
–
2021-dated 2-roll set (P&D)
21,953
21,953
–
–
2020-dated 200-coin bag (P&D)
11,776
11,776
–
–
2020-dated 2-roll set (P&D)
24,312
24,312
–
–
2019-dated 200-coin bag (P&D)*
11,534
11,534
–
–
2019-dated 2-roll set (P&D)*
24,132
24,132
–
–

2023 Edith Kanakaʻole Quarters

Old
Sales
Latest
Sales
Gain/
Loss
%
Increase
Three-Roll Set
12,575
12,582
7
0.06%
100-Coin Bag (P)
6,387
6,454
67
1.05%
100-Coin Bag (D)
2,103
2,157
54
2.57%
Two-Roll Set
4,238
4,365
127
3.00%

2023 Bessie Coleman Quarters

Old
Sales
Latest
Sales
Gain/
Loss
%
Increase
Three-Roll Set
12,498
12,499
1
0.01%
100-Coin Bag (P)
4,951
4,973
22
0.44%
100-Coin Bag (D)
4,522
4,531
9
0.20%
Two-Roll Set
5,037
5,077
40
0.79%

2022 Anna May Wong Quarters

Old
Sales
Latest
Sales
Gain/
Loss
%
Increase
Three-Roll Set
7,617
7,617
–
–
100-Coin Bag (P)
1,860
1,860
–
–
100-Coin Bag (D)
1,858
1,858
–
–
Two-Roll Set
5,936
5,936
–
–

2022 Nina Otero-Warren Quarters

Old
Sales
Latest
Sales
Gain/
Loss
%
Increase
Three-Roll Set
7,639
7,639
–
–
100-Coin Bag (P)
1,852
1,852
–
–
100-Coin Bag (D)
1,853
1,853
–
–
Two-Roll Set
5,879
5,879
–
–

2022 Wilma Mankiller Quarters

Old
Sales
Latest
Sales
Gain/
Loss
%
Increase
Three-Roll Set
7,616
7,616
–
–
100-Coin Bag (P)
1,848
1,848
–
–
100-Coin Bag (D)
1,822
1,822
–
–
Two-Roll Set
5,909
5,909
–
–

2022 Dr. Sally Ride Quarters

Old
Sales
Latest
Sales
Gain/
Loss
%
Increase
Three-Roll Set
7,603
7,603
–
–
100-Coin Bag (P)
1,853
1,853
–
–
100-Coin Bag (D)
1,852
1,852
–
–
Two-Roll Set
5,924
5,924
–
–

2022 Maya Angelou Quarters

Old
Sales
Latest
Sales
Gain/
Loss
%
Increase
Three-Roll Set
7,588
7,588
–
–
100-Coin Bag (P)
1,858
1,858
–
–
100-Coin Bag (D)
1,861
1,861
–
–
Two-Roll Set
5,939
5,940
1
0.02%