The Federal Reserve has enough inventory of $1 coins to match circulation needs for nearly 16 years, according to an estimate revealed in the agency's 2022 annual report to Congress about Presidential dollars.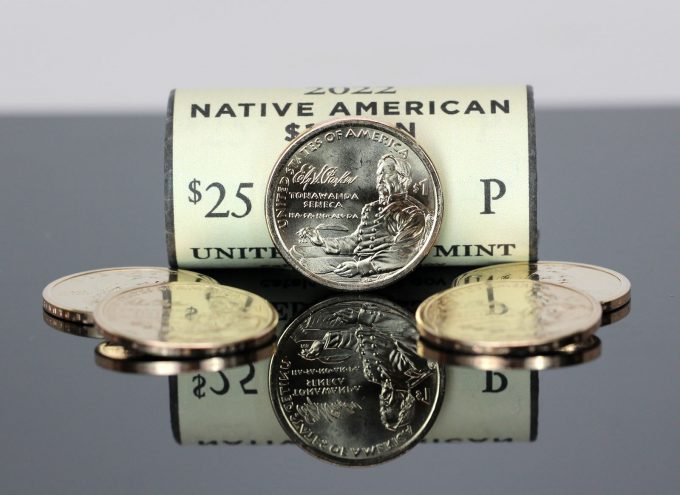 Published in December, the report indicated that the projection considered how many $1 coins were needed over the past five years. It also noted that $83 million were pulled from Reserve Bank vaults for commerce through the 12 months ending June 30, 2022. At that time, inventories of dollars fell to about 928 million. The agency has since published another two quarterly periods of inventory data, reducing the number to 888 million dollars, marking another 40 million drop through the last six months of 2022.
Reserve Bank inventories of $1 coins peaked to 1.44 billion in the third quarter of 2012. They have trended lower since that peak by several million every month.
The United States Mint produces, sells and then delivers circulating coins to Reserve Banks to support its service to commercial banks and other financial institutions. Most of the Fed's vaulted dollars are Presidential $1 Coins. As directed by Public Law 109-145, the U.S. Mint was required to produce them in commemoration of former American presidents from 2007 to 2016. However, the public preferred paper money over clad dollars, and inventories of $1 coins resultantly soared by as much as 298 million a year. The trajectory had Fed officials talking about needing more storage space.
The build-up was eventually checked in December 2011, when the stockpile had reached 1.42 billion coins, after Treasury Secretary Timothy F. Geithner halted $1 coin production for circulation.
Today, the U.S. Mint still produces clad $1 coins but only for collectible products offered to the public. These include one a year featuring a design honoring the important contributions made by Indian tribes and individual Native Americans and four a year depicting American innovation.
As a comparison to the most Fed ordered U.S. denomination for circulation, the U.S Mint struck over 6.3 billion Lincoln cents in 2022 alone. Ironically, it costs the Mint 2.72 cents to make and distribute each one.
This last table shows Fed $1 coin inventories, payments and receipts since 2007.
$1 Coin Quarterly Inventories, Payments, and Receipts
(Millions of pieces)
U.S. Mint Orders
Reserve Bank
Receipts
from Circulation
Reserve Bank
Payments
to Circulation
Reserve Bank
Inventories
2022: Q4
0
21
46
888
2022: Q3
0
28
43
913
2022: Q2
0
23
52
928
2022: Q1
0
22
45
956
2021: Q4
0
20
33
979
2021: Q3
0
25
43
993
2021: Q2
0
20
47
1,011
2021: Q1
0
25
31
1,038
2020: Q4
0
25
32
1,044
2020: Q3
0
26
39
1,051
2020: Q2
0
15
29
1,064
2020: Q1
0
42
43
1,078
2019: Q4
0
43
63
1,079
2019: Q3
0
43
49
1,099
2019: Q2
0
41
50
1,105
2019: Q1
0
45
52
1,114
2018: Q4
0
42
64
1,121
2018: Q3
0
45
58
1,143
2018: Q2
0
44
53
1,155
2018: Q1
0
41
59
1,164
2017: Q4
0
44
60
1,183
2017: Q3
0
46
64
1,199
2017: Q2
0
42
66
1,217
2017: Q1
0
46
58
1,241
2016: Q4
0
45
55
1,254
2016: Q3
0
45
58
1,263
2016: Q2
0
40
52
1,276
2016: Q1
0
47
52
1,288
2015: Q4
0
46
55
1,293
2015: Q3
0
48
67
1,302
2015: Q2
0
44
58
1,321
2015: Q1
0
48
54
1,335
2014: Q4
0
49
66
1,341
2014: Q3
0
54
54
1,358
2014: Q2
0
50
70
1,358
2014: Q1
0
49
50
1,378
2013: Q4
0
49
55
1,379
2013: Q3
0
50
74
1,385
2013: Q2
0
53
66
1,409
2013: Q1
0
54
60
1,422
2012: Q4
0
50
62
1,428
2012: Q3
0
60
51
1,440
2012: Q2
0
58
60
1,432
2012: Q1
0
86
72
1,434
2011: Q4
95
103
143
1,420
2011: Q3
92
129
129
1,365
2011: Q2
88
101
124
1,273
2011: Q1
86
101
116
1,208
2010: Q4
96
97
130
1,137
2010: Q3
88
96
123
1,074
2010: Q2
72
92
105
1,013
2010: Q1
89
108
120
954
2009: Q4
77
123
110
878
2009: Q3
85
118
117
788
2009: Q2
87
88
122
702
2009: Q1
96
92
120
649
2008: Q4
104
88
138
580
2008: Q3
96
93
138
526
2008: Q2
109
82
136
475
2008: Q1
119
87
153
421
2007: Q4
144
85
153
368
2007: Q3
171
87
178
292
2007: Q2
201
69
223
212
2007: Q1
301
47
250
165