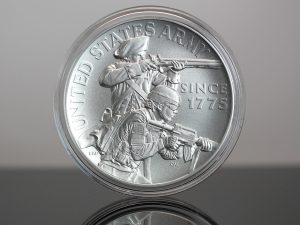 The United States Mint introduced one product last week, the U.S. Army 2.5 Ounce Silver Medal.
As discussed earlier, the medal sold out with its product page toggled to show the "Remind Me" feature should any become available due cancellations, order reconciliations, etc.
This Army medal has a mintage max of 10,000 pieces. Issued March 6, Mint figures have its sales total through March 12 at 9,564.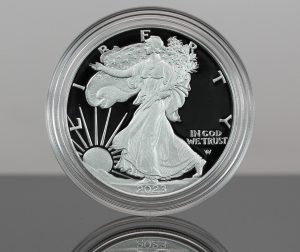 Elsewhere, the recently released 2023-W Proof American Silver Eagle moved ahead, although one product with it saw reductions. Changes from a week earlier include:
an addition of 19,199 coins to 354,408 coins for the standalone option (product code 23EA),
an addition of 17,360 coins to 67,560 coins for the 40-coin bulk option (23EA040), and
a drop of 11,471 coins to 23,319 coins as a part of the Congratulations Set (product code 23RF).
Considering the three options, 2023-W Proof Silver Eagle sales combine to 445,287 coins. The standalone option was the Mint's best weekly seller.
U.S. Mint Top Sellers
Here's the listing of the U.S. Mint's most popular numismatic products for the week ending March 12:
2023-W Proof Silver Eagle (+19,199 to 354,408)
U.S. Army 2.5 Ounce Silver Medal (+9,564)
2023-W Proof American Platinum Eagle (+516 to 5,847)
2023-W Proof Silver Eagle (40 Bulk) (+434 to 1,689)
2022 Mint Set (+413 to 225,384)
2022-P American Liberty Silver Medal (+324 to 66,102)
2022 Limited Edition Silver Proof Set (+273 to 43,045)
2022 Silver Proof Set (+219 to 239,267)
2021 Mint Set (+153 to 220,646)
2023-P Native American $1 25 Coin Roll (+149 to 11,013)
In its latest report, the U.S. Mint published sales data for 297 numismatic products. Thirty-four outperformed their prior weekly gains against 87 previously. Not counting the new medal, 1 product increased by more than 1,000 units just like previously.
In addition, 5 product posted negative weekly sales compared to 1 in the previous report. Aside from the already mentioned 2023 Congratulations Set and a 108 drop in Bessie Coleman Quarters Three-Roll Sets, the reductions were modest.
US Mint Sales: Numismatic Products
Below are tables showing the latest available sales for U.S. Mint numismatic products. The sales period covers from March 6 to 12. Products with an asterisk (*) are no longer available or had no reported sales.
2022 National Purple Heart Hall of Honor Commemorative Coins

Old
Sales
Latest
Sales
Gain/
Loss
%
Increase
2022-W Purple Heart Colorized Silver Dollar
24,871
24,871
–
–
2022-W Proof $5 Gold Coin
2,782
2,782
–
–
2022-W Uncirculated $5 Gold Coin
1,688
1,688
–
–
2022-W Proof Silver Dollar
48,432
48,432
–
–
2022-W Uncirculated Silver Dollar
14,308
14,308
–
–
2022-S Proof Half Dollar
22,906
22,906
–
–
2022-D Uncirculated Half Dollar
12,464
12,464
–
–
2022 Three-Coin Proof Set
4,893
4,893
–
–

2022 Negro Leagues Baseball Commemorative Coins

Old
Sales
Latest
Sales
Gain/
Loss
%
Increase
2022-W Proof $5 Gold Coin
1,533
1,533
–
–
2022-W Uncirculated $5 Gold Coin
1,507
1,507
–
–
2022-P Proof Silver Dollar with Privy Mark
19,673
19,673
–
–
2022-P Proof Silver Dollar
22,689
22,689
–
–
2022-P Uncirculated Silver Dollar
8,441
8,441
–
–
2022-S Proof Half Dollar
19,007
19,007
–
–
2022-D Uncirculated Half Dollar
9,780
9,780
–
–
2022 Three-Coin Proof Set
3,822
3,822
–
–
2022 Silver Dollar & Medal Set
10,668
10,668
–
–

Armed Forces Silver Medals

Old
Sales
Latest
Sales
Gain/
Loss
%
Increase
U.S. Army 2.5 Ounce Silver Medal
–
9,564
–
–
U.S. Marine Corps 2.5 Ounce Silver Medal
9,567
9,567
–
–
U.S. Navy 2.5 Ounce Silver Medal
9,978
9,978
–
–
U.S. Coast Guard 2.5 Ounce Silver Medal
9,922
9,922
–
–
U.S. Air Force 2.5 Ounce Silver Medal
9,953
9,953
–
–
U.S. Coast Guard 1 Ounce Silver Medal
15,054
15,141
87
0.58%
U.S. Air Force 1 Ounce Silver Medal
16,040
16,153
113
0.70%

American Liberty Products

Old
Sales
Latest
Sales
Gain/
Loss
%
Increase
2022-P American Liberty Silver Medal
65,778
66,102
324
0.49%
2021-W $100 American Liberty Gold Coin
12,470
12,470
–
–
2019-W $100 American Liberty Gold Coin
24,609
24,609
–
–
2019-P American Liberty Silver Medal
44,928
44,928
–
–
2018-W $10 American Liberty Gold Coin
54,569
54,673
104
0.19%
2017 American Liberty Silver Four-Medal Set*
32,647
32,647
–
–
2017-S Enhanced Uncirculated Coin Set*
210,419
210,419
–
–
2017-W $100 American Liberty Gold Coin
38,336
38,358
22
0.06%
2017-P Proof American Liberty Silver Medal*
55,187
55,187
–
–

Clad Proof Sets

Old
Sales
Latest
Sales
Gain/
Loss
%
Increase
2022 Proof Set
399,306
399,320
14
0.00%
2021 Proof Set
511,256
511,259
3
0.00%
2020 Proof Set*
464,658
464,658
–
–
2019 Proof Set*
601,327
601,327
–
–
2018 Proof Set*
517,081
517,081
–
–
2017 Proof Set*
568,678
568,678
–
–
2022 American Innovation Dollars Proof Set
73,922
74,048
126
0.17%
2021 American Innovation Dollars Proof Set
83,051
83,115
64
0.08%
2020 American Innovation Dollars Proof Set
107,052
107,052
–
–
2019 American Innovation Dollars Proof Set
144,962
145,018
56
0.04%
2022 American Women Quarters Proof Set
42,616
42,616
–
–
2020 America the Beautiful Quarters Proof Set
64,242
64,242
–
–
2019 America the Beautiful Quarters Proof Set
82,222
82,254
32
0.04%
2018 America the Beautiful Quarters Proof Set*
86,697
86,697
–
–

Silver Proof Sets

Old
Sales
Latest
Sales
Gain/
Loss
%
Increase
2022 Silver Proof Set
239,048
239,267
219
0.09%
2021 Silver Proof Set
299,239
299,303
64
0.02%
2020 Silver Proof Set*
313,183
313,183
–
–
2019 Silver Proof Set*
412,708
412,708
–
–
2018 Silver Proof Set*
332,274
332,274
–
–
2018 Silver Reverse Proof Set*
199,116
199,116
–
–
2022 American Women Quarters Silver Proof Set
57,627
57,627
–
–
2020 America the Beautiful Quarters Silver Proof Set*
64,012
64,012
–
–
2019 America the Beautiful Quarters Silver Proof Set*
78,585
78,585
–
–
2018 America the Beautiful Quarters Silver Proof Set*
79,301
79,301
–
–
2023 Congratulations Gift Set
34,790
23,319
-11,471
-32.97%
2022 Congratulations Gift Set
29,710
29,710
–
–
2021 Congratulations Gift Set*
39,997
39,997
–
–
2020 Congratulations Gift Set*
24,468
24,468
–
–
2019 Congratulations Gift Set*
31,638
31,638
–
–
2022 Limited Edition Silver Proof Set
42,772
43,045
273
0.64%
2021 Limited Edition Silver Proof Set
48,711
48,711
–
–
2020 Limited Edition Silver Proof Set*
50,061
50,061
–
–

US Mint Uncirculated Sets

Old
Sales
Latest
Sales
Gain/
Loss
%
Increase
2022 Uncirculated Mint Set
224,971
225,384
413
0.18%
2021 Uncirculated Mint Set
220,493
220,646
153
0.07%
2020 Uncirculated Mint Set*
211,787
211,787
–
–
2019 Uncirculated Mint Set*
346,117
346,117
–
–
2018 Uncirculated Mint Set*
257,536
257,536
–
–
2017 Uncirculated Mint Set*
286,813
286,813
–
–

Kids Coin Sets

Old
Sales
Latest
Sales
Gain/
Loss
%
Increase
2019 Youth Coin and Currency Set
23,815
23,893
78
0.33%
2019 Explore and Discover Coin Set
41,140
41,163
23
0.06%
2019 Rocketship*
49,921
49,921
–
–
2014 Coin Discovery Set*
13,151
13,151
–
–

Ornaments

Old
Sales
Latest
Sales
Gain/
Loss
%
Increase
2022 U.S. Mint Ornament
5,313
5,317
4
0.08%
2022 Mighty Minters Ornament
3,849
3,854
5
0.13%
2022 Maya Angelou Ornament
2,801
2,808
7
0.25%
2022 Dr. Sally Ride Ornament
2,941
2,946
5
0.17%
2022 Wilma Mankiller Ornament
2,047
2,053
6
0.29%
2022 Nina Otero-Warren Ornament
1,702
1,705
3
0.18%
2022 Anna May Wong Ornament
2,949
2,960
11
0.37%
2021 Mighty Minters Ornament
4,821
4,821
–
–
2021 U.S. Mint Ornament
7,745
7,748
3
0.04%
2020 Mighty Minters Ornament
4,451
4,452
1
0.02%
2020 U.S. Mint Ornament
6,469
6,473
4
0.06%
2019 Mighty Minters Ornament
6,977
6,978
1
0.01%
2019 U.S. Mint Ornament
11,649
11,652
3
0.03%

Proof & Reverse Proof Silver Eagles

Old
Sales
Latest
Sales
Gain/
Loss
%
Increase
2022-S Proof Silver Eagle
199,431
199,431
–
–
2022-S Proof Silver Eagle (Bulk – 40 Coins)
2,925
2,925
–
–
2023-W Proof Silver Eagle
335,209
354,408
19,199
5.73%
2023-W Proof Silver Eagle (Bulk – 40 Coins)
1,255
1,689
434
34.58%
2022-W Proof Silver Eagle
496,989
496,990
1
0.00%
2022-W Proof Silver Eagle (Bulk – 40 Coins)
4,106
4,106
–
–
2021 Reverse Proof American Silver Eagle Two-Coin Set*
124,822
124,822
–
–
2021-S Proof Silver Eagle, Type 2*
199,564
199,564
–
–
2021-S Proof Silver Eagle, Type 2 (Bulk – 40 Coins)*
652
652
–
–
2021-W Proof Silver Eagle, Type 2*
300,084
300,084
–
–
2021-W Proof Silver Eagle, Type 2 (Bulk – 40 Coins)*
2,142
2,142
–
–
2021-W Proof Silver Eagle, Type 1*
299,830
299,830
–
–
2021-W Proof Silver Eagle, Type 1 (Bulk – 40 Coins)*
686
686
–
–

Uncirculated Silver Eagles

Old
Sales
Latest
Sales
Gain/
Loss
%
Increase
2022
159,533
159,525
-8
-0.01%
2022 Bulk 40
987
987
–
–
2021*
174,457
174,460
3
0.00%
2021 Bulk 40*
324
324
–
–

2022 Proof American Eagle Gold Coins

Old
Sales
Latest
Sales
Gain/
Loss
%
Increase
1 oz
5,902
5,902
–
–
1/2 oz
1,970
1,970
–
–
1/4 oz
4,463
4,463
–
–
1/10 oz
13,801
13,802
1
0.01%
4-Coin Set
9,896
9,896
–
–

2021 Proof American Eagle Gold Coins

Old
Sales
Latest
Sales
Gain/
Loss
%
Increase
1/10 oz Two-Coin Proof Set*
4,985
4,985
–
–
1 oz (Type 2)*
5,583
5,583
–
–
1/2 oz (Type 2)*
1,989
1,989
–
–
1/4 oz (Type 2)*
3,340
3,340
–
–
1/10 oz (Type 2)
9,860
9,871
11
0.11%
4-Coin Set (Type 2)*
10,191
10,191
–
–
1 oz (Type 1)*
4,448
4,448
–
–
1/2 oz (Type 1)*
1,589
1,589
–
–
1/4 oz (Type 1)*
2,689
2,689
–
–
1/10 oz (Type 1)*
7,975
7,975
–
–
4-Coin Set (Type 1)*
8,176
8,176
–
–

Uncirculated American Eagle Gold Coins

Old
Sales
Latest
Sales
Gain/
Loss
%
Increase
2022
8,536
8,619
83
0.97%
2021*
8,914
8,914
–
–
2020*
6,284
6,284
–
–
2019*
5,851
5,851
–
–
2018*
8,518
8,518
–
–
2017*
5,800
5,800
–
–

Proof American Buffalo Gold Coins

Old
Sales
Latest
Sales
Gain/
Loss
%
Increase
2022 Proof Gold Buffalo
15,940
15,942
2
0.01%
2021 Proof Gold Buffalo
16,958
16,958
–
–
2020 Proof Gold Buffalo*
11,887
11,887
–
–
2019 Proof Gold Buffalo*
14,844
14,844
–
–
2018 Proof Gold Buffalo*
15,756
15,756
–
–
2017 Proof Gold Buffalo*
15,810
15,810
–
–

Proof American Platinum Eagle

Old
Sales
Latest
Sales
Gain/
Loss
%
Increase
2023
5,331
5,847
516
9.68%
2022
9,713
9,747
34
0.35%
2021
9,880
9,880
–
–
2020
9,732
9,732
–
–
2019
11,268
11,268
–
–
2018
15,830
15,865
35
0.22%
2017*
8,890
8,890
–
–

American Palladium Eagle

Old
Sales
Latest
Sales
Gain/
Loss
%
Increase
2022-W Reverse Proof
6,770
6,902
132
1.95%
2021-W Proof
5,169
5,169
–
–
2020-W Uncirculated
9,740
9,740
–
–
2019-W Reverse Proof
18,772
18,772
–
–
2018-W Proof*
14,986
14,986
–
–

Presidential Silver Medals

Old
Sales
Latest
Sales
Gain/
Loss
%
Increase
2023 James Buchanan Presidential Silver Medal
11,120
11,157
37
0.33%
2021 Franklin Pierce Presidential Silver Medal
12,042
12,060
18
0.15%
2022 Millard Fillmore Presidential Silver Medal
12,276
12,284
8
0.07%
2022 Zachary Taylor Presidential Silver Medal
12,709
12,714
5
0.04%
2022 James Knox Polk Presidential Silver Medal
12,930
12,938
8
0.06%
2021 John Tyler Presidential Silver Medal
13,353
13,366
13
0.10%
2021 William Henry Harrison Presidential Silver Medal
13,282
13,296
14
0.11%
2021 Martin Van Buren Presidential Silver Medal
13,454
13,463
9
0.07%
2020 Andrew Jackson Presidential Silver Medal
16,111
16,117
6
0.04%
2019 John Quincy Adams Presidential Silver Medal
14,433
14,436
3
0.02%
2019 James Monroe Presidential Silver Medal
14,954
14,957
3
0.02%
2019 James Madison Presidential Silver Medal
16,412
16,414
2
0.01%
2019 Thomas Jefferson Presidential Silver Medal
23,339
23,349
10
0.04%
2018 George Washington Presidential Silver Medal
33,673
33,692
19
0.06%
2018 John Adams Presidential Silver Medal
23,126
23,134
8
0.03%

American Innovation Reverse Proof Sets

Old
Sales
Latest
Sales
Gain/
Loss
%
Increase
2022
46,671
46,818
147
0.31%
2021
49,292
49,293
1
0.00%

2023 American Innovation Dollars – Ohio

Old
Sales
Latest
Sales
Gain/
Loss
%
Increase
25-coin roll set (P)
7,835
7,889
54
0.69%
25-coin roll set (D)
6,871
6,866
-5
-0.07%
100-coin bag (P)
2,282
2,304
22
0.96%
100-coin bag (D)
2,102
2,122
20
0.95%

2022 American Innovation Dollars – Tennessee

Old
Sales
Latest
Sales
Gain/
Loss
%
Increase
25-coin roll set (P)
7,008
7,008
–
–
25-coin roll set (D)
7,002
7,003
1
0.01%
100-coin bag (P)
2,770
2,770
–
–
100-coin bag (D)
2,770
2,770
–
–

2022 American Innovation Dollars – Kentucky

Old
Sales
Latest
Sales
Gain/
Loss
%
Increase
25-coin roll set (P)
6,999
6,998
-1
-0.01%
25-coin roll set (D)
6,968
6,968
–
–
100-coin bag (P)
2,767
2,767
–
–
100-coin bag (D)
2,778
2,778
–
–

2022 American Innovation Dollars – Vermont

Old
Sales
Latest
Sales
Gain/
Loss
%
Increase
25-coin roll set (P)
7,023
7,023
–
–
25-coin roll set (D)
6,986
6,987
1
0.01%
100-coin bag (P)
2,784
2,784
–
–
100-coin bag (D)
2,774
2,774
–
–

2022 American Innovation Dollars – Rhode Island

Old
Sales
Latest
Sales
Gain/
Loss
%
Increase
25-coin roll set (P)
7,010
7,010
–
–
25-coin roll set (D)
7,007
7,007
–
–
100-coin bag (P)
2,784
2,784
–
–
100-coin bag (D)
2,776
2,776
–
–

2021 American Innovation Dollars – North Carolina

Old
Sales
Latest
Sales
Gain/
Loss
%
Increase
25-coin roll set (P)
6,985
6,985
–
–
25-coin roll set (D)
6,999
6,999
–
–
100-coin bag (P)
2,785
2,785
–
–
100-coin bag (D)
2,787
2,787
–
–

2021 American Innovation Dollars – New York

Old
Sales
Latest
Sales
Gain/
Loss
%
Increase
25-coin roll set (P)
6,986
6,986
–
–
25-coin roll set (D)
6,989
6,989
–
–
100-coin bag (P)
2,766
2,766
–
–
100-coin bag (D)
2,764
2,764
–
–

2021 American Innovation Dollars – Virginia

Old
Sales
Latest
Sales
Gain/
Loss
%
Increase
25-coin roll set (P)
6,984
6,984
–
–
25-coin roll set (D)
6,969
6,969
–
–
100-coin bag (P)
2,795
2,795
–
–
100-coin bag (D)
2,778
2,778
–
–

2021 American Innovation Dollars – New Hampshire

Old
Sales
Latest
Sales
Gain/
Loss
%
Increase
25-coin roll set (P)
6,997
6,997
–
–
25-coin roll set (D)
7,004
7,004
–
–
100-coin bag (P)
2,789
2,789
–
–
100-coin bag (D)
2,787
2,787
–
–

2020 American Innovation Dollars – South Carolina

Old
Sales
Latest
Sales
Gain/
Loss
%
Increase
Reverse Proof (S)
40,162
40,214
52
0.13%
25-coin roll set (P)
6,378
6,378
–
–
25-coin roll set (D)
6,399
6,399
–
–
100-coin bag (P)
2,734
2,734
–
–
100-coin bag (D)
2,378
2,378
–
–

2020 American Innovation Dollars – Maryland

Old
Sales
Latest
Sales
Gain/
Loss
%
Increase
Reverse Proof (S)
49,646
49,646
–
–
25-coin roll set (P)
6,493
6,493
–
–
25-coin roll set (D)
6,471
6,471
–
–
100-coin bag (P)
2,725
2,725
–
–
100-coin bag (D)
2,737
2,737
–
–

2020 American Innovation Dollars – Massachusetts

Old
Sales
Latest
Sales
Gain/
Loss
%
Increase
Reverse Proof (S)
46,990
47,039
49
0.10%
25-coin roll set (P)
6,486
6,486
–
–
25-coin roll set (D)
6,481
6,481
–
–
100-coin bag (P)
2,746
2,746
–
–
100-coin bag (D)
2,744
2,744
–
–

2020 American Innovation Dollars – Connecticut

Old
Sales
Latest
Sales
Gain/
Loss
%
Increase
Reverse Proof (S)
45,974
45,996
22
0.05%
25-coin roll set (P)
6,496
6,496
–
–
25-coin roll set (D)
6,425
6,425
–
–
100-coin bag (P)
2,736
2,736
–
–
100-coin bag (D)
2,747
2,747
–
–

2019 American Innovation Dollars – Georgia

Old
Sales
Latest
Sales
Gain/
Loss
%
Increase
Reverse Proof (S)
46,126
46,159
33
0.07%
25-coin roll set (P)
7,657
7,664
7
0.09%
25-coin roll set (D)
7,162
7,172
10
0.14%
100-coin bag (P)
3,250
3,252
2
0.06%
100-coin bag (D)
3,138
3,143
5
0.16%

2019 American Innovation Dollars – New Jersey

Old
Sales
Latest
Sales
Gain/
Loss
%
Increase
Reverse Proof (S)
49,418
49,448
30
0.06%
25-coin roll set (P)
8,505
8,520
15
0.18%
25-coin roll set (D)
7,632
7,647
15
0.20%
100-coin bag (P)
3,681
3,688
7
0.19%
100-coin bag (D)
3,328
3,332
4
0.12%

2019 American Innovation Dollars – Pennsylvania

Old
Sales
Latest
Sales
Gain/
Loss
%
Increase
Reverse Proof (S)
53,952
53,981
29
0.05%
25-coin roll set (P)
9,661
9,688
27
0.28%
25-coin roll set (D)
8,083
8,095
12
0.15%
100-coin bag (P)
3,273
3,277
4
0.12%
100-coin bag (D)
2,854
2,867
13
0.46%

2019 American Innovation Dollars – Delaware

Old
Sales
Latest
Sales
Gain/
Loss
%
Increase
Reverse Proof (S)
69,240
69,276
36
0.05%
25-coin roll set (P)
8,680
8,686
6
0.07%
25-coin roll set (D)
8,052
8,056
4
0.05%
100-coin bag (P)
3,035
3,036
1
0.03%
100-coin bag (D)
3,225
3,229
4
0.12%

2018 American Innovation Dollars

Old
Sales
Latest
Sales
Gain/
Loss
%
Increase
Reverse Proof (S)*
74,720
74,720
–
–
Proof Coin (S)
250,399
250,450
51
0.02%
25-coin roll set (P)
21,580
21,605
25
0.12%
25-coin roll set (D)
24,555
24,585
30
0.12%
100-coin bag (P)*
2,935
2,935
–
–
100-coin bag (D)*
2,954
2,954
–
–

George H.W. Bush Coin & Chronicles Set

Old
Sales
Latest
Sales
Gain/
Loss
%
Increase
$1 Coin & Set
10,895
10,913
18
0.17%

2020 Bush Presidential $1 Coin & First Spouse Medal Set

Old
Sales
Latest
Sales
Gain/
Loss
%
Increase
$1 Coin & Set
9,876
9,876
–
–

2020 George H.W. Bush Presidential $1 Coins

Old
Sales
Latest
Sales
Gain/
Loss
%
Increase
25-coin roll (P)
24,061
24,107
46
0.19%
25-coin roll (D)
20,915
20,944
29
0.14%
100-coin bag (P)
2,695
2,695
–
–
100-coin bag (D)
2,098
2,098
–
–
250-coin bag (P)
2,484
2,499
15
0.60%
250-coin bag (D)
4,023
4,025
2
0.05%

Native American Dollar Rolls

Old
Sales
Latest
Sales
Gain/
Loss
%
Increase
2023-P Native American $1 25 Coin Roll
10,864
11,013
149
1.37%
2023-D Native American $1 25 Coin Roll
10,598
10,709
111
1.05%
2023-P Native American $1 100-Coin Bag
1,325
1,365
40
3.02%
2023-D Native American $1 100-Coin Bag
1,342
1,368
26
1.94%
2023-P Native American $1 250-Coin Box
751
752
1
0.13%
2023-D Native American $1 250-Coin Box
877
882
5
0.57%
2022-P Native American $1 25 Coin Roll
13,929
13,929
–
–
2022-D Native American $1 25 Coin Roll
13,903
13,903
–
–
2022-P Native American $1 100-Coin Bag
1,695
1,695
–
–
2022-D Native American $1 100-Coin Bag
1,609
1,610
1
0.06%
2022-P Native American $1 250-Coin Box
1,698
1,698
–
–
2022-D Native American $1 250-Coin Box
1,699
1,699
–
–
2021-P Native American $1 25 Coin Roll
15,975
15,975
–
–
2021-D Native American $1 25 Coin Roll
14,967
14,967
–
–
2021-P Native American $1 100-Coin Bag
1,704
1,704
–
–
2021-D Native American $1 100-Coin Bag
1,618
1,618
–
–
2021-P Native American $1 250-Coin Box
1,789
1,789
–
–
2021-D Native American $1 250-Coin Box
1,795
1,795
–
–

Kennedy Half Dollar Rolls

Old
Sales
Latest
Sales
Gain/
Loss
%
Increase
2022-dated 200-coin bag (P&D)
10,997
10,997
–
–
2022-dated 2-roll set (P&D)
21,882
21,882
–
–
2021-dated 200-coin bag (P&D)
9,968
9,968
–
–
2021-dated 2-roll set (P&D)
21,953
21,953
–
–
2020-dated 200-coin bag (P&D)
11,776
11,776
–
–
2020-dated 2-roll set (P&D)
24,312
24,312
–
–
2019-dated 200-coin bag (P&D)*
11,534
11,534
–
–
2019-dated 2-roll set (P&D)*
24,132
24,132
–
–

2023 Bessie Coleman Quarters

Old
Sales
Latest
Sales
Gain/
Loss
%
Increase
Three-Roll Set
12,522
12,414
-108
-0.86%
100-Coin Bag (P)
4,666
4,731
65
1.39%
100-Coin Bag (D)
4,362
4,398
36
0.83%
Two-Roll Set
4,645
4,713
68
1.46%

2022 Anna May Wong Quarters

Old
Sales
Latest
Sales
Gain/
Loss
%
Increase
Three-Roll Set
7,577
7,577
–
–
100-Coin Bag (P)
1,840
1,840
–
–
100-Coin Bag (D)
1,840
1,840
–
–
Two-Roll Set
5,906
5,906
–
–

2022 Nina Otero-Warren Quarters

Old
Sales
Latest
Sales
Gain/
Loss
%
Increase
Three-Roll Set
7,639
7,639
–
–
100-Coin Bag (P)
1,850
1,850
–
–
100-Coin Bag (D)
1,851
1,851
–
–
Two-Roll Set
5,877
5,877
–
–

2022 Wilma Mankiller Quarters

Old
Sales
Latest
Sales
Gain/
Loss
%
Increase
Three-Roll Set
7,617
7,617
–
–
100-Coin Bag (P)
1,847
1,847
–
–
100-Coin Bag (D)
1,822
1,822
–
–
Two-Roll Set
5,909
5,909
–
–

2022 Dr. Sally Ride Quarters

Old
Sales
Latest
Sales
Gain/
Loss
%
Increase
Three-Roll Set
7,603
7,603
–
–
100-Coin Bag (P)
1,853
1,853
–
–
100-Coin Bag (D)
1,854
1,854
–
–
Two-Roll Set
5,924
5,924
–
–

2022 Maya Angelou Quarters

Old
Sales
Latest
Sales
Gain/
Loss
%
Increase
Three-Roll Set
7,587
7,587
–
–
100-Coin Bag (P)
1,858
1,858
–
–
100-Coin Bag (D)
1,861
1,861
–
–
Two-Roll Set
5,937
5,937
–
–

2021 Tuskegee Airmen Quarters

Old
Sales
Latest
Sales
Gain/
Loss
%
Increase
100-Coin Bag (S)*
4,031
4,031
–
–
40-Coin Roll (S)*
3,358
3,358
–
–
Three-Roll Set*
7,642
7,642
–
–
100-Coin Bag (P)*
2,367
2,367
–
–
100-Coin Bag (D)*
2,380
2,380
–
–
Two-Roll Set*
5,374
5,374
–
–

2020 Tallgrass Prairie Quarters

Old
Sales
Latest
Sales
Gain/
Loss
%
Increase
100-Coin Bag (S)*
4,193
4,193
–
–
40-Coin Roll (S)*
3,993
3,993
–
–
Three-Roll Set*
8,930
8,930
–
–
100-Coin Bag (P)*
2,499
2,499
–
–
100-Coin Bag (D)*
2,478
2,478
–
–
Two-Roll Set*
6,958
6,958
–
–

2020 Marsh-Billings-Rockefeller Quarters

Old
Sales
Latest
Sales
Gain/
Loss
%
Increase
100-Coin Bag (S)*
4,183
4,183
–
–
40-Coin Roll (S)
3,961
3,961
–
–
Three-Roll Set*
8,834
8,834
–
–
100-Coin Bag (P)*
2,415
2,415
–
–
100-Coin Bag (D)*
2,331
2,331
–
–
Two-Roll Set
6,956
6,956
–
–

2020 Salt River Bay Quarters

Old
Sales
Latest
Sales
Gain/
Loss
%
Increase
100-Coin Bag (S)*
4,156
4,156
–
–
40-Coin Roll (S)*
4,005
4,005
–
–
Three-Roll Set*
8,969
8,969
–
–
100-Coin Bag (P)*
2,488
2,488
–
–
100-Coin Bag (D)*
2,422
2,422
–
–
Two-Roll Set*
6,983
6,983
–
–

2020 Weir Farm Quarters

Old
Sales
Latest
Sales
Gain/
Loss
%
Increase
100-Coin Bag (S)*
4,281
4,281
–
–
40-Coin Roll (S)*
4,013
4,013
–
–
Three-Roll Set*
8,930
8,930
–
–
100-Coin Bag (P)*
2,471
2,471
–
–
100-Coin Bag (D)*
2,470
2,470
–
–
Two-Roll Set*
6,963
6,963
–
–

2020 National Park of American Samoa Quarters

Old
Sales
Latest
Sales
Gain/
Loss
%
Increase
100-Coin Bag (S)*
4,236
4,236
–
–
40-Coin Roll (S)*
3,974
3,974
–
–
Three-Roll Set*
8,930
8,930
–
–
100-Coin Bag (P)*
2,456
2,456
–
–
100-Coin Bag (D)*
2,480
2,480
–
–
Two-Roll Set*
6,991
6,991
–
–