The United States Mint released proposed designs for the 2024 quarters honoring Patsy Takemoto Mink, Mary Edwards Walker, Pauli Murray, Zitkala-Ša and Celia Cruz.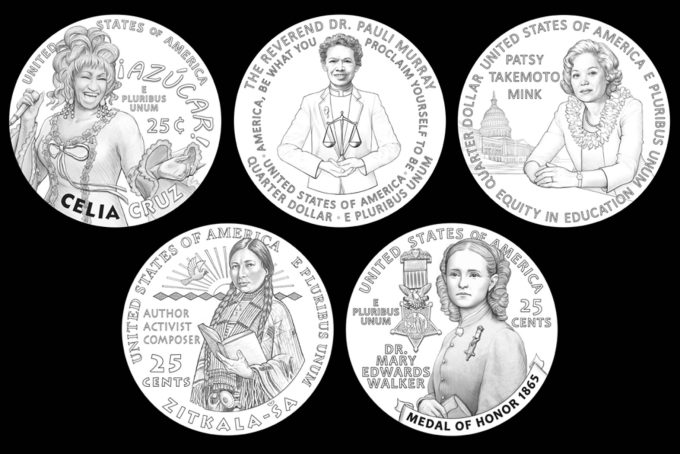 These coins will mark the third year for the U.S. Mint American Women Quarters™ Program, a four-year series paying homage to women for their important accomplishments and contributions to the United States and its development.
In total, 40 quarter candidate designs were released Feb 16 for review by Commission of Fine Arts (CFA). The Citizens Coinage Advisory Committee (CCAC) will consider them on March 1. As outlined in Public Law 116-330, the Treasury Secretary will select one design for each quarter, after consulting with the CFA and CCAC.
The winning design for each honoree will appear on a quarter's reverse or tails side. (All quarters in the series share the same obverse or heads side image.)
Celia Cruz Quarter Candidate Designs
Six candidate designs were released for the quarter honoring Celia Cruz.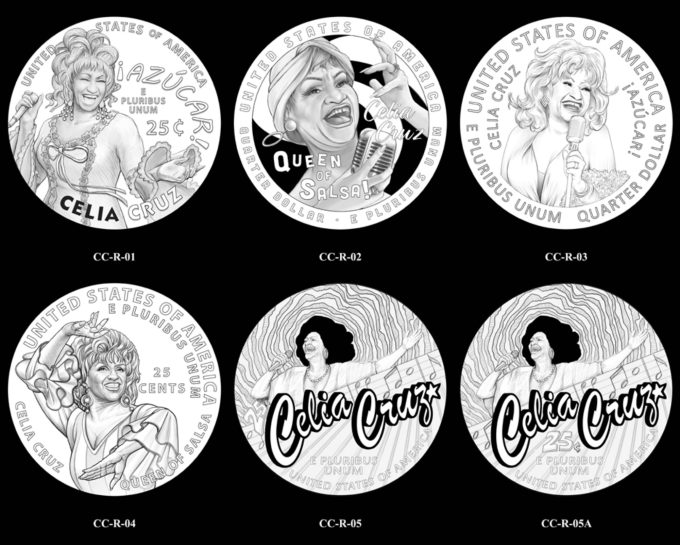 Cruz was a naturalized Cuban-American singer who became one of the most popular artists of the 20th century. Born in Cuba, she left the country after the 1959 Cuban revolution, despite already being a star, becoming a de facto spokesperson for Cuban exiles.
Cruz sang with the group Sonora Matancera and the Tito Puente orchestra among others, but really came to fame as a solo artist. Her operatic range as a salsa singer would eventually earn her recognition as the "Queen of Salsa."
Reverend Dr. Pauli Murray Quarter Candidate Designs
Six candidate designs were released for the quarter honoring Reverend Dr. Pauli Murray.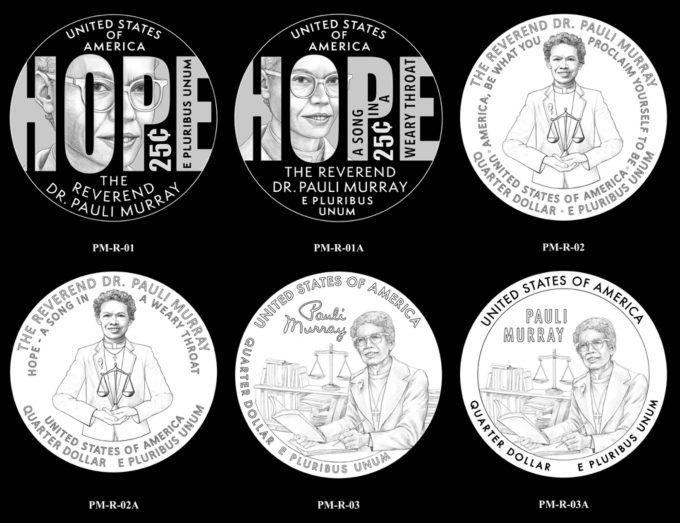 Murray was orphaned at an early age but fought to overcome any disadvantage because of it. She graduated first in her class at Howard University and became the first African American woman to earn a Doctor of Juridical Science degree from Yale Law School, using it to advance her causes of Civil and Women's Rights issues.
She eventually felt a calling and became an Episcopal priest. She is recognized today as one most influential social justice advocates of the 20th century.
Patsy Takemoto Mink Quarter Candidate Designs
Five candidate designs were released for the quarter honoring Patsy Takemoto Mink.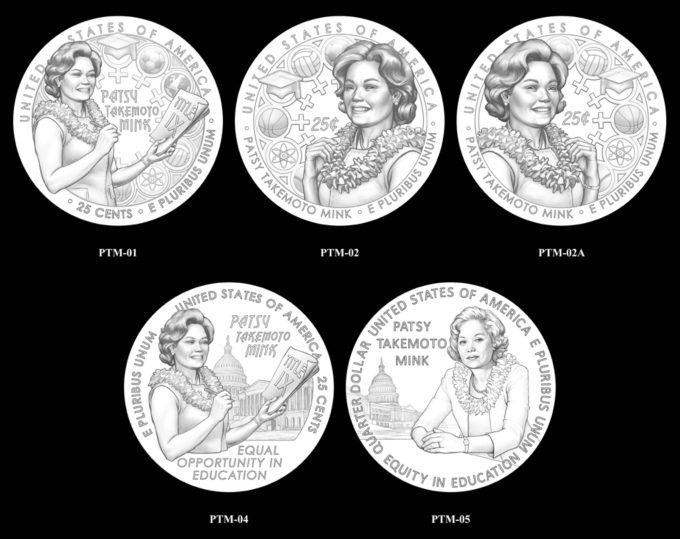 Mink has the distinction of being the first woman of color and the first Asian-American to serve in Congress. She was a Democratic member of the U.S. House of Representatives for 24 years despite repeated attempts from her own party to defeat her.
However, Mink's tenacity towards issues such as gender equality, racial equality, health care and education would assure her favor with her constituents and cement her place in history as a formidable politician.
Zitkala-Ša Quarter Candidate Designs
Ten candidate designs were released for the quarter honoring Zitkala-Ša.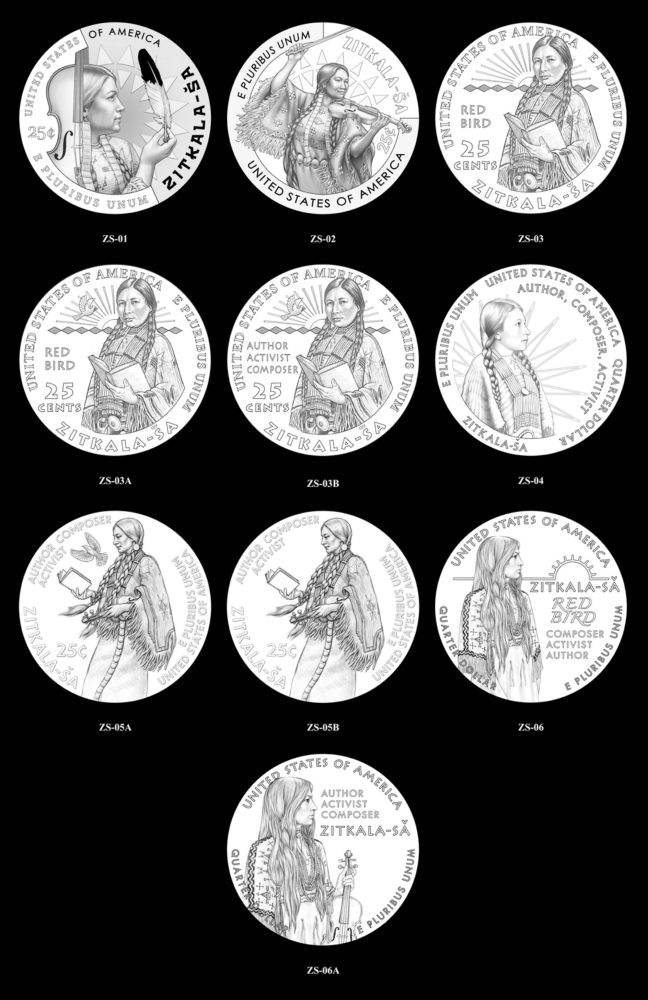 Zitkala-Ša (meaning "Red Bird"), also known as Gertrude Simmons Bonnin, was born on the Yankton Indian Reservation in South Dakota on February 22, 1876. Despite her mother's disapproval, she went with Quaker missionaries at the age of eight to Wabash, Indiana to learn to read, write and play the violin and piano.
She used the education to become a music teacher and would eventually compose the libretto and songs for the opera Sun Dance based on a sacred Sioux ritual that the federal government had prohibited.
Throughout her life, Zitkala-Ša promoted the causes of education and health care as well as the preservation of Native American culture while ensuring their civil rights.
Dr. Mary Edwards Walker Quarter Candidate Designs
Thirteen candidate designs were released for the quarter honoring Dr. Mary Edwards Walker.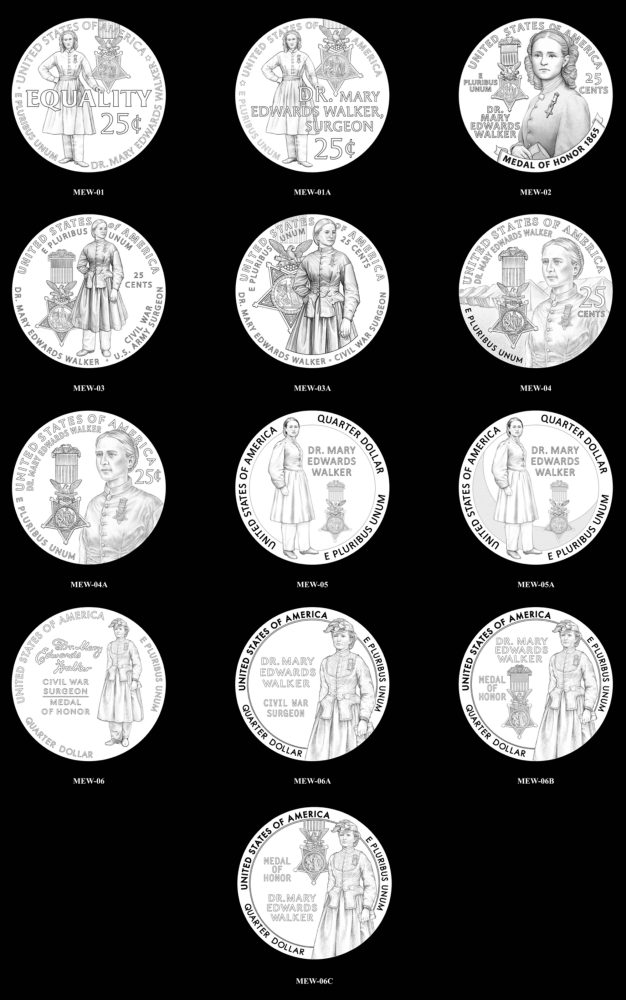 Walker became a surgeon in 1855 at a time when very few other women would even consider such a career. Her brave demeanor would not stop there, however. With the start of the American Civil War, Walker attempted to join the Union Army as a medical officer but was denied because of her gender. She volunteered, nonetheless, eventually receiving her commission as the first female surgeon in the army.
While assisting a Confederate doctor across enemy lines with wounded, she was arrested as a spy and held as a prisoner of war for four months. After the war, she received the Medal of Honor becoming the only woman to have ever attained that distinction. She is also remembered for her support of women's rights and the end of slavery.