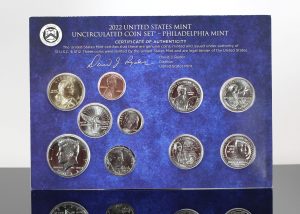 Lacking 2023-dated products for another week, there's not much to talk about in the latest round of U.S. Mint sales figures. Except, maybe, for some exceptionally low gains for even core numismatic issues. Still, how much importance can anyone attach to older products whose stories have practically played out?
The U.S. Mint's top numismatic seller through the week ending Jan. 22 was the 2022-W Uncirculated American Silver Eagle, rising 535, while the 10th most-sold was the 2022 American Innovation Dollar Reverse Proof Set, which posted an increase of 96. Highlighting the discussion, between the pair are scatterings of 2021-dated products and even one from 2018.
Lower sales volumes appear elsewhere in the report. The Mint's latest published sales data lists 277 numismatic products. Only 24 of them outperformed their prior weekly gains against 89 previously.
Weekly U.S. Mint Top Sellers
Here's the listing of the U.S. Mint's most popular numismatic products for the week ending Jan. 22:
2022-W Uncirculated Silver Eagle (+535 to 158,306)
2022 Mint Set (+480 to 220,778)
2022 Silver Proof Set (+390 to 236,763)
2022-W Proof Silver Eagle (+203 to 496,889)
2022 Limited Edition Silver Proof Set (+196 to 40,700)
2021 Mint Set (+135 to 219,354)
2022-P American Liberty Silver Medal (+130 to 62,687)
2021 Silver Proof Set (+119 to 298,829)
2018-W $10 American Liberty Gold Coin (+108 to 53,847)
2022 American Innovation Dollar Reverse Proof Set (+96 to 45,991)
In addition, 16 products posted negative weekly sales against 11 in the previous report. The reductions were modest were over half of them coming from 2022 commemorative coins.
US Mint Sales: Numismatic Products
Below are tables showing the latest available sales for U.S. Mint numismatic products. The sales period covers from Jan. 16 to 22. Products with an asterisk (*) are no longer available or had no reported sales.
Morgan and Peace Silver Dollars

Old
Sales
Latest
Sales
Gain/
Loss
%
Increase
2021 Morgan Silver Dollar with CC Privy Mark*
173,782
173,782
–
–
2021 Morgan Silver Dollar with O Privy Mark*
173,531
173,531
–
–
2021-D Morgan Silver Dollar*
174,661
174,661
–
–
2021-S Morgan Silver Dollar*
174,850
174,850
–
–
2021 Morgan Silver Dollar (P)*
174,498
174,498
–
–
2021 Peace Silver Dollar (P)*
199,543
199,543
–
–

2022 National Purple Heart Hall of Honor Commemorative Coins

Old
Sales
Latest
Sales
Gain/
Loss
%
Increase
2022-W Purple Heart Colorized Silver Dollar
24,949
24,949
–
–
2022-W Proof $5 Gold Coin
2,783
2,783
–
–
2022-W Uncirculated $5 Gold Coin
1,689
1,688
-1
-0.06%
2022-W Proof Silver Dollar
48,433
48,422
-11
-0.02%
2022-W Uncirculated Silver Dollar
14,316
14,311
-5
-0.03%
2022-S Proof Half Dollar
22,901
22,896
-5
-0.02%
2022-D Uncirculated Half Dollar
12,456
12,455
-1
-0.01%
2022 Three-Coin Proof Set
4,897
4,894
-3
-0.06%

2022 Negro Leagues Baseball Commemorative Coins

Old
Sales
Latest
Sales
Gain/
Loss
%
Increase
2022-W Proof $5 Gold Coin
1,534
1,534
–
–
2022-W Uncirculated $5 Gold Coin
1,507
1,507
–
–
2022-P Proof Silver Dollar with Privy Mark
19,674
19,674
–
–
2022-P Proof Silver Dollar
22,687
22,686
-1
0.00%
2022-P Uncirculated Silver Dollar
8,448
8,441
-7
-0.08%
2022-S Proof Half Dollar
19,006
19,005
-1
-0.01%
2022-D Uncirculated Half Dollar
9,775
9,773
-2
-0.02%
2022 Three-Coin Proof Set
3,823
3,822
-1
-0.03%
2022 Silver Dollar & Medal Set
10,668
10,668
–
–

2021 Christa McAuliffe Silver Dollars

Old
Sales
Latest
Sales
Gain/
Loss
%
Increase
2021-P Proof Silver Dollar*
54,222
54,222
–
–
2021-P Uncirculated Silver Dollar*
16,025
16,025
–
–

2021 National Law Enforcement Memorial and Museum Commemorative Coins

Old
Sales
Latest
Sales
Gain/
Loss
%
Increase
2021-W Proof $5 Gold Coin*
1,473
1,473
–
–
2021-W Uncirculated $5 Gold Coin*
1,753
1,753
–
–
2021-P Proof Silver Dollar*
29,701
29,701
–
–
2021-P Uncirculated Silver Dollar*
9,422
9,422
–
–
2021-S Proof Half Dollar*
23,307
23,307
–
–
2021-D Uncirculated Half Dollar*
10,171
10,171
–
–
2021 Three-Coin Proof Set*
4,391
4,391
–
–

Armed Forces Silver Medals

Old
Sales
Latest
Sales
Gain/
Loss
%
Increase
U.S. Marine Corps 2.5 Ounce Silver Medal
9,567
9,567
–
–
U.S. Navy 2.5 Ounce Silver Medal
9,978
9,978
–
–
U.S. Coast Guard 2.5 Ounce Silver Medal
9,848
9,848
–
–
U.S. Air Force 2.5 Ounce Silver Medal
9,902
9,902
–
–
U.S. Coast Guard 1 Ounce Silver Medal
14,669
14,698
29
0.20%
U.S. Air Force 1 Ounce Silver Medal
15,605
15,605
–
–

American Liberty Products

Old
Sales
Latest
Sales
Gain/
Loss
%
Increase
2022-P American Liberty Silver Medal
62,557
62,687
130
0.21%
2021-W $100 American Liberty Gold Coin
12,470
12,470
–
–
2019-W $100 American Liberty Gold Coin
24,609
24,609
–
–
2019-P American Liberty Silver Medal
44,928
44,928
–
–
2018-W $10 American Liberty Gold Coin
53,739
53,847
108
0.20%
2017 American Liberty Silver Four-Medal Set*
32,647
32,647
–
–
2017-S Enhanced Uncirculated Coin Set*
210,419
210,419
–
–
2017-W $100 American Liberty Gold Coin
38,115
38,128
13
0.03%
2017-P Proof American Liberty Silver Medal*
55,187
55,187
–
–

Clad Proof Sets

Old
Sales
Latest
Sales
Gain/
Loss
%
Increase
2022 Proof Set
398,580
398,631
51
0.01%
2021 Proof Set
511,147
511,149
2
0.00%
2020 Proof Set*
464,658
464,658
–
–
2019 Proof Set*
601,127
601,127
–
–
2018 Proof Set*
517,081
517,081
–
–
2017 Proof Set*
568,678
568,678
–
–
2022 American Innovation Dollars Proof Set
72,948
73,022
74
0.10%
2021 American Innovation Dollars Proof Set
82,539
82,573
34
0.04%
2020 American Innovation Dollars Proof Set
107,069
107,053
-16
-0.01%
2019 American Innovation Dollars Proof Set
144,456
144,510
54
0.04%
2022 American Women Quarters Proof Set
42,606
42,606
–
–
2020 America the Beautiful Quarters Proof Set
64,242
64,242
–
–
2019 America the Beautiful Quarters Proof Set
82,016
82,036
20
0.02%
2018 America the Beautiful Quarters Proof Set*
86,697
86,697
–
–

Silver Proof Sets

Old
Sales
Latest
Sales
Gain/
Loss
%
Increase
2022 Silver Proof Set
236,373
236,763
390
0.16%
2021 Silver Proof Set
298,710
298,829
119
0.04%
2020 Silver Proof Set*
313,183
313,183
–
–
2019 Silver Proof Set*
412,708
412,708
–
–
2018 Silver Proof Set*
332,274
332,274
–
–
2018 Silver Reverse Proof Set*
199,116
199,116
–
–
2022 American Women Quarters Silver Proof Set
57,532
57,530
-2
0.00%
2020 America the Beautiful Quarters Silver Proof Set*
64,012
64,012
–
–
2019 America the Beautiful Quarters Silver Proof Set*
78,585
78,585
–
–
2018 America the Beautiful Quarters Silver Proof Set*
79,301
79,301
–
–
2022 Congratulations Gift Set
29,682
29,690
8
0.03%
2021 Congratulations Gift Set*
39,997
39,997
–
–
2020 Congratulations Gift Set*
24,468
24,468
–
–
2019 Congratulations Gift Set*
31,638
31,638
–
–
2022 Limited Edition Silver Proof Set
40,504
40,700
196
0.48%
2021 Limited Edition Silver Proof Set
48,697
48,702
5
0.01%
2020 Limited Edition Silver Proof Set*
50,046
50,046
–
–

US Mint Uncirculated Sets

Old
Sales
Latest
Sales
Gain/
Loss
%
Increase
2022 Uncirculated Mint Set
220,298
220,778
480
0.22%
2021 Uncirculated Mint Set
219,219
219,354
135
0.06%
2020 Uncirculated Mint Set*
211,787
211,787
–
–
2019 Uncirculated Mint Set*
346,117
346,117
–
–
2018 Uncirculated Mint Set*
257,536
257,536
–
–
2017 Uncirculated Mint Set*
286,813
286,813
–
–

Kids Coin Sets

Old
Sales
Latest
Sales
Gain/
Loss
%
Increase
2019 Youth Coin and Currency Set
23,351
23,398
47
0.20%
2019 Explore and Discover Coin Set
40,888
40,893
5
0.01%
2019 Rocketship*
49,921
49,921
–
–
2014 Coin Discovery Set*
13,151
13,151
–
–

Ornaments

Old
Sales
Latest
Sales
Gain/
Loss
%
Increase
2022 U.S. Mint Ornament
5,282
5,286
4
0.08%
2022 Mighty Minters Ornament
3,816
3,821
5
0.13%
2022 Maya Angelou Ornament
2,750
2,762
12
0.44%
2022 Dr. Sally Ride Ornament
2,892
2,895
3
0.10%
2022 Wilma Mankiller Ornament
2,013
2,017
4
0.20%
2022 Nina Otero-Warren Ornament
1,691
1,691
–
–
2022 Anna May Wong Ornament
2,870
2,883
13
0.45%
2021 Mighty Minters Ornament
4,821
4,821
–
–
2021 U.S. Mint Ornament
7,728
7,728
–
–
2020 Mighty Minters Ornament
4,443
4,445
2
0.05%
2020 U.S. Mint Ornament
6,457
6,457
–
–
2019 Mighty Minters Ornament
6,970
6,971
1
0.01%
2019 U.S. Mint Ornament
11,637
11,638
1
0.01%

Proof & Reverse Proof Silver Eagles

Old
Sales
Latest
Sales
Gain/
Loss
%
Increase
2022-S Proof Silver Eagle
199,398
199,398
–
–
2022-S Proof Silver Eagle (Bulk – 40 Coins)
3,004
3,000
-4
-0.13%
2022-W Proof Silver Eagle
496,686
496,889
203
0.04%
2022-W Proof Silver Eagle (Bulk – 40 Coins)
4,174
4,170
-4
-0.10%
2021 Reverse Proof American Silver Eagle Two-Coin Set*
124,822
124,822
–
–
2021-S Proof Silver Eagle, Type 2*
199,564
199,564
–
–
2021-S Proof Silver Eagle, Type 2 (Bulk – 40 Coins)*
652
652
–
–
2021-W Proof Silver Eagle, Type 2*
300,084
300,084
–
–
2021-W Proof Silver Eagle, Type 2 (Bulk – 40 Coins)*
2,142
2,142
–
–
2021-W Proof Silver Eagle, Type 1*
299,830
299,830
–
–
2021-W Proof Silver Eagle, Type 1 (Bulk – 40 Coins)*
686
686
–
–
2020-W End of WWII Proof Silver Eagle*
74,709
74,709
–
–
2020-W Proof Silver Eagle*
365,714
365,714
–
–
2020-W Proof Silver Eagle (Bulk – 40 Coins)*
600
600
–
–
2020-S Proof Silver Eagle*
198,876
198,876
–
–
2020-S Proof Silver Eagle (Bulk – 40 Coins)*
440
440
–
–
2019-S Enhanced Reverse Proof Proof Silver Eagle*
29,909
29,909
–
–
2019-S Proof Silver Eagle*
146,799
146,799
–
–
2019-S Proof Silver Eagle (Bulk – 40 Coins)*
137
137
–
–
2019 Pride of Nations Two-Coin Set*
99,675
99,675
–
–
2019-W Proof Silver Eagle*
345,380
345,380
–
–
2019-W Proof Silver Eagle (Bulk – 40 Coins)*
745
745
–
–

Uncirculated Silver Eagles

Old
Sales
Latest
Sales
Gain/
Loss
%
Increase
2022
157,771
158,306
535
0.34%
2022 Bulk 40
987
987
–
–
2021*
174,403
174,408
5
0.00%
2021 Bulk 40*
324
324
–
–
2020*
154,261
154,261
–
–
2020 Bulk 40*
15
15
–
–
2019*
138,390
138,390
–
–
2019 Bulk 40*
66
66
–
–

2022 Proof American Eagle Gold Coins

Old
Sales
Latest
Sales
Gain/
Loss
%
Increase
1 oz
5,904
5,902
-2
-0.03%
1/2 oz
1,970
1,970
–
–
1/4 oz
4,442
4,463
21
0.47%
1/10 oz
13,801
13,801
–
–
4-Coin Set
9,833
9,844
11
0.11%

2021 Proof American Eagle Gold Coins

Old
Sales
Latest
Sales
Gain/
Loss
%
Increase
1/10 oz Two-Coin Proof Set*
4,985
4,985
–
–
1 oz (Type 2)*
5,583
5,583
–
–
1/2 oz (Type 2)*
1,989
1,989
–
–
1/4 oz (Type 2)*
3,340
3,340
–
–
1/10 oz (Type 2)
9,849
9,849
–
–
4-Coin Set (Type 2)*
10,191
10,191
–
–
1 oz (Type 1)*
4,448
4,448
–
–
1/2 oz (Type 1)*
1,589
1,589
–
–
1/4 oz (Type 1)*
2,689
2,689
–
–
1/10 oz (Type 1)*
7,975
7,975
–
–
4-Coin Set (Type 1)*
8,176
8,176
–
–

Uncirculated American Eagle Gold Coins

Old
Sales
Latest
Sales
Gain/
Loss
%
Increase
2022
8,015
8,058
43
0.54%
2021*
8,914
8,914
–
–
2020*
6,284
6,284
–
–
2019*
5,851
5,851
–
–
2018*
8,518
8,518
–
–
2017*
5,800
5,800
–
–

Proof American Buffalo Gold Coins

Old
Sales
Latest
Sales
Gain/
Loss
%
Increase
2022 Proof Gold Buffalo
15,879
15,929
50
0.31%
2021 Proof Gold Buffalo
16,958
16,958
–
–
2020 Proof Gold Buffalo*
11,887
11,887
–
–
2019 Proof Gold Buffalo*
14,844
14,844
–
–
2018 Proof Gold Buffalo*
15,756
15,756
–
–
2017 Proof Gold Buffalo*
15,810
15,810
–
–

Proof American Platinum Eagle

Old
Sales
Latest
Sales
Gain/
Loss
%
Increase
2022
9,525
9,535
10
0.10%
2021
9,880
9,880
–
–
2020
9,732
9,732
–
–
2019
11,268
11,268
–
–
2018
15,784
15,787
3
0.02%
2017*
8,890
8,890
–
–

American Palladium Eagle

Old
Sales
Latest
Sales
Gain/
Loss
%
Increase
2022-W Reverse Proof
6,453
6,480
27
0.42%
2021-W Proof
5,169
5,169
–
–
2020-W Uncirculated
9,740
9,740
–
–
2019-W Reverse Proof
18,772
18,772
–
–
2018-W Proof*
14,986
14,986
–
–

First Spouse Gold Coins

Old
Sales
Latest
Sales
Gain/
Loss
%
Increase
2020-W Proof Barbara Bush First Spouse Gold Coin*
2,896
2,896
–
–
2020-W Uncirculated Barbara Bush First Spouse Gold Coin*
1,932
1,932
–
–

Presidential Silver Medals

Old
Sales
Latest
Sales
Gain/
Loss
%
Increase
2021 Franklin Pierce Presidential Silver Medal
11,848
11,870
22
0.19%
2022 Millard Fillmore Presidential Silver Medal
12,156
12,169
13
0.11%
2022 Zachary Taylor Presidential Silver Medal
12,619
12,632
13
0.10%
2022 James Knox Polk Presidential Silver Medal
12,787
12,819
32
0.25%
2021 John Tyler Presidential Silver Medal
13,279
13,289
10
0.08%
2021 William Henry Harrison Presidential Silver Medal
13,206
13,213
7
0.05%
2021 Martin Van Buren Presidential Silver Medal
13,385
13,392
7
0.05%
2020 Andrew Jackson Presidential Silver Medal
16,036
16,046
10
0.06%
2019 John Quincy Adams Presidential Silver Medal
14,366
14,376
10
0.07%
2019 James Monroe Presidential Silver Medal
14,875
14,883
8
0.05%
2019 James Madison Presidential Silver Medal
16,305
16,322
17
0.10%
2019 Thomas Jefferson Presidential Silver Medal
23,171
23,188
17
0.07%
2018 George Washington Presidential Silver Medal
33,309
33,345
36
0.11%
2018 John Adams Presidential Silver Medal
23,014
23,028
14
0.06%

American Innovation Reverse Proof Sets

Old
Sales
Latest
Sales
Gain/
Loss
%
Increase
2022
45,895
45,991
96
0.21%
2021
49,287
49,288
1
0.00%

2022 American Innovation Dollars – Tennessee

Old
Sales
Latest
Sales
Gain/
Loss
%
Increase
25-coin roll set (P)
7,006
7,007
1
0.01%
25-coin roll set (D)
6,978
7,000
22
0.32%
100-coin bag (P)
2,725
2,740
15
0.55%
100-coin bag (D)
2,755
2,770
15
0.54%

2022 American Innovation Dollars – Kentucky

Old
Sales
Latest
Sales
Gain/
Loss
%
Increase
25-coin roll set (P)
6,982
6,982
–
–
25-coin roll set (D)
6,955
6,955
–
–
100-coin bag (P)
2,741
2,758
17
0.62%
100-coin bag (D)
2,660
2,672
12
0.45%

2022 American Innovation Dollars – Vermont

Old
Sales
Latest
Sales
Gain/
Loss
%
Increase
25-coin roll set (P)
7,022
7,022
–
–
25-coin roll set (D)
6,986
6,987
1
0.01%
100-coin bag (P)
2,784
2,784
–
–
100-coin bag (D)
2,771
2,771
–
–

2022 American Innovation Dollars – Rhode Island

Old
Sales
Latest
Sales
Gain/
Loss
%
Increase
25-coin roll set (P)
7,011
7,011
–
–
25-coin roll set (D)
7,007
7,007
–
–
100-coin bag (P)
2,784
2,784
–
–
100-coin bag (D)
2,774
2,774
–
–

2021 American Innovation Dollars – North Carolina

Old
Sales
Latest
Sales
Gain/
Loss
%
Increase
25-coin roll set (P)
6,985
6,985
–
–
25-coin roll set (D)
6,999
6,999
–
–
100-coin bag (P)
2,785
2,785
–
–
100-coin bag (D)
2,787
2,787
–
–

2021 American Innovation Dollars – New York

Old
Sales
Latest
Sales
Gain/
Loss
%
Increase
25-coin roll set (P)
6,986
6,986
–
–
25-coin roll set (D)
6,989
6,989
–
–
100-coin bag (P)
2,766
2,766
–
–
100-coin bag (D)
2,764
2,764
–
–

2021 American Innovation Dollars – Virginia

Old
Sales
Latest
Sales
Gain/
Loss
%
Increase
25-coin roll set (P)
6,984
6,984
–
–
25-coin roll set (D)
6,969
6,969
–
–
100-coin bag (P)
2,795
2,795
–
–
100-coin bag (D)
2,778
2,778
–
–

2021 American Innovation Dollars – New Hampshire

Old
Sales
Latest
Sales
Gain/
Loss
%
Increase
25-coin roll set (P)
6,997
6,997
–
–
25-coin roll set (D)
7,004
7,004
–
–
100-coin bag (P)
2,789
2,789
–
–
100-coin bag (D)
2,787
2,787
–
–

2020 American Innovation Dollars – South Carolina

Old
Sales
Latest
Sales
Gain/
Loss
%
Increase
Reverse Proof (S)
39,900
39,932
32
0.08%
25-coin roll set (P)
6,378
6,378
–
–
25-coin roll set (D)
6,399
6,399
–
–
100-coin bag (P)
2,734
2,734
–
–
100-coin bag (D)
2,378
2,378
–
–

2020 American Innovation Dollars – Maryland

Old
Sales
Latest
Sales
Gain/
Loss
%
Increase
Reverse Proof (S)
49,470
49,513
43
0.09%
25-coin roll set (P)
6,493
6,493
–
–
25-coin roll set (D)
6,471
6,471
–
–
100-coin bag (P)
2,725
2,725
–
–
100-coin bag (D)
2,737
2,737
–
–

2020 American Innovation Dollars – Massachusetts

Old
Sales
Latest
Sales
Gain/
Loss
%
Increase
Reverse Proof (S)
46,657
46,695
38
0.08%
25-coin roll set (P)
6,486
6,486
–
–
25-coin roll set (D)
6,481
6,481
–
–
100-coin bag (P)
2,746
2,746
–
–
100-coin bag (D)
2,744
2,744
–
–

2020 American Innovation Dollars – Connecticut

Old
Sales
Latest
Sales
Gain/
Loss
%
Increase
Reverse Proof (S)
45,840
45,855
15
0.03%
25-coin roll set (P)
6,496
6,496
–
–
25-coin roll set (D)
6,425
6,425
–
–
100-coin bag (P)
2,736
2,736
–
–
100-coin bag (D)
2,747
2,747
–
–

2019 American Innovation Dollars – Georgia

Old
Sales
Latest
Sales
Gain/
Loss
%
Increase
Reverse Proof (S)
45,966
45,978
12
0.03%
25-coin roll set (P)
7,596
7,603
7
0.09%
25-coin roll set (D)
7,091
7,099
8
0.11%
100-coin bag (P)
3,223
3,225
2
0.06%
100-coin bag (D)
3,114
3,116
2
0.06%

2019 American Innovation Dollars – New Jersey

Old
Sales
Latest
Sales
Gain/
Loss
%
Increase
Reverse Proof (S)
49,263
49,276
13
0.03%
25-coin roll set (P)
8,406
8,410
4
0.05%
25-coin roll set (D)
7,532
7,540
8
0.11%
100-coin bag (P)
3,638
3,641
3
0.08%
100-coin bag (D)
3,290
3,295
5
0.15%

2019 American Innovation Dollars – Pennsylvania

Old
Sales
Latest
Sales
Gain/
Loss
%
Increase
Reverse Proof (S)
53,773
53,788
15
0.03%
25-coin roll set (P)
9,495
9,510
15
0.16%
25-coin roll set (D)
7,969
7,976
7
0.09%
100-coin bag (P)
3,217
3,225
8
0.25%
100-coin bag (D)
2,817
2,821
4
0.14%

2019 American Innovation Dollars – Delaware

Old
Sales
Latest
Sales
Gain/
Loss
%
Increase
Reverse Proof (S)
69,056
69,070
14
0.02%
25-coin roll set (P)
8,596
8,603
7
0.08%
25-coin roll set (D)
7,984
7,986
2
0.03%
100-coin bag (P)
3,014
3,018
4
0.13%
100-coin bag (D)
3,201
3,204
3
0.09%

2018 American Innovation Dollars

Old
Sales
Latest
Sales
Gain/
Loss
%
Increase
Reverse Proof (S)*
74,720
74,720
–
–
Proof Coin (S)
249,928
249,973
45
0.02%
25-coin roll set (P)
21,388
21,407
19
0.09%
25-coin roll set (D)
24,412
24,426
14
0.06%
100-coin bag (P)*
2,935
2,935
–
–
100-coin bag (D)*
2,954
2,954
–
–

George H.W. Bush Coin & Chronicles Set

Old
Sales
Latest
Sales
Gain/
Loss
%
Increase
$1 Coin & Set
10,806
10,810
4
0.04%

2020 Bush Presidential $1 Coin & First Spouse Medal Set

Old
Sales
Latest
Sales
Gain/
Loss
%
Increase
$1 Coin & Set
9,876
9,876
–
–

2020 George H.W. Bush Presidential $1 Coins

Old
Sales
Latest
Sales
Gain/
Loss
%
Increase
25-coin roll (P)
23,653
23,704
51
0.22%
25-coin roll (D)
20,523
20,564
41
0.20%
100-coin bag (P)
2,695
2,695
–
–
100-coin bag (D)
2,098
2,098
–
–
250-coin bag (P)
2,443
2,445
2
0.08%
250-coin bag (D)
3,945
3,950
5
0.13%

Native American Dollar Rolls

Old
Sales
Latest
Sales
Gain/
Loss
%
Increase
2022-P Native American $1 25 Coin Roll
13,921
13,921
–
–
2022-D Native American $1 25 Coin Roll
13,884
13,890
6
0.04%
2022-P Native American $1 100-Coin Bag
1,589
1,603
14
0.88%
2022-D Native American $1 100-Coin Bag
1,609
1,609
–
–
2022-P Native American $1 250-Coin Box
1,698
1,698
–
–
2022-D Native American $1 250-Coin Box
1,699
1,699
–
–
2021-P Native American $1 25 Coin Roll
15,975
15,975
–
–
2021-D Native American $1 25 Coin Roll
14,967
14,967
–
–
2021-P Native American $1 100-Coin Bag
1,704
1,704
–
–
2021-D Native American $1 100-Coin Bag
1,618
1,618
–
–
2021-P Native American $1 250-Coin Box
1,789
1,789
–
–
2021-D Native American $1 250-Coin Box
1,795
1,795
–
–

Kennedy Half Dollar Rolls

Old
Sales
Latest
Sales
Gain/
Loss
%
Increase
2022-dated 200-coin bag (P&D)
10,988
10,988
–
–
2022-dated 2-roll set (P&D)
21,882
21,882
–
–
2021-dated 200-coin bag (P&D)
9,968
9,968
–
–
2021-dated 2-roll set (P&D)
21,953
21,953
–
–
2020-dated 200-coin bag (P&D)
11,776
11,776
–
–
2020-dated 2-roll set (P&D)
24,312
24,312
–
–
2019-dated 200-coin bag (P&D)*
11,534
11,534
–
–
2019-dated 2-roll set (P&D)*
24,132
24,132
–
–

2022 Anna May Wong Quarters

Old
Sales
Latest
Sales
Gain/
Loss
%
Increase
Three-Roll Set
7,577
7,577
–
–
100-Coin Bag (P)
1,840
1,840
–
–
100-Coin Bag (D)
1,840
1,840
–
–
Two-Roll Set
5,906
5,906
–
–

2022 Nina Otero-Warren Quarters

Old
Sales
Latest
Sales
Gain/
Loss
%
Increase
Three-Roll Set
7,638
7,639
1
0.01%
100-Coin Bag (P)
1,850
1,850
–
–
100-Coin Bag (D)
1,849
1,849
–
–
Two-Roll Set
5,876
5,876
–
–

2022 Wilma Mankiller Quarters

Old
Sales
Latest
Sales
Gain/
Loss
%
Increase
Three-Roll Set
7,617
7,617
–
–
100-Coin Bag (P)
1,845
1,845
–
–
100-Coin Bag (D)
1,820
1,820
–
–
Two-Roll Set
5,909
5,909
–
–

2022 Dr. Sally Ride Quarters

Old
Sales
Latest
Sales
Gain/
Loss
%
Increase
Three-Roll Set
7,600
7,600
–
–
100-Coin Bag (P)
1,854
1,854
–
–
100-Coin Bag (D)
1,852
1,852
–
–
Two-Roll Set
5,925
5,925
–
–

2022 Maya Angelou Quarters

Old
Sales
Latest
Sales
Gain/
Loss
%
Increase
Three-Roll Set
7,587
7,587
–
–
100-Coin Bag (P)
1,858
1,858
–
–
100-Coin Bag (D)
1,861
1,861
–
–
Two-Roll Set
5,937
5,937
–
–

2021 Tuskegee Airmen Quarters

Old
Sales
Latest
Sales
Gain/
Loss
%
Increase
100-Coin Bag (S)
4,031
4,031
–
–
40-Coin Roll (S)
3,358
3,358
–
–
Three-Roll Set
7,642
7,642
–
–
100-Coin Bag (P)
2,367
2,367
–
–
100-Coin Bag (D)
2,380
2,380
–
–
Two-Roll Set
5,374
5,374
–
–

2020 Tallgrass Prairie Quarters

Old
Sales
Latest
Sales
Gain/
Loss
%
Increase
100-Coin Bag (S)*
4,193
4,193
–
–
40-Coin Roll (S)
3,993
3,993
–
–
Three-Roll Set
8,930
8,930
–
–
100-Coin Bag (P)*
2,499
2,499
–
–
100-Coin Bag (D)*
2,478
2,478
–
–
Two-Roll Set
6,958
6,958
–
–

2020 Marsh-Billings-Rockefeller Quarters

Old
Sales
Latest
Sales
Gain/
Loss
%
Increase
100-Coin Bag (S)*
4,183
4,183
–
–
40-Coin Roll (S)
3,961
3,961
–
–
Three-Roll Set*
8,834
8,834
–
–
100-Coin Bag (P)*
2,415
2,415
–
–
100-Coin Bag (D)*
2,331
2,331
–
–
Two-Roll Set
6,956
6,956
–
–

2020 Salt River Bay Quarters

Old
Sales
Latest
Sales
Gain/
Loss
%
Increase
100-Coin Bag (S)*
4,156
4,156
–
–
40-Coin Roll (S)*
4,005
4,005
–
–
Three-Roll Set
8,969
8,969
–
–
100-Coin Bag (P)*
2,488
2,488
–
–
100-Coin Bag (D)*
2,422
2,422
–
–
Two-Roll Set
6,982
6,983
1
0.01%

2020 Weir Farm Quarters

Old
Sales
Latest
Sales
Gain/
Loss
%
Increase
100-Coin Bag (S)*
4,281
4,281
–
–
40-Coin Roll (S)*
4,013
4,013
–
–
Three-Roll Set*
8,930
8,930
–
–
100-Coin Bag (P)*
2,471
2,471
–
–
100-Coin Bag (D)*
2,470
2,470
–
–
Two-Roll Set
6,963
6,963
–
–

2020 National Park of American Samoa Quarters

Old
Sales
Latest
Sales
Gain/
Loss
%
Increase
100-Coin Bag (S)*
4,236
4,236
–
–
40-Coin Roll (S)*
3,974
3,974
–
–
Three-Roll Set*
8,930
8,930
–
–
100-Coin Bag (P)*
2,456
2,456
–
–
100-Coin Bag (D)*
2,480
2,480
–
–
Two-Roll Set*
6,991
6,991
–
–