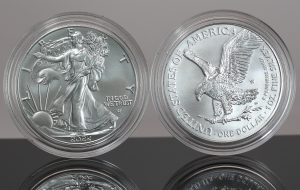 Numismatic sales were sluggish for the U.S. Mint during the first week of 2023. Expect more of the same in the next few weeks. U.S. Mint sales should be down for a while with the very first 2023-dated products for collectors not launching until Jan. 30.
Snapping a streak of three slightly improving weeks, the latest Mint stats showed lower volumes of sales with only 27 products outperforming their prior weekly increases compared to 65 previously.
Seventeen products posted negative weekly sales against 3 in the previous report. The reductions were modest, though, with the highest tagged to the older 2021-dated Proof Set which dipped by 5 units.
Weekly U.S. Mint Top Sellers
Here's the listing of the U.S. Mint's most popular numismatic products for the week ending Jan. 8:
2022-W Uncirculated Silver Eagle (+826 to 156,860)
2022 Mint Set (+696 to 218,672)
2022 Silver Proof Set (+580 to 235,186)
2022 American Innovation Dollar Reverse Proof Set (+355 to 45,729)
2020 American Innovation Dollar Proof Set (+300 to 107,027)
2022 Limited Edition Silver Proof Set (+288 to 39,959)
2022-P American Liberty Silver Medal (+274 to 62,327)
2022 American Innovation Dollar Proof Set (+182 to 72,206)
2021 Mint Set (+157 to 219,032)
2022-W Reverse Proof American Palladium Eagle (+129 to 6,404)
In its latest report, the U.S. Mint published sales data for 277 numismatic products. None increased by more than 1,000 compared to 3 in the prior report.
US Mint Sales: Numismatic Products
Below are tables showing the latest available sales for U.S. Mint numismatic products. The sales period covers from Jan 2-8. Products with an asterisk (*) are no longer available or had no reported sales.
Morgan and Peace Silver Dollars

Old
Sales
Latest
Sales
Gain/
Loss
%
Increase
2021 Morgan Silver Dollar with CC Privy Mark*
173,782
173,782
–
–
2021 Morgan Silver Dollar with O Privy Mark*
173,531
173,531
–
–
2021-D Morgan Silver Dollar*
174,661
174,661
–
–
2021-S Morgan Silver Dollar*
174,850
174,850
–
–
2021 Morgan Silver Dollar (P)*
174,498
174,498
–
–
2021 Peace Silver Dollar (P)*
199,543
199,543
–
–

2022 National Purple Heart Hall of Honor Commemorative Coins

Old
Sales
Latest
Sales
Gain/
Loss
%
Increase
2022-W Purple Heart Colorized Silver Dollar
24,949
24,949
–
–
2022-W Proof $5 Gold Coin
2,784
2,783
-1
-0.04%
2022-W Uncirculated $5 Gold Coin
1,690
1,689
-1
-0.06%
2022-W Proof Silver Dollar
48,458
48,455
-3
-0.01%
2022-W Uncirculated Silver Dollar
14,331
14,327
-4
-0.03%
2022-S Proof Half Dollar
22,921
22,912
-9
-0.04%
2022-D Uncirculated Half Dollar
12,469
12,465
-4
-0.03%
2022 Three-Coin Proof Set
4,898
4,897
-1
-0.02%

2022 Negro Leagues Baseball Commemorative Coins

Old
Sales
Latest
Sales
Gain/
Loss
%
Increase
2022-W Proof $5 Gold Coin
1,534
1,534
–
–
2022-W Uncirculated $5 Gold Coin
1,507
1,507
–
–
2022-P Proof Silver Dollar with Privy Mark
19,674
19,674
–
–
2022-P Proof Silver Dollar
22,690
22,688
-2
-0.01%
2022-P Uncirculated Silver Dollar
8,448
8,448
–
–
2022-S Proof Half Dollar
19,009
19,008
-1
-0.01%
2022-D Uncirculated Half Dollar
9,775
9,775
–
–
2022 Three-Coin Proof Set
3,823
3,823
–
–
2022 Silver Dollar & Medal Set
10,668
10,668
–
–

2021 Christa McAuliffe Silver Dollars

Old
Sales
Latest
Sales
Gain/
Loss
%
Increase
2021-P Proof Silver Dollar*
54,222
54,222
–
–
2021-P Uncirculated Silver Dollar*
16,025
16,025
–
–

2021 National Law Enforcement Memorial and Museum Commemorative Coins

Old
Sales
Latest
Sales
Gain/
Loss
%
Increase
2021-W Proof $5 Gold Coin*
1,473
1,473
–
–
2021-W Uncirculated $5 Gold Coin*
1,753
1,753
–
–
2021-P Proof Silver Dollar*
29,701
29,701
–
–
2021-P Uncirculated Silver Dollar*
9,422
9,422
–
–
2021-S Proof Half Dollar*
23,307
23,307
–
–
2021-D Uncirculated Half Dollar*
10,171
10,171
–
–
2021 Three-Coin Proof Set*
4,391
4,391
–
–

Armed Forces Silver Medals

Old
Sales
Latest
Sales
Gain/
Loss
%
Increase
U.S. Marine Corps 2.5 Ounce Silver Medal
9,547
9,547
–
–
U.S. Navy 2.5 Ounce Silver Medal
9,978
9,978
–
–
U.S. Coast Guard 2.5 Ounce Silver Medal
9,848
9,848
–
–
U.S. Air Force 2.5 Ounce Silver Medal
9,902
9,902
–
–
U.S. Coast Guard 1 Ounce Silver Medal
14,518
14,594
76
0.52%
U.S. Air Force 1 Ounce Silver Medal
15,598
15,598
–
–

American Liberty Products

Old
Sales
Latest
Sales
Gain/
Loss
%
Increase
2022-P American Liberty Silver Medal
62,053
62,327
274
0.44%
2021-W $100 American Liberty Gold Coin
12,470
12,470
–
–
2019-W $100 American Liberty Gold Coin
24,609
24,609
–
–
2019-P American Liberty Silver Medal
44,928
44,928
–
–
2018-W $10 American Liberty Gold Coin
53,592
53,664
72
0.13%
2017 American Liberty Silver Four-Medal Set*
32,647
32,647
–
–
2017-S Enhanced Uncirculated Coin Set*
210,419
210,419
–
–
2017-W $100 American Liberty Gold Coin
38,072
38,100
28
0.07%
2017-P Proof American Liberty Silver Medal*
55,187
55,187
–
–

Clad Proof Sets

Old
Sales
Latest
Sales
Gain/
Loss
%
Increase
2022 Proof Set
398,408
398,408
–
–
2021 Proof Set
511,148
511,143
-5
0.00%
2020 Proof Set*
464,658
464,658
–
–
2019 Proof Set*
601,127
601,127
–
–
2018 Proof Set*
517,081
517,081
–
–
2017 Proof Set*
568,678
568,678
–
–
2022 American Innovation Dollars Proof Set
72,024
72,206
182
0.25%
2021 American Innovation Dollars Proof Set
82,375
82,473
98
0.12%
2020 American Innovation Dollars Proof Set
106,727
107,027
300
0.28%
2019 American Innovation Dollars Proof Set
144,310
144,401
91
0.06%
2022 American Women Quarters Proof Set
42,514
42,514
–
–
2020 America the Beautiful Quarters Proof Set
64,242
64,242
–
–
2019 America the Beautiful Quarters Proof Set
81,936
81,971
35
0.04%
2018 America the Beautiful Quarters Proof Set*
86,697
86,697
–
–

Silver Proof Sets

Old
Sales
Latest
Sales
Gain/
Loss
%
Increase
2022 Silver Proof Set
234,606
235,186
580
0.25%
2021 Silver Proof Set
298,434
298,553
119
0.04%
2020 Silver Proof Set*
313,183
313,183
–
–
2019 Silver Proof Set*
412,708
412,708
–
–
2018 Silver Proof Set*
332,274
332,274
–
–
2018 Silver Reverse Proof Set*
199,116
199,116
–
–
2022 American Women Quarters Silver Proof Set
57,401
57,441
40
0.07%
2020 America the Beautiful Quarters Silver Proof Set*
64,012
64,012
–
–
2019 America the Beautiful Quarters Silver Proof Set*
78,585
78,585
–
–
2018 America the Beautiful Quarters Silver Proof Set*
79,301
79,301
–
–
2022 Congratulations Gift Set
29,657
29,657
–
–
2021 Congratulations Gift Set*
39,997
39,997
–
–
2020 Congratulations Gift Set*
24,468
24,468
–
–
2019 Congratulations Gift Set*
31,638
31,638
–
–
2022 Limited Edition Silver Proof Set
39,671
39,959
288
0.73%
2021 Limited Edition Silver Proof Set
48,688
48,688
–
–
2020 Limited Edition Silver Proof Set*
50,046
50,046
–
–

US Mint Uncirculated Sets

Old
Sales
Latest
Sales
Gain/
Loss
%
Increase
2022 Uncirculated Mint Set
217,976
218,672
696
0.32%
2021 Uncirculated Mint Set
218,875
219,032
157
0.07%
2020 Uncirculated Mint Set*
211,787
211,787
–
–
2019 Uncirculated Mint Set*
346,117
346,117
–
–
2018 Uncirculated Mint Set*
257,536
257,536
–
–
2017 Uncirculated Mint Set*
286,813
286,813
–
–

Kids Coin Sets

Old
Sales
Latest
Sales
Gain/
Loss
%
Increase
2019 Youth Coin and Currency Set
23,244
23,300
56
0.24%
2019 Explore and Discover Coin Set
40,832
40,863
31
0.08%
2019 Rocketship*
49,921
49,921
–
–
2014 Coin Discovery Set*
13,151
13,151
–
–

Ornaments

Old
Sales
Latest
Sales
Gain/
Loss
%
Increase
2022 U.S. Mint Ornament
5,248
5,261
13
0.25%
2022 Mighty Minters Ornament
3,807
3,805
-2
-0.05%
2022 Maya Angelou Ornament
2,735
2,744
9
0.33%
2022 Dr. Sally Ride Ornament
2,884
2,886
2
0.07%
2022 Wilma Mankiller Ornament
2,012
2,014
2
0.10%
2022 Nina Otero-Warren Ornament
1,697
1,693
-4
-0.24%
2022 Anna May Wong Ornament
2,858
2,856
-2
-0.07%
2021 Mighty Minters Ornament
4,821
4,821
–
–
2021 U.S. Mint Ornament
7,716
7,722
6
0.08%
2020 Mighty Minters Ornament
4,440
4,441
1
0.02%
2020 U.S. Mint Ornament
6,446
6,451
5
0.08%
2019 Mighty Minters Ornament
6,966
6,968
2
0.03%
2019 U.S. Mint Ornament
11,627
11,632
5
0.04%

Proof & Reverse Proof Silver Eagles

Old
Sales
Latest
Sales
Gain/
Loss
%
Increase
2022-S Proof Silver Eagle
198,528
198,526
-2
0.00%
2022-S Proof Silver Eagle (Bulk – 40 Coins)
3,004
3,004
–
–
2022-W Proof Silver Eagle
494,992
494,992
–
–
2022-W Proof Silver Eagle (Bulk – 40 Coins)
4,110
4,110
–
–
2021 Reverse Proof American Silver Eagle Two-Coin Set*
124,822
124,822
–
–
2021-S Proof Silver Eagle, Type 2*
199,564
199,564
–
–
2021-S Proof Silver Eagle, Type 2 (Bulk – 40 Coins)*
652
652
–
–
2021-W Proof Silver Eagle, Type 2*
299,584
299,584
–
–
2021-W Proof Silver Eagle, Type 2 (Bulk – 40 Coins)*
2,142
2,142
–
–
2021-W Proof Silver Eagle, Type 1*
299,830
299,830
–
–
2021-W Proof Silver Eagle, Type 1 (Bulk – 40 Coins)*
686
686
–
–
2020-W End of WWII Proof Silver Eagle*
74,709
74,709
–
–
2020-W Proof Silver Eagle*
365,714
365,714
–
–
2020-W Proof Silver Eagle (Bulk – 40 Coins)*
600
600
–
–
2020-S Proof Silver Eagle*
198,876
198,876
–
–
2020-S Proof Silver Eagle (Bulk – 40 Coins)*
440
440
–
–
2019-S Enhanced Reverse Proof Proof Silver Eagle*
29,909
29,909
–
–
2019-S Proof Silver Eagle*
146,799
146,799
–
–
2019-S Proof Silver Eagle (Bulk – 40 Coins)*
137
137
–
–
2019 Pride of Nations Two-Coin Set*
99,675
99,675
–
–
2019-W Proof Silver Eagle*
345,380
345,380
–
–
2019-W Proof Silver Eagle (Bulk – 40 Coins)*
745
745
–
–

Uncirculated Silver Eagles

Old
Sales
Latest
Sales
Gain/
Loss
%
Increase
2022
156,034
156,860
826
0.53%
2022 Bulk 40
987
987
–
–
2021*
174,394
174,394
–
–
2021 Bulk 40*
324
324
–
–
2020*
154,261
154,261
–
–
2020 Bulk 40*
15
15
–
–
2019*
138,390
138,390
–
–
2019 Bulk 40*
66
66
–
–

2022 Proof American Eagle Gold Coins

Old
Sales
Latest
Sales
Gain/
Loss
%
Increase
1 oz
5,905
5,904
-1
-0.02%
1/2 oz
1,970
1,970
–
–
1/4 oz
4,438
4,438
–
–
1/10 oz
13,802
13,801
-1
-0.01%
4-Coin Set
9,819
9,819
–
–

2021 Proof American Eagle Gold Coins

Old
Sales
Latest
Sales
Gain/
Loss
%
Increase
1/10 oz Two-Coin Proof Set*
4,985
4,985
–
–
1 oz (Type 2)*
5,583
5,583
–
–
1/2 oz (Type 2)*
1,989
1,989
–
–
1/4 oz (Type 2)*
3,340
3,340
–
–
1/10 oz (Type 2)
9,849
9,849
–
–
4-Coin Set (Type 2)*
10,190
10,190
–
–
1 oz (Type 1)*
4,448
4,448
–
–
1/2 oz (Type 1)*
1,589
1,589
–
–
1/4 oz (Type 1)*
2,689
2,689
–
–
1/10 oz (Type 1)*
7,975
7,975
–
–
4-Coin Set (Type 1)*
8,176
8,176
–
–

Uncirculated American Eagle Gold Coins

Old
Sales
Latest
Sales
Gain/
Loss
%
Increase
2022
7,924
7,966
42
0.53%
2021*
8,914
8,914
–
–
2020*
6,284
6,284
–
–
2019*
5,851
5,851
–
–
2018*
8,518
8,518
–
–
2017*
5,800
5,800
–
–

Proof American Buffalo Gold Coins

Old
Sales
Latest
Sales
Gain/
Loss
%
Increase
2022 Proof Gold Buffalo
15,879
15,879
–
–
2021 Proof Gold Buffalo
16,958
16,958
–
–
2020 Proof Gold Buffalo*
11,887
11,887
–
–
2019 Proof Gold Buffalo*
14,844
14,844
–
–
2018 Proof Gold Buffalo*
15,756
15,756
–
–
2017 Proof Gold Buffalo*
15,810
15,810
–
–

Proof American Platinum Eagle

Old
Sales
Latest
Sales
Gain/
Loss
%
Increase
2022
9,498
9,516
18
0.19%
2021
9,880
9,880
–
–
2020
9,732
9,732
–
–
2019
11,268
11,268
–
–
2018
15,753
15,756
3
0.02%
2017*
8,890
8,890
–
–

American Palladium Eagle

Old
Sales
Latest
Sales
Gain/
Loss
%
Increase
2022-W Reverse Proof
6,275
6,404
129
2.06%
2021-W Proof
5,169
5,169
–
–
2020-W Uncirculated
9,740
9,740
–
–
2019-W Reverse Proof
18,772
18,772
–
–
2018-W Proof*
14,986
14,986
–
–

First Spouse Gold Coins

Old
Sales
Latest
Sales
Gain/
Loss
%
Increase
2020-W Proof Barbara Bush First Spouse Gold Coin*
2,896
2,896
–
–
2020-W Uncirculated Barbara Bush First Spouse Gold Coin*
1,932
1,932
–
–

Presidential Silver Medals

Old
Sales
Latest
Sales
Gain/
Loss
%
Increase
2021 Franklin Pierce Presidential Silver Medal
11,817
11,824
7
0.06%
2022 Millard Fillmore Presidential Silver Medal
12,137
12,143
6
0.05%
2022 Zachary Taylor Presidential Silver Medal
12,598
12,605
7
0.06%
2022 James Knox Polk Presidential Silver Medal
12,774
12,774
–
–
2021 John Tyler Presidential Silver Medal
13,266
13,270
4
0.03%
2021 William Henry Harrison Presidential Silver Medal
13,190
13,197
7
0.05%
2021 Martin Van Buren Presidential Silver Medal
13,365
13,372
7
0.05%
2020 Andrew Jackson Presidential Silver Medal
16,012
16,022
10
0.06%
2019 John Quincy Adams Presidential Silver Medal
14,353
14,355
2
0.01%
2019 James Monroe Presidential Silver Medal
14,850
14,862
12
0.08%
2019 James Madison Presidential Silver Medal
16,273
16,282
9
0.06%
2019 Thomas Jefferson Presidential Silver Medal
23,104
23,124
20
0.09%
2018 George Washington Presidential Silver Medal
33,231
33,246
15
0.05%
2018 John Adams Presidential Silver Medal
22,983
22,991
8
0.03%

American Innovation Reverse Proof Sets

Old
Sales
Latest
Sales
Gain/
Loss
%
Increase
2022
45,374
45,729
355
0.78%
2021
49,285
49,285
–
–

2022 American Innovation Dollars – Tennessee

Old
Sales
Latest
Sales
Gain/
Loss
%
Increase
25-coin roll set (P)
7,007
7,008
1
0.01%
25-coin roll set (D)
6,908
6,943
35
0.51%
100-coin bag (P)
2,686
2,702
16
0.60%
100-coin bag (D)
2,719
2,733
14
0.51%

2022 American Innovation Dollars – Kentucky

Old
Sales
Latest
Sales
Gain/
Loss
%
Increase
25-coin roll set (P)
6,959
6,983
24
0.34%
25-coin roll set (D)
6,954
6,954
–
–
100-coin bag (P)
2,711
2,718
7
0.26%
100-coin bag (D)
2,639
2,649
10
0.38%

2022 American Innovation Dollars – Vermont

Old
Sales
Latest
Sales
Gain/
Loss
%
Increase
25-coin roll set (P)
7,022
7,022
–
–
25-coin roll set (D)
6,986
6,986
–
–
100-coin bag (P)
2,783
2,783
–
–
100-coin bag (D)
2,767
2,767
–
–

2022 American Innovation Dollars – Rhode Island

Old
Sales
Latest
Sales
Gain/
Loss
%
Increase
25-coin roll set (P)
7,012
7,011
-1
-0.01%
25-coin roll set (D)
7,007
7,007
–
–
100-coin bag (P)
2,784
2,784
–
–
100-coin bag (D)
2,773
2,773
–
–

2021 American Innovation Dollars – North Carolina

Old
Sales
Latest
Sales
Gain/
Loss
%
Increase
25-coin roll set (P)
6,985
6,985
–
–
25-coin roll set (D)
6,999
6,999
–
–
100-coin bag (P)
2,785
2,785
–
–
100-coin bag (D)
2,787
2,787
–
–

2021 American Innovation Dollars – New York

Old
Sales
Latest
Sales
Gain/
Loss
%
Increase
25-coin roll set (P)
6,986
6,986
–
–
25-coin roll set (D)
6,989
6,989
–
–
100-coin bag (P)
2,766
2,766
–
–
100-coin bag (D)
2,764
2,764
–
–

2021 American Innovation Dollars – Virginia

Old
Sales
Latest
Sales
Gain/
Loss
%
Increase
25-coin roll set (P)
6,984
6,984
–
–
25-coin roll set (D)
6,969
6,969
–
–
100-coin bag (P)
2,795
2,795
–
–
100-coin bag (D)
2,778
2,778
–
–

2021 American Innovation Dollars – New Hampshire

Old
Sales
Latest
Sales
Gain/
Loss
%
Increase
25-coin roll set (P)
6,997
6,997
–
–
25-coin roll set (D)
7,004
7,004
–
–
100-coin bag (P)
2,789
2,789
–
–
100-coin bag (D)
2,787
2,787
–
–

2020 American Innovation Dollars – South Carolina

Old
Sales
Latest
Sales
Gain/
Loss
%
Increase
Reverse Proof (S)
39,851
39,874
23
0.06%
25-coin roll set (P)
6,378
6,378
–
–
25-coin roll set (D)
6,399
6,399
–
–
100-coin bag (P)
2,734
2,734
–
–
100-coin bag (D)
2,378
2,378
–
–

2020 American Innovation Dollars – Maryland

Old
Sales
Latest
Sales
Gain/
Loss
%
Increase
Reverse Proof (S)
49,395
49,447
52
0.11%
25-coin roll set (P)
6,493
6,493
–
–
25-coin roll set (D)
6,471
6,471
–
–
100-coin bag (P)
2,725
2,725
–
–
100-coin bag (D)
2,737
2,737
–
–

2020 American Innovation Dollars – Massachusetts

Old
Sales
Latest
Sales
Gain/
Loss
%
Increase
Reverse Proof (S)
46,591
46,632
41
0.09%
25-coin roll set (P)
6,486
6,486
–
–
25-coin roll set (D)
6,481
6,481
–
–
100-coin bag (P)
2,746
2,746
–
–
100-coin bag (D)
2,744
2,744
–
–

2020 American Innovation Dollars – Connecticut

Old
Sales
Latest
Sales
Gain/
Loss
%
Increase
Reverse Proof (S)
45,797
45,821
24
0.05%
25-coin roll set (P)
6,496
6,496
–
–
25-coin roll set (D)
6,425
6,425
–
–
100-coin bag (P)
2,736
2,736
–
–
100-coin bag (D)
2,747
2,747
–
–

2019 American Innovation Dollars – Georgia

Old
Sales
Latest
Sales
Gain/
Loss
%
Increase
Reverse Proof (S)
45,920
45,941
21
0.05%
25-coin roll set (P)
7,580
7,584
4
0.05%
25-coin roll set (D)
7,077
7,081
4
0.06%
100-coin bag (P)
3,216
3,217
1
0.03%
100-coin bag (D)
3,107
3,109
2
0.06%

2019 American Innovation Dollars – New Jersey

Old
Sales
Latest
Sales
Gain/
Loss
%
Increase
Reverse Proof (S)
49,192
49,238
46
0.09%
25-coin roll set (P)
8,377
8,388
11
0.13%
25-coin roll set (D)
7,511
7,520
9
0.12%
100-coin bag (P)
3,628
3,632
4
0.11%
100-coin bag (D)
3,286
3,288
2
0.06%

2019 American Innovation Dollars – Pennsylvania

Old
Sales
Latest
Sales
Gain/
Loss
%
Increase
Reverse Proof (S)
53,731
53,748
17
0.03%
25-coin roll set (P)
9,461
9,472
11
0.12%
25-coin roll set (D)
7,953
7,960
7
0.09%
100-coin bag (P)
3,193
3,210
17
0.53%
100-coin bag (D)
2,811
2,814
3
0.11%

2019 American Innovation Dollars – Delaware

Old
Sales
Latest
Sales
Gain/
Loss
%
Increase
Reverse Proof (S)
69,007
69,027
20
0.03%
25-coin roll set (P)
8,574
8,578
4
0.05%
25-coin roll set (D)
7,967
7,975
8
0.10%
100-coin bag (P)
3,003
3,010
7
0.23%
100-coin bag (D)
3,197
3,200
3
0.09%

2018 American Innovation Dollars

Old
Sales
Latest
Sales
Gain/
Loss
%
Increase
Reverse Proof (S)*
74,720
74,720
–
–
Proof Coin (S)
249,783
249,867
84
0.03%
25-coin roll set (P)
21,341
21,357
16
0.07%
25-coin roll set (D)
24,376
24,391
15
0.06%
100-coin bag (P)*
2,935
2,935
–
–
100-coin bag (D)*
2,954
2,954
–
–

George H.W. Bush Coin & Chronicles Set

Old
Sales
Latest
Sales
Gain/
Loss
%
Increase
$1 Coin & Set
10,786
10,793
7
0.06%

2020 Bush Presidential $1 Coin & First Spouse Medal Set

Old
Sales
Latest
Sales
Gain/
Loss
%
Increase
$1 Coin & Set
9,876
9,876
–
–

2020 George H.W. Bush Presidential $1 Coins

Old
Sales
Latest
Sales
Gain/
Loss
%
Increase
25-coin roll (P)
23,524
23,578
54
0.23%
25-coin roll (D)
20,425
20,467
42
0.21%
100-coin bag (P)
2,695
2,695
–
–
100-coin bag (D)
2,098
2,098
–
–
250-coin bag (P)
2,432
2,432
–
–
250-coin bag (D)
3,929
3,932
3
0.08%

Native American Dollar Rolls

Old
Sales
Latest
Sales
Gain/
Loss
%
Increase
2022-P Native American $1 25 Coin Roll
13,921
13,921
–
–
2022-D Native American $1 25 Coin Roll
13,884
13,884
–
–
2022-P Native American $1 100-Coin Bag
1,559
1,571
12
0.77%
2022-D Native American $1 100-Coin Bag
1,609
1,609
–
–
2022-P Native American $1 250-Coin Box
1,698
1,698
–
–
2022-D Native American $1 250-Coin Box
1,698
1,698
–
–
2021-P Native American $1 25 Coin Roll
15,975
15,975
–
–
2021-D Native American $1 25 Coin Roll
14,967
14,967
–
–
2021-P Native American $1 100-Coin Bag
1,704
1,704
–
–
2021-D Native American $1 100-Coin Bag
1,618
1,618
–
–
2021-P Native American $1 250-Coin Box
1,789
1,789
–
–
2021-D Native American $1 250-Coin Box
1,795
1,795
–
–

Kennedy Half Dollar Rolls

Old
Sales
Latest
Sales
Gain/
Loss
%
Increase
2022-dated 200-coin bag (P&D)
10,988
10,988
–
–
2022-dated 2-roll set (P&D)
21,882
21,882
–
–
2021-dated 200-coin bag (P&D)
9,968
9,968
–
–
2021-dated 2-roll set (P&D)
21,953
21,953
–
–
2020-dated 200-coin bag (P&D)
11,776
11,776
–
–
2020-dated 2-roll set (P&D)
24,312
24,312
–
–
2019-dated 200-coin bag (P&D)*
11,534
11,534
–
–
2019-dated 2-roll set (P&D)*
24,132
24,132
–
–

2022 Anna May Wong Quarters

Old
Sales
Latest
Sales
Gain/
Loss
%
Increase
Three-Roll Set
7,577
7,577
–
–
100-Coin Bag (P)
1,832
1,832
–
–
100-Coin Bag (D)
1,840
1,840
–
–
Two-Roll Set
5,905
5,905
–
–

2022 Nina Otero-Warren Quarters

Old
Sales
Latest
Sales
Gain/
Loss
%
Increase
Three-Roll Set
7,638
7,638
–
–
100-Coin Bag (P)
1,850
1,850
–
–
100-Coin Bag (D)
1,849
1,849
–
–
Two-Roll Set
5,703
5,793
90
1.58%

2022 Wilma Mankiller Quarters

Old
Sales
Latest
Sales
Gain/
Loss
%
Increase
Three-Roll Set
7,617
7,617
–
–
100-Coin Bag (P)
1,845
1,845
–
–
100-Coin Bag (D)
1,820
1,820
–
–
Two-Roll Set
5,909
5,909
–
–

2022 Dr. Sally Ride Quarters

Old
Sales
Latest
Sales
Gain/
Loss
%
Increase
Three-Roll Set
7,600
7,600
–
–
100-Coin Bag (P)
1,854
1,854
–
–
100-Coin Bag (D)
1,850
1,850
–
–
Two-Roll Set
5,925
5,925
–
–

2022 Maya Angelou Quarters

Old
Sales
Latest
Sales
Gain/
Loss
%
Increase
Three-Roll Set
7,587
7,587
–
–
100-Coin Bag (P)
1,858
1,858
–
–
100-Coin Bag (D)
1,861
1,861
–
–
Two-Roll Set
5,937
5,937
–
–

2021 Tuskegee Airmen Quarters

Old
Sales
Latest
Sales
Gain/
Loss
%
Increase
100-Coin Bag (S)
4,031
4,031
–
–
40-Coin Roll (S)
3,358
3,358
–
–
Three-Roll Set
7,642
7,642
–
–
100-Coin Bag (P)
2,367
2,367
–
–
100-Coin Bag (D)
2,380
2,380
–
–
Two-Roll Set
5,374
5,374
–
–

2020 Tallgrass Prairie Quarters

Old
Sales
Latest
Sales
Gain/
Loss
%
Increase
100-Coin Bag (S)*
4,193
4,193
–
–
40-Coin Roll (S)
3,993
3,993
–
–
Three-Roll Set
8,930
8,930
–
–
100-Coin Bag (P)*
2,499
2,499
–
–
100-Coin Bag (D)*
2,478
2,478
–
–
Two-Roll Set
6,958
6,958
–
–

2020 Marsh-Billings-Rockefeller Quarters

Old
Sales
Latest
Sales
Gain/
Loss
%
Increase
100-Coin Bag (S)*
4,183
4,183
–
–
40-Coin Roll (S)
3,961
3,961
–
–
Three-Roll Set*
8,834
8,834
–
–
100-Coin Bag (P)*
2,415
2,415
–
–
100-Coin Bag (D)*
2,331
2,331
–
–
Two-Roll Set
6,957
6,957
–
–

2020 Salt River Bay Quarters

Old
Sales
Latest
Sales
Gain/
Loss
%
Increase
100-Coin Bag (S)*
4,156
4,156
–
–
40-Coin Roll (S)*
4,005
4,005
–
–
Three-Roll Set
8,969
8,969
–
–
100-Coin Bag (P)*
2,488
2,488
–
–
100-Coin Bag (D)*
2,422
2,422
–
–
Two-Roll Set
6,982
6,982
–
–

2020 Weir Farm Quarters

Old
Sales
Latest
Sales
Gain/
Loss
%
Increase
100-Coin Bag (S)*
4,281
4,281
–
–
40-Coin Roll (S)*
4,013
4,013
–
–
Three-Roll Set*
8,930
8,930
–
–
100-Coin Bag (P)*
2,471
2,471
–
–
100-Coin Bag (D)*
2,470
2,470
–
–
Two-Roll Set
6,963
6,963
–
–

2020 National Park of American Samoa Quarters

Old
Sales
Latest
Sales
Gain/
Loss
%
Increase
100-Coin Bag (S)*
4,236
4,236
–
–
40-Coin Roll (S)*
3,974
3,974
–
–
Three-Roll Set*
8,930
8,930
–
–
100-Coin Bag (P)*
2,456
2,456
–
–
100-Coin Bag (D)*
2,480
2,480
–
–
Two-Roll Set*
6,991
6,991
–
–