A year that began in January with record results in Heritage Auctions' $65 million FUN US Coins Signature® Auction will conclude with its Dec. 15-18 in its US Coins Signature® Auction.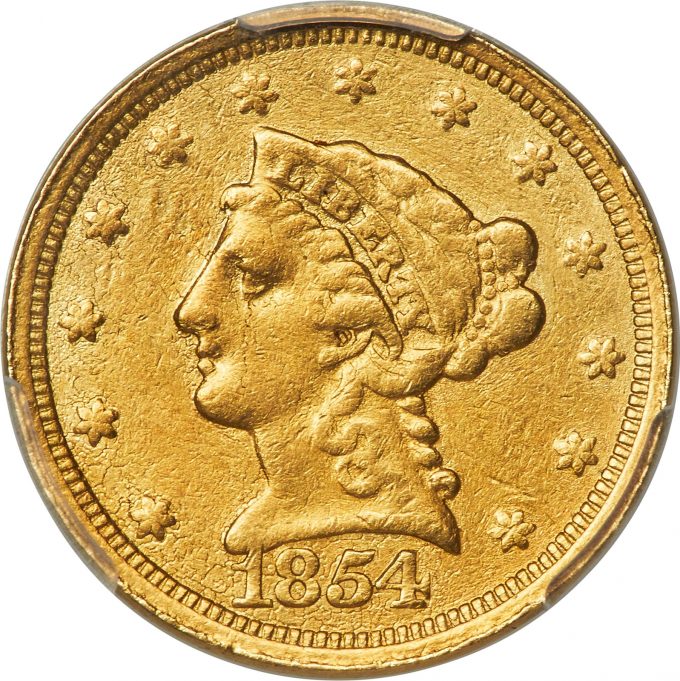 This event features more than 2,000 lots, with must-have options collectors of all levels and tastes.
"This has been an extraordinary year for the US Coins category at Heritage Auctions, and the magnificent coins in this last auction of 2022 give every reason to believe that this event will continue that success," says Todd Imhof, Executive Vice President at Heritage Auctions. "It includes exceptional rarities that will bolster collections of all levels."
Among the collector-friendly coins in this auction is a rare 1854-S Quarter Eagle, one of only 246 struck and one of no more than a dozen surviving examples. Only three issues — the 1875 Eagle, the 1875 Half Eagle and the 1841-O Half Eagle (unknown in any collection) — have lower mintages than the 1854-S Quarter Eagle, which is considered a landmark rarity within U.S. numismatics.
The auction includes a pair of exceptional Half Eagles. An 1825/Partial 4 BD-1 Half Eagle, AU Details was sold at auction in 1998, when it was billed as the Atwater specimen that B. Max Mehl sold in June 1946. While there are three 1825 Half Eagle varieties identified, only the BD-1 is collectible with 25 to 30 surviving examples according to John Dannreuther.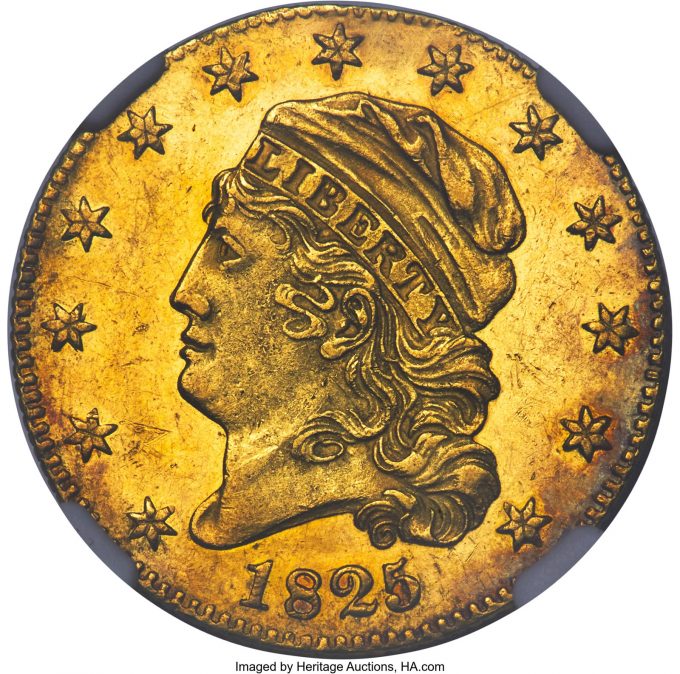 The other featured example is a 1929 Half Eagle MS65 PCGS that once was a highlight of the famous Jim O'Neal Collection — a mark of distinction for any coin. After a hiatus of 12 years without a single Half Eagle coined at any U.S. mint, the 1929 Indian five made an appearance with a substantial production of 662,000 coins, after which the denomination was eliminated entirely from U.S. federal coinage.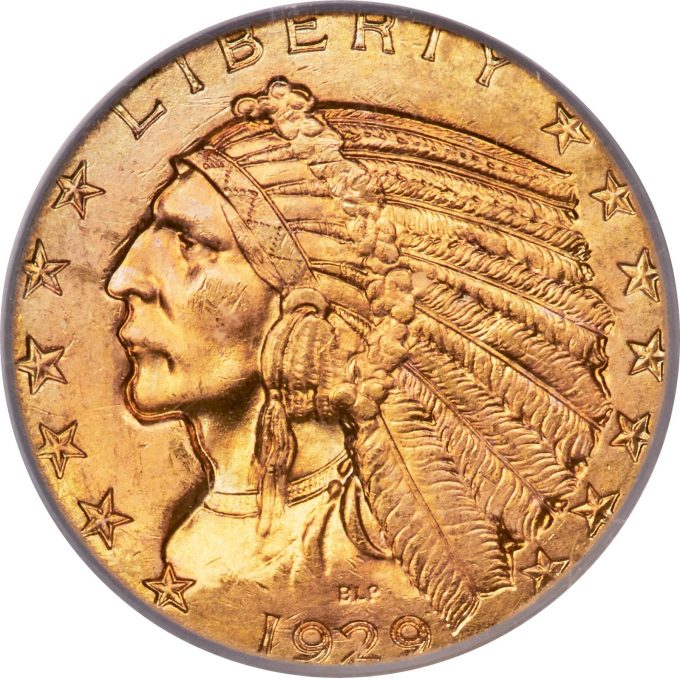 Despite the seemingly significant mintage, the 1929 Half Eagle is the single rarest issue in the entire Indian Head series when all grades are considered. PCGS and NGC have graded a combined 20 submissions as MS65, with a single example at NGC awarded the Star designation, and no numerically finer coins at either service. Only a few circulated pieces are known, perhaps from collections dismantled in favor of food for family members during the Great Depression.
From the Bender Family Collection comes an 1858 $3 PR64 PCGS. CAC. JD-1, Low R.7, an absolute rarity that is one of no more than 10 known examples from a mintage estimated at about 20 proofs. Only the Trompeter coin, the Bass specimen and a coin graded PR64 Cameo PCGS, are known to be finer than this piece.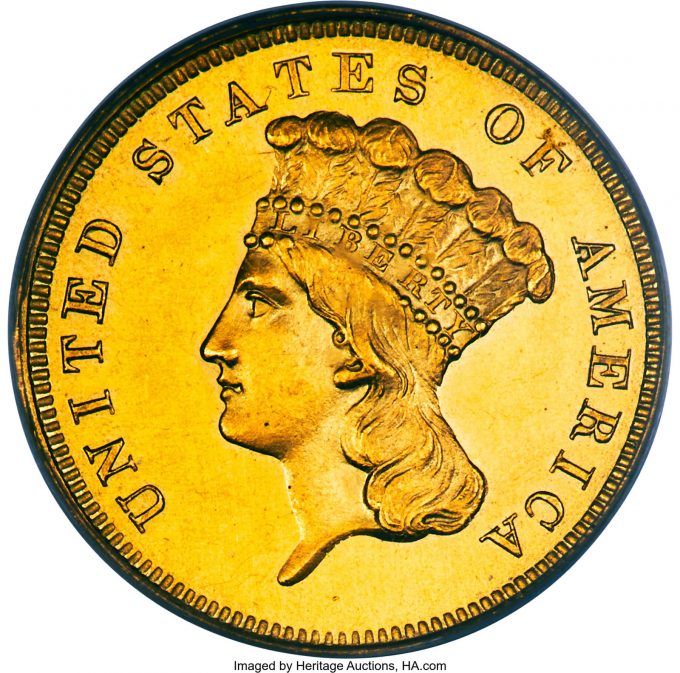 Appearing at auction for the first time is a 2000-D $1 Sacagawea Dollar / South Carolina Quarter Mule MS64 PCGS. More than 20 years after it was struck, a mule that paired a Sacagawea dollar obverse and the statehood side of a 2000-dated South Carolina quarter was reported in the June 27, 2022 issue of Coin World. Mules — coins struck from mismatched dies — are undeniably rare, but this example is unique. It is more dramatic than the other famous Sacagawea dollar / statehood quarter mule, since the state is identified, and it shows the Sacagawea obverse.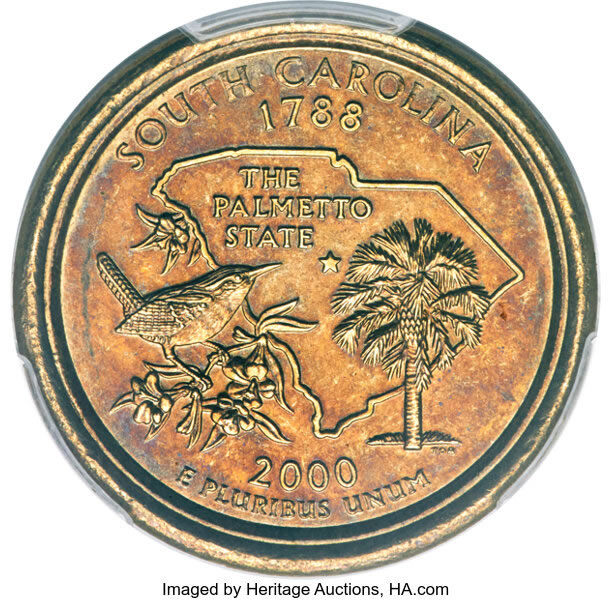 A 1799 Draped Bust Dollar exhibits die clashing on both sides; the Bowers Encyclopedia enumerates only three BB-161 die states. This lustrous and attractive Mint State early dollar richly deserves its place within the BB-161 Condition Census, and is singularly important for its advanced die state — unseen by us on any other example.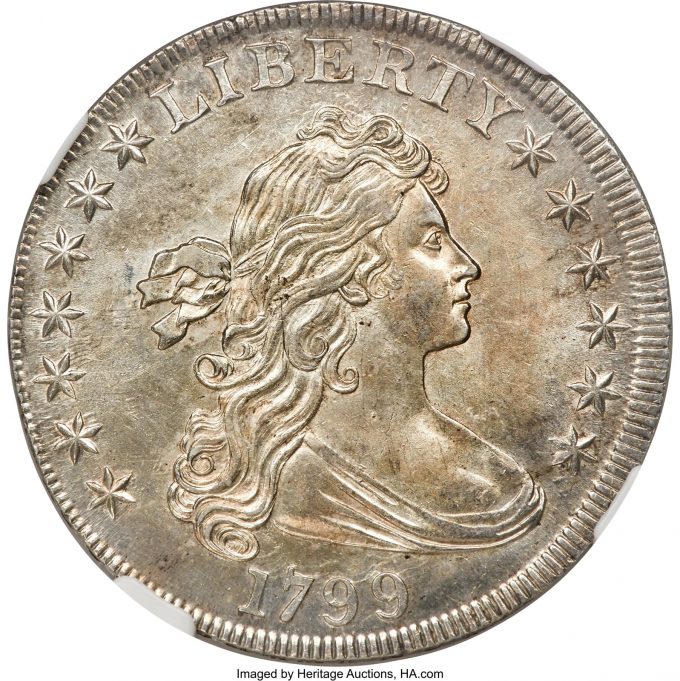 An 1860-O Seated Dime F-101, R.3, AU55 PCGS is from the Legend Obverse subtype that extended from 1860-91, but New Orleans issues exist only for the first and last year. The 1891-O is plentiful, but it is a much different story for the 1860-O. It has a mintage of just 40,000 pieces, making it the rarest New Orleans issue. This magnificent example is one of just three graded in 55, and there are only two finer.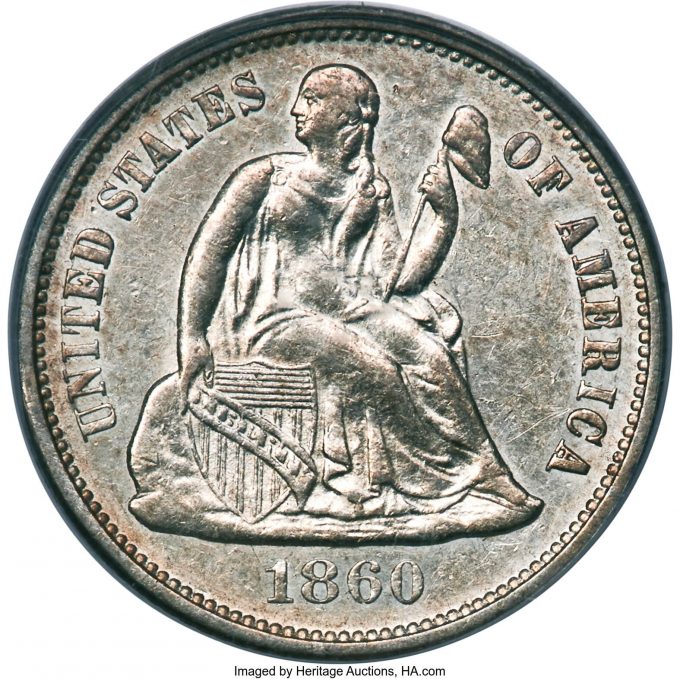 An 1849 $5 Norris, Gregg, & Norris Five Dollar, Reeded Edge, AU58 PCGS. K-3, R.6 is among the earliest of all Territorial issues, from the first California private gold coiner to begin operations. The firm could not compete with Moffat & Co., which set up shop later in 1849 and soon commanded greater respect from the San Francisco community. Norris, Gregg, & Norris fives are known with and without a reeded edge, and with and without a period after the "Y" in "ALLOY" (this example has neither). Among those four varieties, K-3 is second rarest; the offered example is one of just seven graded in 58, with just six finer.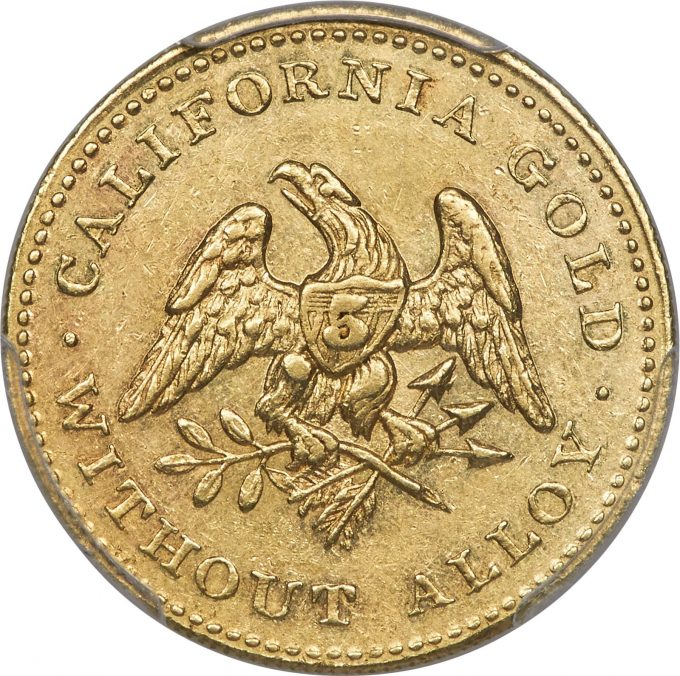 A 1755 Safety at Sea Medal in Silver, MS62 is one of just seven examples traced, and among those, tied for the finest at PCGS. Alternately described as a Franco-American jeton by Frossard and as a medal by Betts, this colonial issue may commemorate the action of June 8, 1755 in the Gulf of St. Lawrence between England and France. Either way, it is exceedingly rare.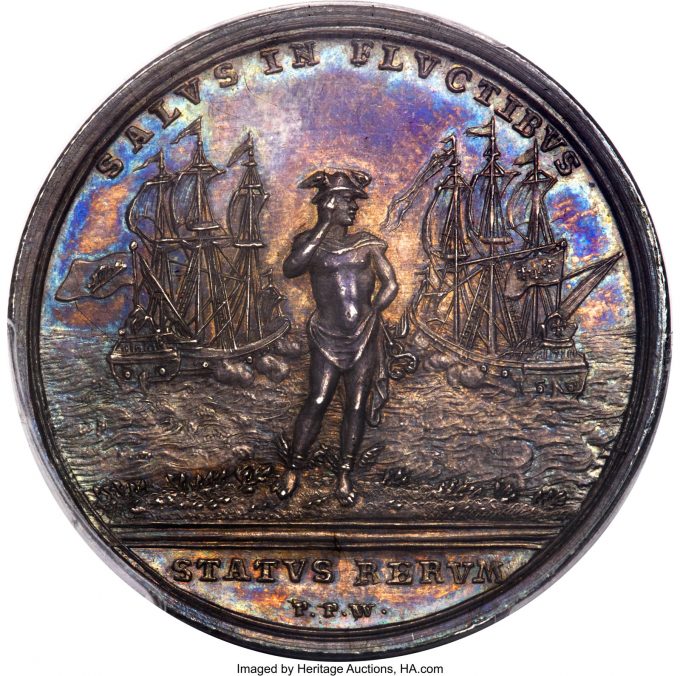 Jean Lecompte listed five known examples in his 2007 reference. Heritage Auctions experts are aware of the three silver pieces in the Ford Collection (this being the finest), the Partrick example in AU58 NGC, the Q. David Bowers piece in Choice XF, and the Lecompte plate coin also graded MS62 PCGS. The Gerald Hart piece that sold in 1888 is now in the American Numismatic Society Collection, as is one of the three Ford examples, leaving perhaps five of seven known representatives in private hands. The Lecompte piece realized €10,200 in October 2021 and the Partrick coin brought $11,400 in March 2021. This spectacular offering is tied with one of the other Ford examples and the Lecompte piece for finest at PCGS.
About 15% of the lots in the auction come from one of nine Featured Collections — a list that includes:
The James E. Blake Collection
The Tom Green Collection
The Allan H. Goldman Collection, Part III
The Bender Family Collection — Post-1932 Lincoln Cents
The Rio Collection
Selections From The Casady Collection
The Joseph Greyson Richter Collection
The Misfits Collection
The Long Island Collection, Part IV
Images and information about all lots in the auction can be found at HA.com/1351.
About Heritage Auctions
Heritage Auctions is the largest fine art and collectibles auction house founded in the United States, and the world's largest collectibles auctioneer. Heritage maintains offices in New York, Dallas, Beverly Hills, Chicago, Palm Beach, London, Paris, Geneva, Amsterdam, Brussels and Hong Kong.
Heritage also enjoys the highest Online traffic and dollar volume of any auction house on earth (source: SimilarWeb and Hiscox Report). The Internet's most popular auction-house website, HA.com, has more than 1,500,000 registered bidder-members and searchable free archives of five million past auction records with prices realized, descriptions and enlargeable photos. Reproduction rights routinely granted to media for photo credit.