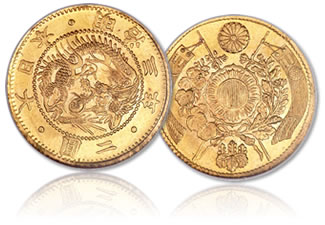 Heritage Auctions has announced that it will be auctioning The Dr. Norman Jacobs Collection of Korean and Japanese Coins, the most important collection of its kind, from one of the most famous Asian numismatic experts to have lived.
This collection will be featured in the company's September 2011 Long Beach Signature Auction.
The groups of coins from both nations individually represent possibly the most complete sets of Japanese and Korean coins and currency ever assembled, and most likely the most important numismatic offerings of both countries in the last half century.
Collectors will not have to wait 10 months to get a look at these amazing coins, however, as highlights will be on display at the New York International Numismatic Convention, at the Waldorf-Astoria, Jan. 6-9, 2011, in conjunction with Heritage's New York Signature® World and Ancient Coin Auction. This appearance will be the beginning of a "world tour" for the coins, as they visit the Chicago International Coin Fair, April 13-16, 2011, heading to Tokyo in May and coming home for the ANA World's Fair of Money in Chicago, Aug. 15-21, 2011.
"Collections such as Dr. Jacobs' is what we live for here at Heritage," said Cris Bierrenbach, Vice President of International Numismatics at Heritage. "Handling the incredible Asian rarities that Dr. Jacobs dedicated his numismatic life to is a great honor to us. The World Coin department at Heritage, along with our entire company, will be working hard to produce a catalog and an auction that match the fantastic accomplishments of Dr. Jacobs in Korean and Japanese numismatics. The next 10 months are  going to be a great ride."
In 1953, Dr. Jacobs (along with Cornelius Vermeule) wrote the first English language book on Japanese numismatics that covered both ancient and modern coins.  It was also the first publication (in any language) to catalog Japanese coins by date and type. That book opened up the world of Japanese (and modern Korean) coinage to western collectors.
The principle highlight of the auction comes from the Korean collection: a unique set of 1909 Korean gold in 5, 10 and 20 Won denominations – the only other set in existence is in the collection of the Bank of Japan.
"The vast majority of these coins, and the core of the collections, were purchased in the 1940s and 1950s," said Bierrenbach, "during Dr. Jacobs' time in Asia. He also added significantly to his collection when he worked with Robert Friedberg at Capital Coin of New York in the 1950s. So the vast majority of the ultra rarities have been in his collection for 50+ years."
Further news on highlights from the collection will be forthcoming in the months leading up to this important auction.
About Heritage Auctions
Heritage Auctions, headed by Steve Ivy, Jim Halperin and Greg Rohan, is the world's third largest auction house, with annual sales more than $600 million, and 500,000+ registered online bidder members. For more information about Heritage Auctions, and to join and gain access to a complete record of prices realized, along with full-color, enlargeable photos of each lot, please visit HA.com.