1795 half eagle, 1856-O double eagle and 1880 Coiled Hair stella among the offerings from Heritage, July 31-Aug. 2, in Beverly Hills
DALLAS, TX – Legends of TV and film will surrender the Hollywood spotlight for a night when a different kind of American star takes to the podium at the Hyatt Regency Century Plaza in Beverly Hills: A historic 1854-S quarter eagle, graded VF35 NGC, will lead the Platinum Night offerings of Heritage Auction Galleries' August 2009 Los Angeles U.S. Coin Auction, July 31-Aug. 2.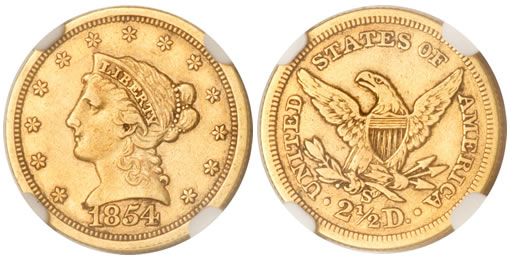 "This coin is truly a legendary rarity," said Greg Rohan, President of Heritage, "and one of just a dozen known survivors from the first quarter eagle issue produced by the San Francisco Mint. In Heritage's in-house condition census of the surviving 12, this example is rated fifth overall."
Just 246 examples of the 1854-S quarter eagle were struck since the San Francisco Mint focused on making larger denominations such as the eagle and double eagle, and the relative "small change" denomination of the gold dollar, leaving the quarter eagle and half eagle relatively neglected. Despite the tiny mintage for the 1854-S quarter eagle, the coins that were produced found ready acceptance in California commerce; virtually the entire mintage was lost through attrition.
Every known 1854-S quarter eagle shows evidence of circulation, whether slight or extreme. The Choice VF example Heritage is offering exhibits moderate wear, but the surfaces show few of the usual marks that coins accrue while circulating and its eye appeal is remarkably strong.
"For decades, the 1854-S quarter eagle has been an underrated rarity," said Rohan, "but a select cadre of collectors has long coveted the issue, and recent years have brought greater awareness of and appreciation for this emblem of the California Gold Rush."
Close on the heels of the 1854-S quarter eagle is a stunning 1795 half eagle, Small Eagle reverse, S over D, BD-6, MS65 Prooflike NGC example that is sure to be on the want-list of many top collectors.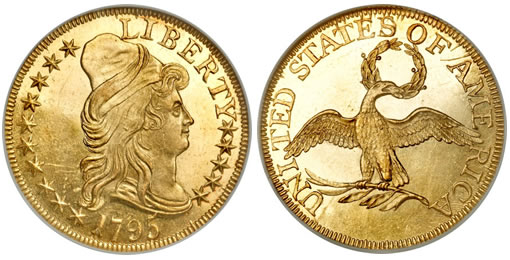 "A precious few 1795 half eagles were saved as first-of-their-kind pieces, this Gem among them," said Rohan, "but few 18th century U.S. coins offer the incredible luster and reflectivity this piece possesses."
This coin is of the BD-6 die variety, well known for a reverse blunder that shows the word "STATES" originally punched as "STATED," and then corrected. The variety is itself rare, which makes the survival of a Gem specimen even more remarkable.
Coming on the heels of Heritage's record-setting offering of the SP63 1856-O double eagle in the May 2009 Long Beach Signature U.S. Coin Auction, an 1856-O double eagle AU58 NGC specimen will be offered in the Los Angeles event.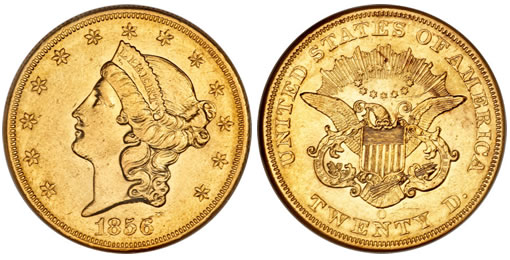 This AU58 representative is tied for the finest regular-issue 1856-O double eagle certified and is a famously rare Southern gold issue surviving from an original mintage of only 2,250 pieces. Its survival rate is estimated at about 1% including all grades. The near-Mint example offered in Los Angeles is among the very finest, with strong lemon-yellow luster and great eye appeal.
All Stellas, or four dollar gold patterns, enjoy high popularity, but the extremely rare 1880-dated pieces with the George T. Morgan Coiled Hair design are among the most prized, especially the Judd-1660 variety, which was struck in gold. The Heritage census for the issue shows just nine distinct specimens – including the one in this auction, graded PR62 NGC – pedigreed to famous collectors including both the senior and junior Amon G. Carter.
Further highlights of the auction include, but are not limited to:
 An extremely rare early proof, the Pittman-Kaufman example.
A famous proof-only issue known to collectors as the "Little Princess."
1907 High Relief, Wire Rim Double Eagle PR67 NGC:
NGC recognizes this amazing Superb Gem specimen of the iconic high relief version of the Augustus Saint-Gaudens double eagle design as a proof.
One of only four distinct examples known of this branch mint proof issue, a relative of the more famous and more numerous 1838-O half dollar proofs.
1892-S Morgan Dollar MS65 PCGS:
A beautifully toned example of this famous condition rarity, an issue that is mildly elusive in most grades but immensely challenging in the higher tiers of Mint State.
For more information on the August 2009 Los Angeles U.S. Coin Auction, to read detailed descriptions of these, and any other lots, and to download full-color, enlargeable images, go online to www.HA.com/1128.
To reserve your copy of any Heritage auction catalog, please contact Client Services at 1-800-872-6467, ext. 1150, or visit www.HA.com/Catalog to order by email.
About Heritage Auction Galleries
Heritage Auction Galleries is the world's third largest auction house, and by far the largest auctioneer of rare collectibles, with annual sales more than $700 million, and 450,000+ registered online bidder members. For more information about Heritage's auctions, and to join and gain access to a complete record of prices realized, along with full-color, enlargeable photos of each lot, please visit www.HA.com. 
Want to get the up-to-the-minute updates and breaking news stories about Heritage? Get them as they happen at: www.Twitter.com/HeritagePress; www.Twitter.com/JimHalperin; Facebook: Heritage Auction Galleries. 
# # #