A rare Chinese banknote, one of just three graded in the PMG Population Report, is being offered for the first time at Heritage Auctions in its Dec. 6 World Paper Money Signature® Auction.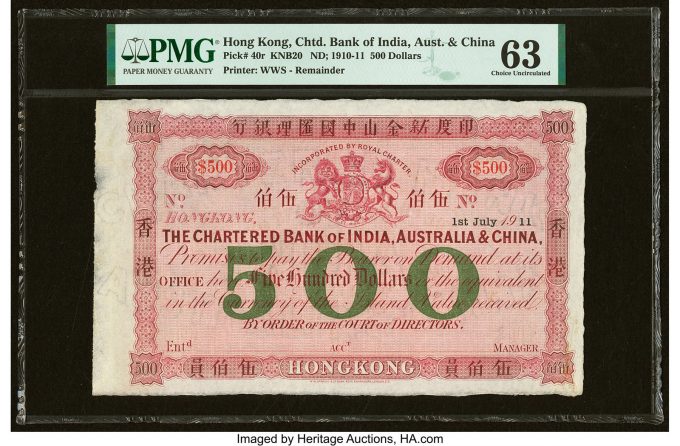 The Hong Kong Chartered Bank of India, Australia & China 500 Dollars 1.7.1911 Pick 40r Remainder PMG Choice Uncirculated 63 (estimate: $150,000+) represents a design and denomination that is missing from nearly all collections. The Chartered Bank of India, Australia & China was founded in the 1850s and opened its first branch in Hong Kong in 1859.
This short-lived bank originality opened to profit from foreign exchange as the British Empire expanded across the globe. Operating as the Standard Chartered Bank, this bank still issues banknotes in Hong Kong. The $500 denomination was the highest denomination in the banknote series until 1979, at which time a $1000 was introduced.
"At the turn of the century, $500 in Hong Kong amounted to a tremendous sum of money, a year's salary for most workers," Heritage Auctions Vice President of Currency Dustin Johnston said. "Redemption rates for high denominations were high, and survivors, in any form, exceedingly rare. This is the only known example of this note in any form. It is an unlikely survivor and a great highlight for our December Hong Kong auction."
Also offered is an exceedingly rare trio of Chinese banknotes that did not get released until four years after their printed date.
The famed 10 Yuan of 1953 was the highest denomination of this short series, but was not released until 1957 and was withdrawn beginning in 1964, making it a rare type in any grade and making Uncirculated examples coveted prizes for collectors. This China People's Bank of China 10 Yuan 1953 Pick 870 S/M#C283-14 Three Consecutive Examples PMG Choice Uncirculated 63 (2); Uncirculated 62 (estimate: $200,000+) was created to bring denominations to a manageable level. This 10 Yuan is large and imposing, and it represented a large sum of money at the time. This lot consists of three consecutive serial numbered examples.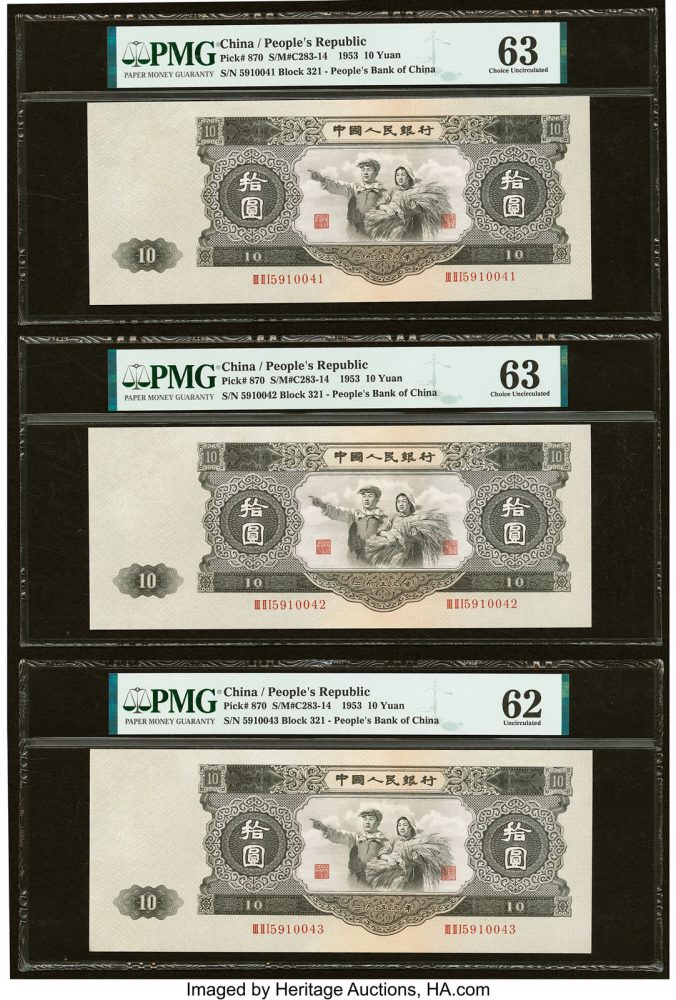 Banknotes from the National Bank of China, Limited are exceedingly rare and incredibly desirable. Prominent, larger banks issued a greater quantity of banknotes than this smaller issuer, which released just $450,000 worth of notes, as banknote operations existed for only two years; in 1895, the Government of Hong Kong cancelled this bank's currency issuing operation. Waterlow & Sons printed this stunning Hong Kong National Bank of China Limited 5 Dollars 2.5.1894 Pick 247a KNB1a PMG Fine 12 (estimate: $80,000+), which features intricate guilloche work and handsome design elements. Heritage Auctions has offered this famed rarity only once before, and few are known in private hands, making opportunities to acquire this legendary banknote are few and far between.
An exceedingly rare China Kwangsi Bank 5 Yuan 1909 Pick S2346 S/M#K36 PMG Very Fine 20 (estimate: $50,000+) is one of two denominations featuring this design theme: dragons flanking silver crown-sized coins, and the higher-graded of just two examples of this note graded in the PMG Population Report. After the Kwangsi Imperial Bank went bankrupt, the Kwangsi Bank opened and began issuing banknotes in Guilin in 1910. Issuance was small compared to the larger and more prolific banks operating in nearby Kwangtung Province, hence why early issues from Kwangsi are so rare and desirable today.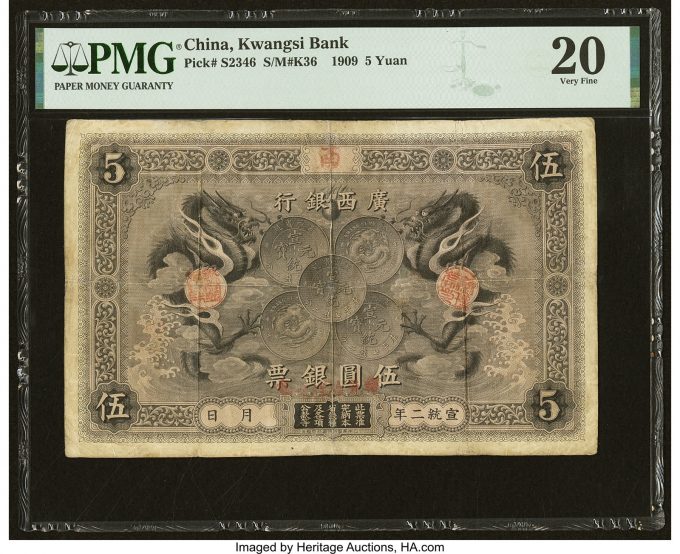 A Hong Kong Hongkong & Shanghai Banking Corp. 100 Dollars 1.1.1901 Pick 153s Specimen PMG Choice Uncirculated 64 (estimate: $40,000+) is tied for the finest grade among the four examples graded by PMG. Heritage Auctions previously has offered this type in Proof format, but never in Specimen or Issued formats.
Other highlights include, but are not limited to:
A China People's Bank of China 1953 Album with Full Denomination Set of 10 PMG Graded Notes (estimate: $40,000+) — tied for the highest grade in PMG Population Report
A Hong Kong Chartered Bank of India, Australia & China 100 Dollars 1.5.1934 Pick 57a KNB39 PMG Choice Very Fine 35 (estimate: $30,000+)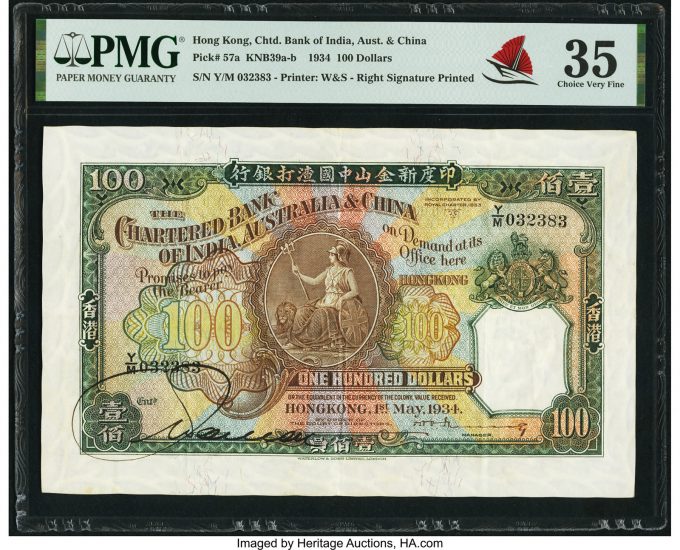 A Hong Kong Hongkong & Shanghai Banking Corp. 100 Dollars 1.5.1904 Pick 159s KNB46S Specimen PMG Choice Uncirculated 64 (estimate: $30,000+) — the finest-graded 100 dollars Specimen
Images and information about all lots in the auction can be found at HA.com/4040.
About Heritage Auctions
Heritage Auctions is the largest fine art and collectibles auction house founded in the United States, and the world's largest collectibles auctioneer. Heritage maintains offices in New York, Dallas, Beverly Hills, Chicago, Palm Beach, London, Paris, Geneva, Amsterdam, Brussels and Hong Kong.
Heritage also enjoys the highest Online traffic and dollar volume of any auction house on earth (source: SimilarWeb and Hiscox Report). The Internet's most popular auction-house website, HA.com, has more than 1,500,000 registered bidder-members and searchable free archives of five million past auction records with prices realized, descriptions and enlargeable photos. Reproduction rights routinely granted to media for photo credit.