Today, Aug. 9, marks the official release date for the U.S. Mint's 2022-S Proof American Silver Eagle. However, don't expect a big rush of orders for the San Francisco Mint-struck collectible at its noon ET launch as the entire inventory of 200,000 coins has already been accounted for through the U.S. Mint's pre-order enrollment program.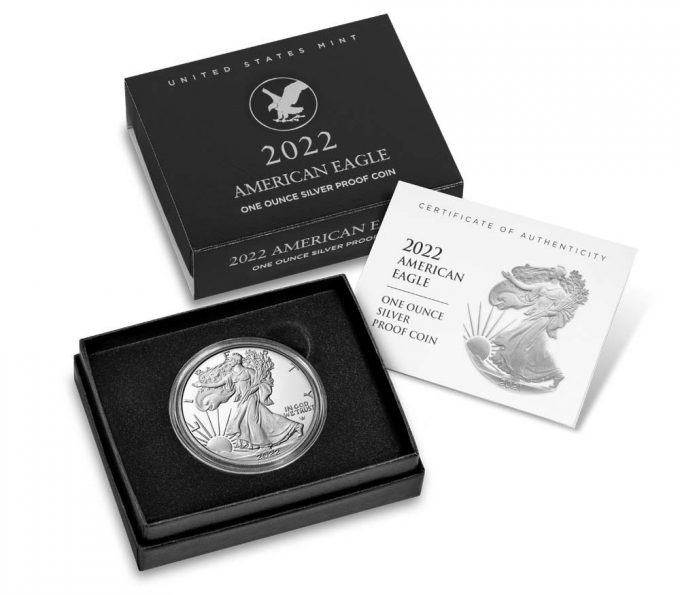 That being said, some may still have a chance to purchase one according to the U.S. Mint:
"Customers may still have an opportunity to purchase the products, subject to availability, after enrollment orders are reconciled," the U.S. Mint said a statement. "All inventory resulting from cancellations, invalid and/or fraudulent orders will be made available to the general public via "Remind Me" messages."
This news should not be much of a surprise as the related West Point Mint-struck 2022-W Proof Silver Eagle saw enrollments gobble them up earlier this year despite a much higher product limit of 500,000.
American Silver Eagle Designs
Appearing on the obverse (heads side) of each new proof Silver Eagle is a design familiar to most coin collectors — the Adolph A. Weinman full-length figure of Liberty. The design depicts Liberty in full stride, enveloped in folds of the American Flag, with her right hand extended and branches of laurel and oak in her left.
This image first appeared on the 1916-1947 half-dollars and re-appeared on the inaugural 1986 American Silver Eagles. However, the Mint refreshed the design last year utilizing new technology and historical assets to more closely reflect Weinman's original intent.
Obverse inscriptions read: "LIBERTY," "IN GOD WE TRUST," and "2022."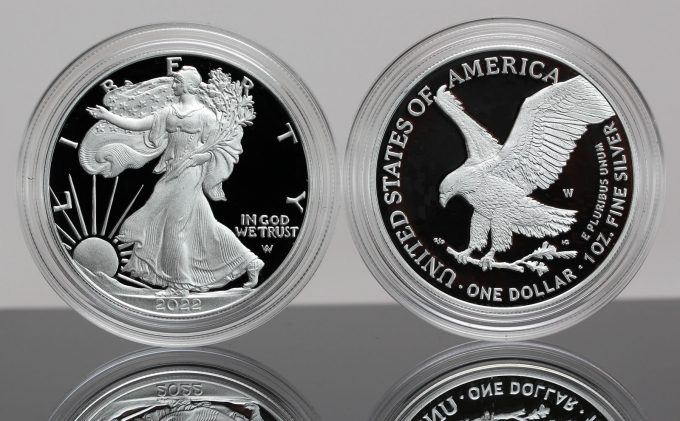 Along with that obverse refresh, the reverse (tails side) design was completely replaced last year. That new image continues this year with an eagle shown as it prepares to land while carrying an oak branch.
The design is the work of United States Mint Artistic Infusion Program Designer Emily Damstra with United States Mint Medallic Artist Michael Gaudioso sculpting. Reverse inscriptions include "UNITED STATES OF AMERICA," "E PLURIBUS UNUM," "1 OZ. FINE SILVER," and "ONE DOLLAR."
Anti-counterfeiting measures in the form of a reeded edge variation also started last year and continuing with this release.
Coin Specifications
| | |
| --- | --- |
| Denomination: | $1 |
| Composition: | 99.9% Silver |
| Weight: | 1.000 troy oz. (31.103 grams) |
| Diameter: | 1.598 inches (40.60 mm) |
| Edge: | Reeded |
| Mint and Mint Mark: | San Francisco – S |
Price and Ordering
Priced at $73, those hoping to snag a 2022-S Proof American Silver Eagle can try using the U.S. Mint's online page dedicated to American Eagle coins.