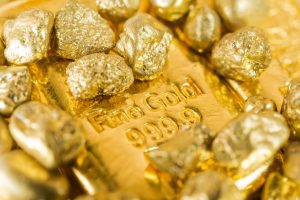 Precious metals split Friday with gold and platinum falling and silver and palladium rising, but they all posted very sharp weekly losses. Gold ended the day at a 14-week low.
On Friday, gold for June delivery fell $16.40 or 0.9%, to settle at $1,808.20 an ounce on the Comex division of the New York Mercantile Exchange. The settlement was the lowest since Feb. 4 when gold ended at $1,807.80 an ounce.
"Gold is being weighed down as the Fed has been committed to raise interest rates at a fast pace and in addition, the dollar has been extremely strong," Reuters quoted David Meger, director of metals trading at High Ridge Futures. "Going forward, the inflation numbers are what the market will closely watch."
Gold prices sank 4% this week following losses of 1.5% last week, 1.2% for the week ending April 29, and 2.1% for the week ending April 22. They are 1.1% lower on the year to date.
In looking ahead to next week, Kitco News offers the following forecasts via their Wall Street & Main Street surveys:
"This week 17 Wall Street analysts participated in Kitco News' gold survey. Among the participants, two analysts, or 12%, called for gold prices to rise next week. At the same time, 12 analysts, or 71%, were bearish on gold in the near term, and three analysts, or 18%, were neutral on prices.

Meanwhile, 932 votes were cast in online Main Street polls. Of these, 481 respondents, or 51%, looked for gold to rise next week. Another 286, or 31%, said lower, while 165 voters, or 18%, were neutral in the near term."
Elsewhere, silver for July delivery tacked on 22.8 cents, or 1.1%, to close at $21.001 an ounce. Silver prices tumbled 6.1% this week after losses of 3.1% last week, 4.8% for the week ending April 29, and 5.6% for the week ending April 22. On Thursday, they registered their lowest settlement since July 20, 2020. The precious metal is 10.1% lower on the year.
In PGM prices on Friday and for the week:
July platinum dipped 70 cents, or 0.08%, to end at $930.70 an ounce, for a 2.7% weekly decline.

Palladium for June delivery surged $57.10, or 3.1%, to end at $1,917.70 an ounce, but gave back 5.2% on the week.
The two are divided on the year so far with platinum 3.7% lower and palladium 0.3% higher.
US Mint Bullion Sales in 2022
Published United States Mint bullion sales increased this week by 5,000 ounces in American Gold Eagles. In comparison, last week the figures rose by:
37,500 ounces in American Gold Eagles
16,500 ounces in American Gold Buffalos
425,000 ounces in American Silver Eagles
Below is a sales breakdown of U.S. Mint bullion products with columns listing the number of coins sold during varying periods.
US Mint Bullion Sales (# of coins)
Friday
Last Week
This Week
March
April
May
2022 Sales
$50 American Eagle 1 Oz Gold Coin
0
36,000
0
140,500
80,500
36,000
466,500
$25 American Eagle 1/2 Oz Gold Coin
0
1,000
0
5,000
3,000
1,000
54,000
$10 American Eagle 1/4 Oz Gold Coin
0
4,000
0
20,000
14,000
4,000
106,000
$5 American Eagle 1/10 Oz Gold Coin
0
0
50,000
75,000
25,000
50,000
370,000
$50 American Buffalo 1 Oz Gold Coin
0
16,500
0
64,500
27,500
16,500
198,500
$1 American Eagle 1 Oz Silver Coin
0
425,000
0
1,080,500
850,000
425,000
8,856,500
$100 American Eagle 1 Oz Platinum Coin
0
0
0
14,200
0
0
40,000
$25 American Eagle 1 Oz Palladium Coin
0
0
0
0
0
0
0