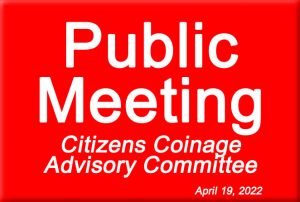 The Citizens Coinage Advisory Committee (CCAC) will hold a meeting by teleconference on April 19 to review and discuss candidate designs for all five 2023 American Women quarter dollars and the 2023 Native American $1 Coin.
The CCAC is tasked with advising the Secretary of the Treasury on themes and designs pertaining to all United States coins and medals.
Authorized under the Circulating Collectible Coin Redesign Act of 2020, Public Law 116-330, the U.S. Mint's four-year series of American Women Quarters™ honors women who shaped American history. The series was introduced this year. Second-year coins — those for 2023 — will feature reverse (tails side) designs depicting Bessie Coleman, Jovita Idár, Edith Kanaka'ole, Eleanor Roosevelt, and Maria Tallchief, the Mint recently announced.
Introduced in 2009 and authorized under Public Law 110-82, the U.S. Mint's Native American $1 Coin Program offers annually changing reverses that celebrate the important contributions made by Indian tribes and individual Native Americans to the history and development of the United States. In 2018, the Mint announced that the 2023 Native American $1 Coin will honor Charles Alexander Eastman.
CCAC Meeting Time and Public Listening Option
The CCAC meeting on the 19th will begin at 9:00 a.m. and it is scheduled to last until 3:00 p.m. (EDT).
Members of the public may dial in to listen to the meeting at (888) 330-1716 and using access code: 1137147.
For members of the public, this teleconference meeting is for "listen purposes only" — no comments or questions will be taken, and phones must be muted. Instead, those interested in offering matters for the CCAC's consideration are invited to submit them by email to info@ccac.gov.