With the new year, we get new U.S. Mint coins including today's release at noon EST of products from the 2022 Negro Leagues Baseball Commemorative Coin Program.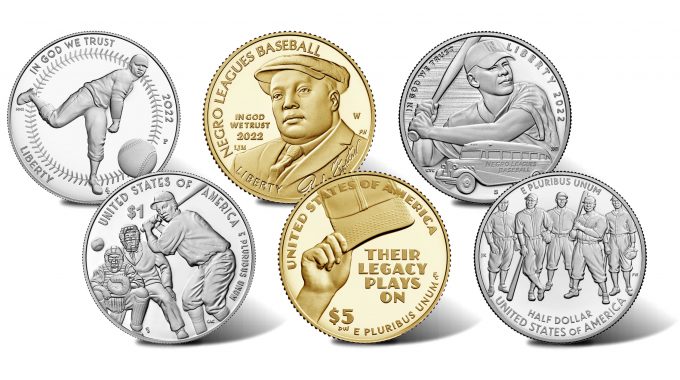 There are nine options encompassing individual or combinations of $5 gold coins, silver dollars, a silver medal, and clad half-dollars. All of them celebrate the 100th anniversary of the establishment of the Negro National League, the first successful, organized professional African-American baseball league in the United States.
"Just as this game connects families and communities, every day, across the Nation, the Mint connects Americans through coins," said United States Mint Deputy Director Ventris C. Gibson about the Negro Leagues Baseball Commemorative Coin Program. "It is now our great privilege to connect America to the extraordinary legacy of Negro Leagues Baseball."
Coin finishes include the collector qualities of proof and uncirculated. Proof coins are the finest quality of coin produced by the U.S. Mint. They feature frosted design elements that contrast against mirror-like backgrounds. Uncirculated coins have a matte-like finish and are also uniquely produced as compared to regular circulating coins found in change.
Negro League Commemorative Coin Designs and Specifications
Shown on the obverse (heads side) of the Negro League $5 Gold Coin is a portrait of Negro National League founder Rube Foster along with his signature. Inscriptions read "NEGRO LEAGUES BASEBALL," "IN GOD WE TRUST," "2022," and "LIBERTY. The obverse image was designed by Laurie Musser and sculpted by Phebe Hemphill.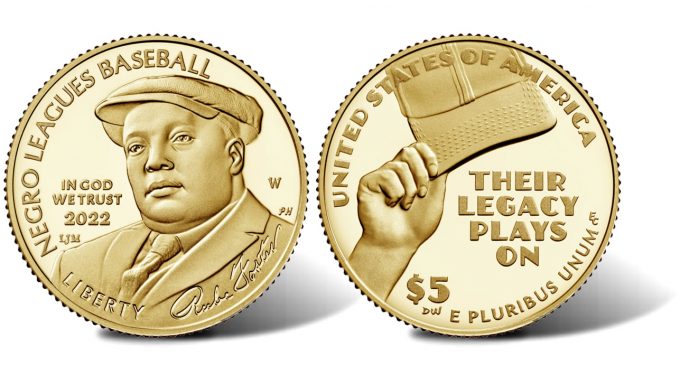 The reverse (tails side) of the $5 coin depicts the gesture of tipping one's cap, an important sign of respect for players. Inscriptions include "UNITED STATES OF AMERICA," "THEIR LEGACY PLAYS ON," "$5," and "E PLURIBUS UNUM." This design is the work of Donna Weaver. It was sculpted by Eric David Custer.
As for the silver dollar, its obverse shows a pitcher in mid-throw with the baseball in the foreground and baseball stitching as a border. Inscriptions are "IN GOD WE TRUST," "2022," and "LIBERTY." Matt Swaim designed the obverse and Eric David Custer sculpted it.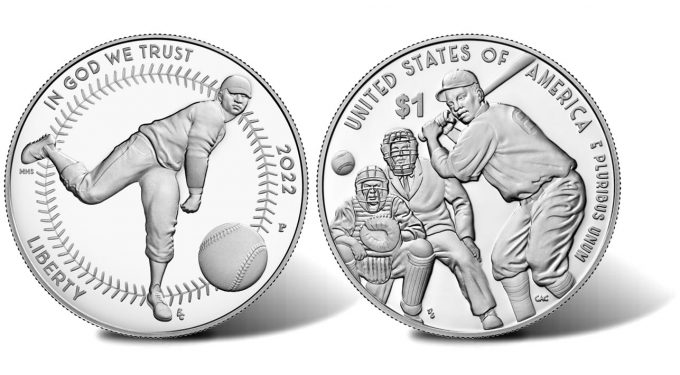 There is also a special privy mark silver dollar available (in proof finish only). Its obverse includes a mark commemorating the 100th anniversary of Negro Leagues Baseball in 2020. The privy mark appears below the pitcher's knee.
All Negro League silver dollars have a reverse design that depicts a player's eye view of a pitch being delivered to the catcher at the plate along with the inscriptions of "UNITED STATES OF AMERICA," "$1," and "E PLURIBUS UNUM." Don Everhart designed the reverse image and Craig A. Campbell sculpted it.
Each half-dollar obverse shows a Negro Leagues tour bus that served as their home on the road when players were refused entry to hotels and restaurants. Above the bus, we see a batter meant to exemplify the determination to play the game he loves, regardless of challenging circumstances. Inscriptions include "IN GOD WE TRUST," "LIBERTY," "2022," and "NEGRO LEAGUES BASEBALL." Chris Costello designed the image and John P. McGraw sculpted it.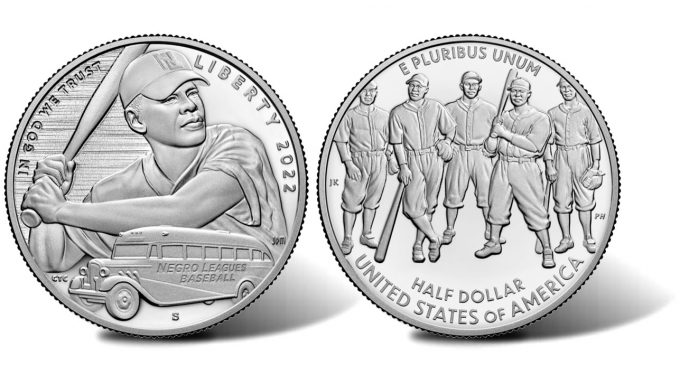 Half-dollar reverse design includes a group of five Negro Leagues Baseball players. Inscriptions are "E PLURIBUS UNUM," "HALF DOLLAR," and "UNITED STATES OF AMERICA." The image was created by Justin Kunz and Phebe Hemphill sculpted it.
One of the set's includes a Jackie Robinson silver medal. It bears the same design as the Jackie Robinson Congressional Gold Medal produced by the United States Mint in 2003 to honor Robinson as a baseball great, civil rights leader, and political activist. The obverse shows a portrait of Jackie Robinson. The inscription "JACKIE ROBINSON" appears to the left of the portrait followed by "A LIFETIME OF ADVOCACY FOR SOCIAL JUSTICE & HUMAN DIGNITY." Near the rim is "ACT OF CONGRESS 2003."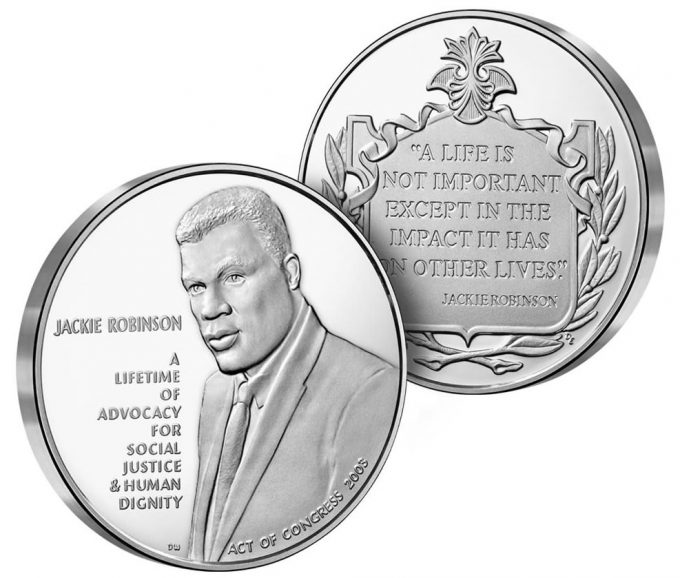 The medal's reverse features laurel branches surrounding a plaque containing the inscriptions "A LIFE IS NOT IMPORTANT EXCEPT IN THE IMPACT IT HAS ON OTHER LIVES" and "JACKIE ROBINSON."
Commemorative Coin and Medal Specifications
$5 Gold
Silver Dollar
Silver Medal
50c
Finish
Proof and Uncirculated
Proof and Uncirculated
Proof
Proof and Uncirculated
Composition
90% Gold,
6% Silver,
Balance Copper
99.9% Silver
99.9% Silver
8.33% Nickel, Balance Copper
Weight
8.359 Grams
26.73 Grams / 0.859 troy oz.
26.73 Grams / 0.859 troy oz.
11.34 Grams
Diameter
0.850 Inches
1.500 Inches
1.500 Inches
1.205 Inches
Edge
Reeded
Reeded
Plain
Reeded
Mint and Mint Mark
West Point – W
Philadelphia – P
Philadelphia – No Mint Mark
San Francisco – S (Proof)
Denver – D (Uncirculated)
Limits, Prices and Ship Dates
The chart below shows introductory pricing of the coins and sets, their mintages, as well as any associated order limits that are in effect for the first 24 hours of sales. It also includes the expected ship dates for each:
PRODUCT OPTION
MINTAGE/PRODUCT LIMITS
INTRO PRICE*

INITIAL 24-HOUR ORDER LIMIT

EXPECTED SHIP DATE
Proof Five-Dollar Gold Coin
50,000 across all product options
$674
3
4/15/22
Uncirculated Five-Dollar Gold Coin
$664
3
4/15/22
Proof Silver Dollar Coin
400,000 across all product options
$74.00
N/A
4/15/22
Uncirculated Silver Dollar Coin
$69.00
N/A
4/15/22
Proof Half Dollar Coin
400,000 across all product options
$35.00
N/A
4/15/22
Uncirculated Half Dollar Coin
$33.00
N/A
4/15/22
Three-Coin Proof Set
5,000
$787.25
1
4/15/22
Silver Dollar/Jackie Robinson Medal Set
15,000
$135
1
TBD
Silver Dollar w/Privy Mark
20,000 and available for only 30 days
$85
1
TBD
*Introductory pricing is available for the individual commemorative coins. This pricing reflects a $5 discount per coin available now through Feb. 7, 2022, at 3:00 PM (ET). Prices shown for the sets and the privy-marked silver dollar are regular. In addition, gold commemorative coin pricing is based on the Mint's precious metal coin pricing matrix. This pricing can change weekly (implemented on Wednesday's) based on market fluctuations.
Ordering
2022 Negro Leagues Baseball Commemorative Coin are available for order from the U.S. Mint's online store of commemoratives.
Surcharges Support Negro Leagues Baseball Museum
Authorized by the Negro Leagues Baseball Centennial Commemorative Coin Act (Pub. L. 116-209), product prices include surcharges in the amount of $35 for each $5 gold coin; $10 for each silver dollar; and $5 for each half dollar. Provided the products make more than their production and issue costs, the surcharges will be paid to the Negro Leagues Baseball Museum for educational and outreach programs and exhibits.
"The Negro Leagues Baseball Museum is thrilled to partner with the United States Mint on the release of these historic coins that beautifully captures the 'winning spirit' of the Negro Leagues," said Bob Kendrick, Negro Leagues Baseball Museum President. "We hope that collectors and baseball fans alike will purchase these coins and support the Negro Leagues Baseball Museum efforts to ensure that the legacy and important life lessons of the Negro Leagues plays on."
Later this year, at a date yet to be determined, the U.S. Mint will issue a second commemorative series known as the the 2022 National Purple Heart Hall of Honor Commemorative Coin Program.