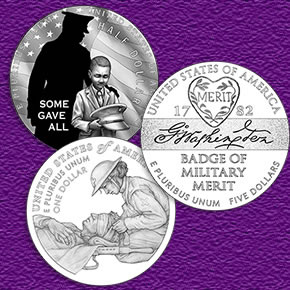 The United States Mint published a preliminary product schedule for 2022. It's complete with nearly five dozen listings ranging from traditional coins and sets to the year's two commemorative issues which honor the establishment of the Negro National League and the National Purple Heart Hall of Honor.
Next year products mark the beginning of the U.S. Mint's American Women Quarters™ Program, continuations of their series of Innovation and Native American dollars, additional silver medals celebrating former Presidents, branches of the U.S. Armed Forces, and American Liberty (the bucking horse depiction), the availability of a reverse proof American Palladium Eagle, and 2022-dated Morgan and Peace silver dollars.
Images and prices for the products are still upcoming, and specific release dates are published only for releases in January, February, and March. As always, the Mint indicates that it may change at any time.
The current product schedule is below. Keep up to date with changes at https://catalog.usmint.gov/product-schedule/. (The default product schedule is 2021, so you'll need to click on the menu item for 2022.)
Numismatic Products
Release Dates
National Purple Heart Hall of Honor 2022 Program $5 Gold Proof Coin
West Point (W)
Jan 6
National Purple Heart Hall of Honor 2022 Program Clad Proof Half Dollar
San Francisco (S)
Jan 6
National Purple Heart Hall of Honor 2022 Program Colorized Silver Dollar
West Point (W)
Jan 6
National Purple Heart Hall of Honor 2022 Program Proof Silver Dollar
West Point (W)
Jan 6
National Purple Heart Hall of Honor 2022 Program Three-Coin Proof Set
MULTI (S)(W)
Jan 6
National Purple Heart Hall of Honor 2022 Program Uncirculated $5 Gold Coin
West Point (W)
Jan 6
National Purple Heart Hall of Honor 2022 Program Uncirculated Clad Half Dollar
Denver (D)
Jan 6
National Purple Heart Hall of Honor 2022 Program Uncirculated Silver Dollar
West Point (W)
Jan 6
Negro Leagues Baseball 2022 $5 Gold Proof
West Point (W)
Jan 6
Negro Leagues Baseball 2022 $5 Gold Uncirculated
West Point (W)
Jan 6
Negro Leagues Baseball 2022 Clad Proof Half Dollar
San Francisco (S)
Jan 6
Negro Leagues Baseball 2022 Proof Silver Dollar
Philadelphia (P)
Jan 6
Negro Leagues Baseball 2022 Proof Silver Dollar and Jackie Robinson Proof Silver Medal Set
Philadelphia (P)
Jan 6
Negro Leagues Baseball 2022 Proof Silver Dollar with Privy Mark
Philadelphia (P)
Jan 6
Negro Leagues Baseball 2022 Three-Coin Proof Set
MULTI (P)(S)(W)
Jan 6
Negro Leagues Baseball 2022 Uncirculated Clad Half Dollar
Denver (D)
Jan 6
Negro Leagues Baseball 2022 Uncirculated Silver Dollar
Philadelphia (P)
Jan 6
American Eagle 2022 One Ounce Silver Proof Coin
West Point (W)
Feb 3
Congratulations Set 2022
West Point (W)
Feb 3
First Amendment to the United States Constitution 2022 Platinum Proof Coin – Freedom of Speech
West Point (W)
Feb 3
American Women Quarters 2022 Rolls and Bags – Maya Angelou
MULTI (D)(P)(S)
Feb 7
Native American $1 Coin 2022 Rolls, Bags, and Boxes
MULTI (D)(P)
Feb 9
American Women Quarters 2022 Proof Set
San Francisco (S)
Feb 10
James K. Polk Presidential Silver Medal
Feb 14
American Innovation $1 Coin 2022 Rolls and Bags – Rhode Island
MULTI (D)(P)
Feb 23
American Women Quarters 2022 Silver Proof Set
San Francisco (S)
Feb 24
U.S. Navy 2.5 Ounce Silver Medal
Mar 11
American Eagle 2022 Gold Proof Four-Coin Set
West Point (W)
Mar 17
American Eagle 2022 One-Half Ounce Gold Proof Coin
West Point (W)
Mar 17
American Eagle 2022 One Ounce Gold Proof Coin
West Point (W)
Mar 17
American Eagle 2022 One-Quarter Ounce Gold Proof Coin
West Point (W)
Mar 17
American Eagle 2022 One-Tenth Ounce Gold Proof Coin
West Point (W)
Mar 17
American Women Quarters 2022 Rolls and Bags – Dr. Sally Ride
MULTI (D)(P)(S)
Mar 22
American Buffalo 2022 One Ounce Gold Proof Coin
West Point (W)
Spring
American Eagle 2022 One Ounce Gold Uncirculated Coin
West Point (W)
Spring
American Eagle 2022 One Ounce Silver Uncirculated Coin
West Point (W)
Spring
American Innovation $1 Coin 2022 Proof Set
San Francisco (S)
Spring
American Innovation $1 Coin 2022 Rolls and Bags – Kentucky
MULTI (D)(P)
Spring
American Innovation $1 Coin 2022 Rolls and Bags – Vermont
MULTI (D)(P)
Spring
American Women Quarters 2022 Rolls and Bags – Wilma Mankiller
MULTI (D)(P)(S)
Spring
Kennedy 2022 Half-Dollar 200-Coin Bag
MULTI (D)(P)
Spring
Kennedy 2022 Half-Dollar 2-Roll Set
MULTI (D)(P)
Spring
Proof Set 2022
San Francisco (S)
Spring
Silver Proof Set 2022
San Francisco (S)
Spring
Uncirculated Coin Set 2022
MULTI (D)(P)
Spring
Zachary Taylor Presidential Silver Medal
Spring
American Eagle 2022 One Ounce Palladium Reverse Proof Coin
West Point (W)
Summer
American Eagle 2022 One Ounce Silver Proof Coin
San Francisco (S)
Summer
American Innovation $1 Coin 2022 Rolls and Bags – Tennessee
MULTI (D)(P)
Summer
American Liberty 1 Ounce Silver Proof Medal
Summer
American Women Quarters 2022 Rolls and Bags – Nina Otero-Warren
MULTI (D)(P)(S)
Summer
American Women Quarters Ornament – Anna May Wong
San Francisco (S)
Summer
American Women Quarters Ornament – Maya Angelou
San Francisco (S)
Summer
American Women Quarters Ornament – Nina Otero-Warren
San Francisco (S)
Summer
American Women Quarters Ornament – Sally Ride
San Francisco (S)
Summer
American Women Quarters Ornament – Wilma Mankiller
San Francisco (S)
Summer
Millard Fillmore Presidential Silver Medal
Summer
U.S. Air Force 1 Ounce Silver Medal
Summer
U.S. Coast Guard 1 Ounce Silver Medal
Summer
U.S. Marine Corps 2.5 Ounce Silver Medal
Summer
American Innovation $1 Coin 2022 Reverse Proof Set
San Francisco (S)
Fall
American Women Quarters 2022 Rolls and Bags – Anna May Wong
MULTI (D)(P)(S)
Fall
Franklin Pierce Presidential Silver Medal
Fall
Limited Edition 2022 Silver Proof Set
San Francisco (S)
Fall
Morgan 2022 Silver Proof Dollar
San Francisco (S)
Fall
Peace 2022 Silver Proof Dollar
San Francisco (S)
Fall