Four dollars appear together in a new United States Mint product with the release today of their 2021 American Innovation $1 Coin Proof Set™. Coins of the set honor innovation in the states of New Hampshire, Virginia, New York, and North Carolina.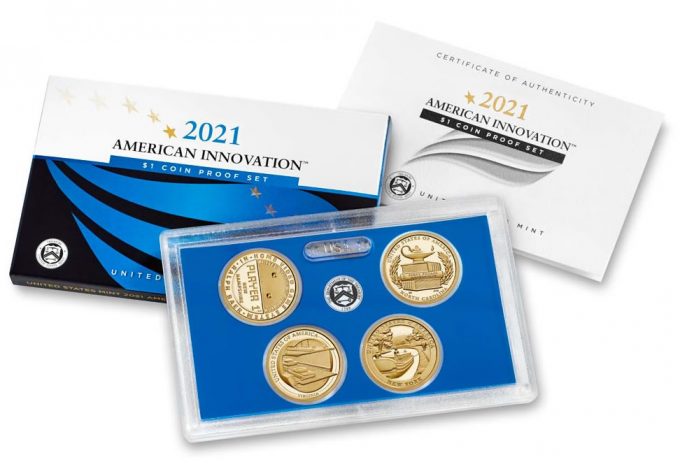 As the name implies, each coin is in proof quality. This finish is preferred by many collectors because of its sharp relief and a mirror-like background with frosted foregrounds.
"The 2021 American Innovation $1 Coin Proof Set features four stunning coins encased in a clear plastic lens in a beautifully designed package," offers the U.S. Mint's online store page dedicated to the product.
Descriptions of the Innovation dollars are below:
New Hampshire – recognizes the invention of the first home video game console by Ralph Baer
Virginia – honors the engineering marvel that is the Chesapeake Bay Bridge-Tunnel
New York – depicts the 363-mile-long Erie Canal
North Carolina – represents the University of North Carolina at Chapel Hill, the first public institution of higher learning in the United States
These themes are depicted on the coin reverses (tails side). The obverse (heads side) bears a common image across all program releases and depicts the Statue of Liberty.
The U.S. Mint's American Innovation™ $1 Coin Program debuted in 2018. That year saw only a single introductory coin showing the signature of President George Washington who issued the first U.S. patent. Since then, and as will be the case until the program's completion in 2032, four new designs appear annually each honoring innovation from a different state, the District of Columbia and the five U.S. territories.
Ordering, Price and Limits
The 2021 American Innovation $1 Coin Proof Set is available directly from the U.S. Mint via its online store for American Innovation products.
Each is sold for $24 with no published mintage, household or order limits.
All four coins of the set are produced to proof quality at the U.S. Mint's facility in San Francisco.