Rolls and bags of New Hampshire American Innovation dollars are the newest products from the United States Mint. Beginning at noon EDT, 25-coin rolls and 100-coin bags containing the dollars became available. Each product includes uncirculated coins from the Philadelphia (P) or Denver (D) Mints.
| | |
| --- | --- |
| U.S. Mint image showing a roll of 2021-P New Hampshire American Innovation dollars | U.S. Mint image showing a bag of 2021-D New Hampshire American Innovation dollars |
The release continues the U.S. Mint's series which honors innovation and innovators from each of the 50 states, the District of Columbia and the five U. S. territories — Puerto Rico, Guam, American Samoa, the U.S. Virgin Islands, and the Northern Mariana Islands.
New Hampshire is the first of four states in 2021 to be represented in the U.S. Mint's American Innovation™ $1 Coin Program. Dollars honoring innovations from Virginia, New York and North Carolina follow later in the year.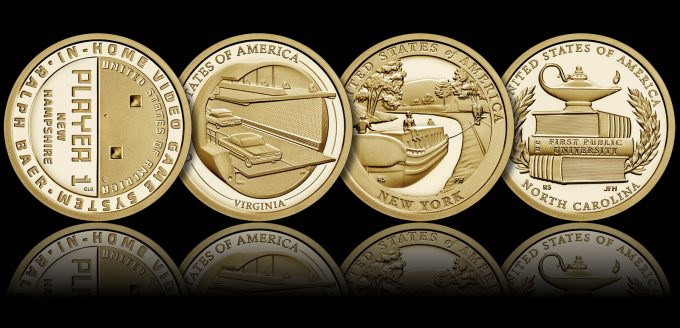 As for this release, it contains a reverse (tails side) design emblematic of Ralph Baer's invention of the first home video game console, the Brown Box. Baer was born in Germany in 1922 and would emigrate to the United States in 1938. Following his service in World War II, he went on to develop electronic gaming systems resulting in over 150 patents. Baer's continued pioneering efforts in the field led to many referring to him as the "Father of Video Games."
Designs for New Hampshire American Innovation Dollar
The design's right side offers a depiction of Ralph Baer's brown box game "Handball" along with an inscription of "UNITED STATES OF AMERICA." The left side shows "PLAYER 1" and "NEW HAMPSHIRE" on an incused background. "IN HOME VIDEO GAME SYSTEM" and "RALPH BAER" are inscribed around the edge of the design, paying homage to Baer's Odyssey game. In addition, the complete design is symbolic of an arcade token.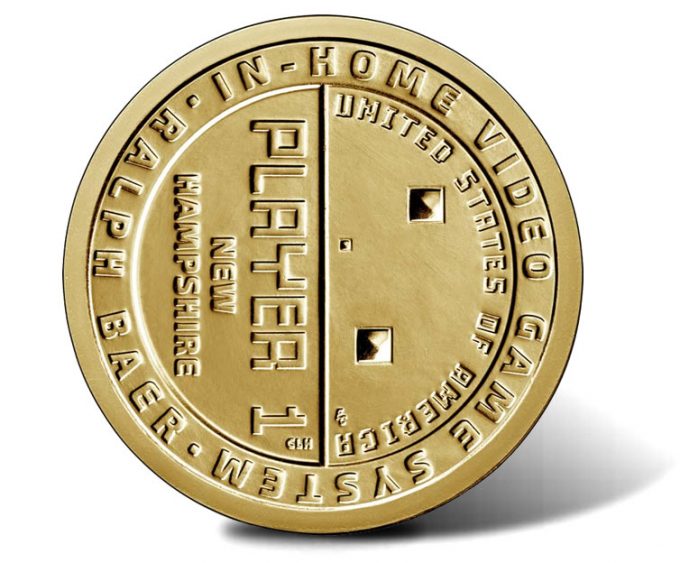 This image is the work of Christina Hess. Its sculpting was executed by Eric Custer. Their initials also appear on the reverse.
Designed by Justin Kunz and sculpted by Phebe Hemphill, a dramatic representation of the Statue of Liberty in profile is found on the obverse (heads side) of all American Innovation dollars. This design includes inscriptions "IN GOD WE TRUST" and "$1."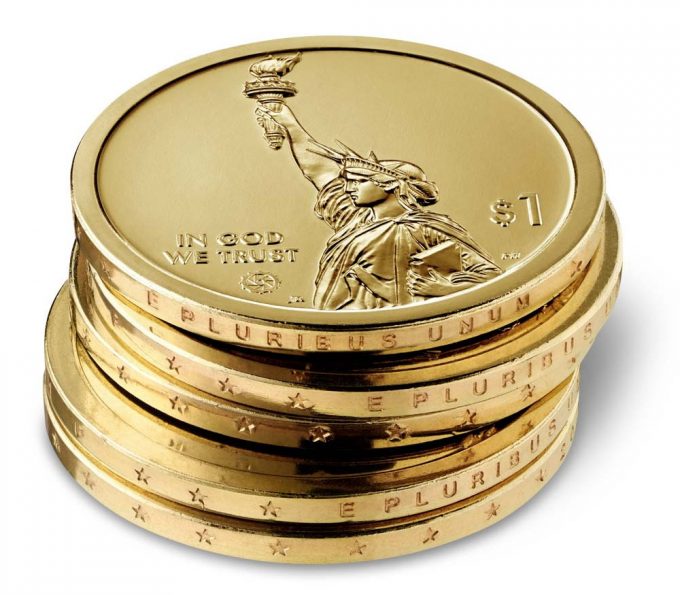 A privy mark of a stylized gear, representing industry and innovation, also appears on the obverse. The gear's depiction is unique for the four 2021 dollars.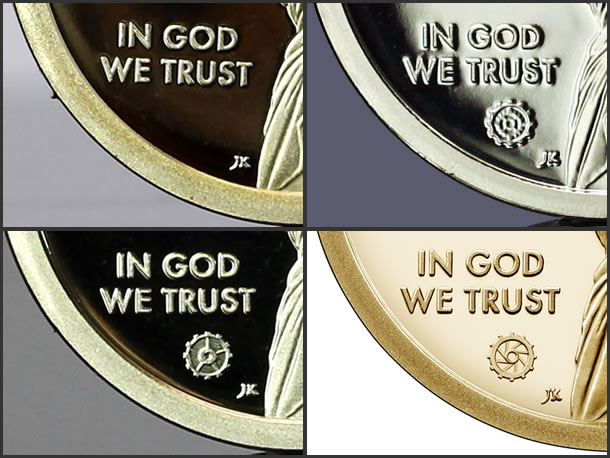 Finally, "2021," a mint mark, and "E PLURIBUS UNUM" are edge-incused on each coin.
Price and Ordering
Each 25-coin roll may be purchased for $34.50 with the 100-coin bags priced $117.50 each. They may be ordered from the U.S. Mint's online store for American Innovation products.
About the Series
A single release in 2018 started this series which is scheduled to include four new issues annually until all 56 locations are represented. To date, the series includes:
2018 Introductory George Washington Innovation $1 Coin
2019 Delaware Classifying the Stars $1 Coin
2019 Pennsylvania Polio Vaccine $1 Coin
2019 New Jersey Light Bulb $1 Coin
2019 Georgia Trustees' Garden $1 Coin
2020 Connecticut Gerber Variable Scale $1 Coin
2020 Massachusetts Telephone $1 Coin
2020 Maryland Hubble Space Telescope $1 Coin
2020 South Carolina Septima Clark $1 Coin
As mentioned, this New Hampshire dollar will be followed later this year by strikes honoring innovations in Virginia, New York and North Carolina. Special collector editions in proof and reverse proof qualities will also be released.