The United States Mint is now selling 2020 American Innovation dollars representing Massachusetts which depict the invention of the telephone. Available product options include 25-coin rolls and 100-coin bags filled with uncirculated coins from the Philadelphia and Denver Mints.
| | |
| --- | --- |
| U.S. Mint image showing a roll of 2020-P Massachusetts American Innovation dollars | U.S. Mint image showing a bag of 2020-D Massachusetts American Innovation dollars |
The newly released dollar continues the U.S. Mint's American Innovation™ $1 Coin Program. It is second of four Innovation $1 designs for 2020.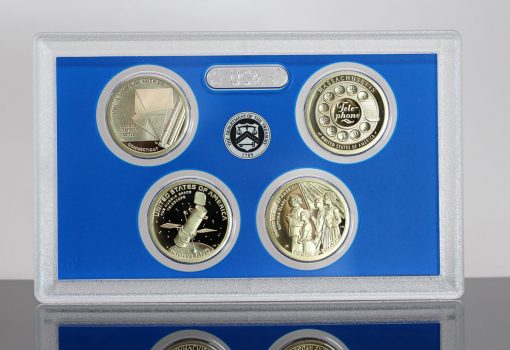 Earlier this month, on Oct. 8, the U.S. Mint released a proof set of all four 2020 dollars.
Designs for Massachusetts American Innovation Dollar
The reverse of Massachusetts dollars depicts the dial of an early rotary telephone. It was inspired by Boston resident Alexander Graham Bell who, on March 7, 1876, used his device to transmit this statement to his assistant:
"Mr. Watson – come here – I want to see you."
Bell was soon awarded a patent for his telephone which forever changed the world.
Emily Damstra created the design and Eric David Custer sculpted it. Inscriptions around the dial read: "MASSACHUSETTS," "TELE-PHONE," and "UNITED STATES OF AMERICA."
Each series dollar obverse (heads side) offers a representation of the Statue of Liberty in profile. The image was designed by Justin Kunz and sculpted by Phebe Hemphill. Inscriptions read: "IN GOD WE TRUST" and "$1."
2020 dollar obverses also feature a small privy mark of a stylized gear that is different from the one used for 2019-dated dollars.
Edge inscriptions found on every coin indicate their year of issue, a mint mark, and "E PLURIBUS UNUM."
Price and Ordering
The rolls are $34.50 apiece while the bags are priced $117.50 each. Order them from the U.S. Mint's online store for American Innovation products.
About the Series
The American Innovation dollar series was introduced in 2018 with a single issue and is scheduled to run through 2032 with designs honoring innovation and innovators from each state, the District of Columbia and the five U.S. territories.
In addition to this release, coins in the series so far include the:
2018 Introductory George Washington Innovation $1 Coin
2019 Delaware Classifying the Stars $1 Coin
2019 Pennsylvania Polio Vaccine $1 Coin
2019 New Jersey Light Bulb $1 Coin
2019 Georgia Trustees' Garden $1 Coin
2020 Connecticut Gerber Variable Scale $1 Coin
Schedule to follow yet this year are the 2020 Maryland Hubble Space Telescope $1 Coin and the 2020 South Carolina Septima Clark $1 Coin.