Proposed designs were reviewed and resulting recommendations made for the upcoming Air Force Medal.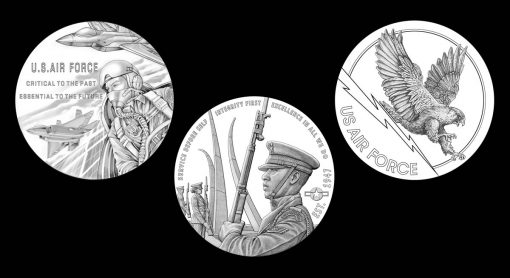 The 2.5-ounce .999 fine silver medal, set for release in 2020, is one of two that will introduce the U.S. Mint's Armed Forces Medal series that celebrates the nation's military branches.
The United States Mint recently unveiled more than two dozen candidate designs for the Air Force medal. The Citizens Coinage Advisory Committee (CCAC) reviewed them on Oct. 16 and the Commission of Fine Arts (CFA) appraised them on Oct. 18.
Obverse Air Force Medal Design Recommendations
Members of the CCAC and CFA agreed that design #1 was the strongest design for the medal's obverse (heads side). It depicts a fighter pilot flying at high speed alongside other jets.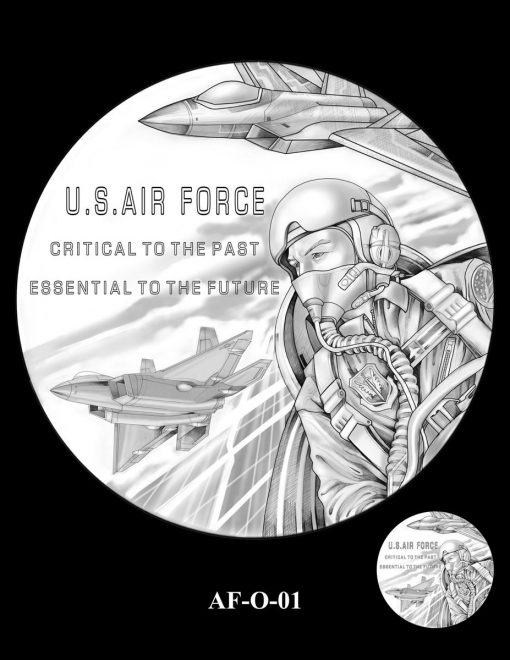 Inscriptions include "U.S. AIR FORCE," "CRITICAL TO THE PAST," and "ESSENTIAL TO THE FUTURE." The CCAC passed a motion suggesting the removal of the last two phrases since they are not official Air Force mottos.
Reverse Air Force Medal Design Recommendations
Design recommendations diverged for medal's reverse (tails side).
The CCAC recommended reverse #4 depicting members of the U.S. Air Force Honor Guard in ceremonial assembly at the Air Force Memorial. The memorial's three spires evoke the image of aircraft contrails.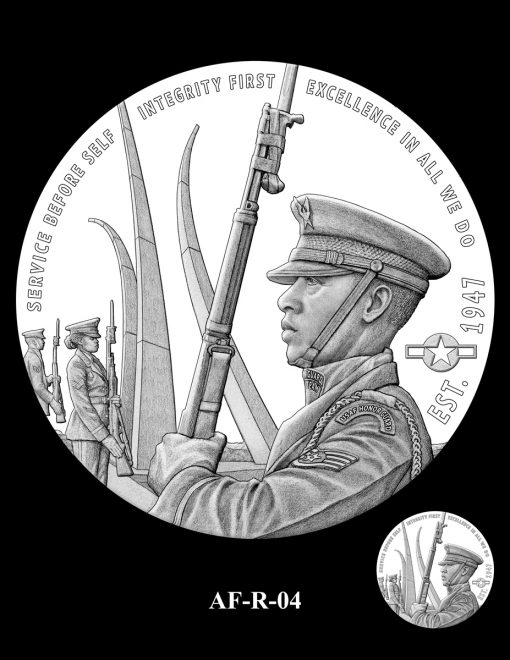 Border inscriptions include "SERVICE BEFORE SELF," "INTEGRITY FIRST," "EXCELLENCE IN ALL WE DO," and "EST. 1947." The Air Force insignia also appears on the lower right side.
While the CFA noted the CCAC's preference for reverse #4, they questioned the desirability of including a portrait as the primary compositional feature on both sides of the medal.
Instead, the CFA liked an adaptation of the design presented as obverse #7, which shows a falcon as a swift and agile master of the skies. It represents the speed and maneuverability of the Air Force in its defense of the country, and its readiness to fight when needed. The falcon is paired with a lightning bolt, representing the fast and powerful strike of the Air Force.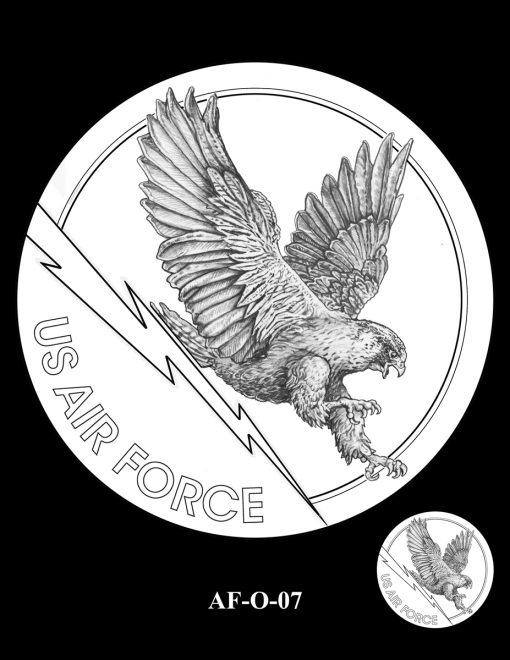 CFA supported the inclusion of the three phrases of the Air Force motto as seen in reverse #4, suggesting that they be added at the periphery of the design for obverse #7.
Final Selections
The Treasury Secretary or his designee will select the final designs after considering all recommendations.
In addition to being featured on a silver medal, the designs may later appear on traditional U.S. Mint 3-inch and 1.5-inch bronze medals.