Looking to the stars, we find inspiration for the newest release from the United States Mint — 2020 American Innovation dollars honoring innovation and innovators from the state of Maryland with a design showcasing the Hubble Space Telescope.
| | |
| --- | --- |
| U.S. Mint image showing a roll of 2020-P Maryland American Innovation dollars | U.S. Mint image showing a bag of 2020-D Maryland American Innovation dollars |
Coin collectors may choose from 25-coin rolls and 100-coin bags filled with uncirculated Maryland dollars from the Philadelphia and Denver Mints. They are issued as part of the U.S. Mint's American Innovation™ $1 Coin Program and appear as the third of four Innovation $1 designs for 2020.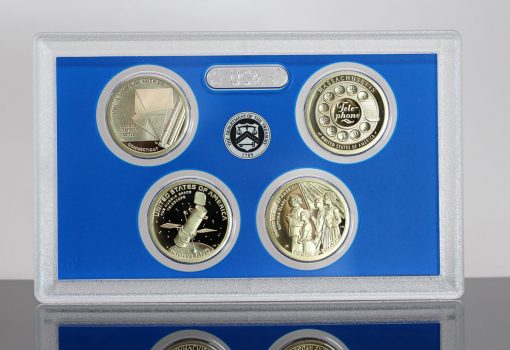 The Hubble Space Telescope was developed by NASA and launched into space on April 24, 1990. Designed as one of the largest, but most versatile space telescopes, it takes its name from American astronomer Edwin P. Hubble. Two sites located in the state of Maryland are responsible for management of the telescope including NASA's Goddard Space Flight Center and the Space Telescope Science Institute.
Designs for Maryland American Innovation Dollar
The reverse or tails side of the new dollar depicts the telescope orbiting the earth surrounded by a field of stars. The image was created by U.S. Mint artist Joseph Menna who also sculpted it. Inscriptions circling the design include "UNITED STATES OF AMERICA," "THE HUBBLE SPACE TELESCOPE," and "MARYLAND."
All coins in the Innovation $1 series bear the same obverse (heads side) likeness of the Statue of Liberty. The obverse also includes the inscriptions of "$1" and "IN GOD WE TRUST." Justin Kunz designed the rendition of the Statue of Liberty. It was sculpted by Phebe Hemphill.
2020 Innovation dollars also bear a small privy mark of a stylized gear on their obverse. Note, this privy mark is different from the one used for 2019-dated dollars.
Edge inscriptions found on every $1 coin read 2020, a mint mark, and "E PLURIBUS UNUM."
Price and Ordering
Each 25-coin roll may be purchased for $34.50 with the 100-coin bags priced $117.50 each. They may be ordered from the U.S. Mint's online store for American Innovation products.
About the Series
American Innovation dollar saw their debut in 2018. That year featured a single coin. From that point through 2032, four new coins are to be issued annually in the series each honoring a different innovation or innovators with one showcased from each state, the District of Columbia and the five U.S. territories.
The American Innovation $1 series so far includes:
2018 Introductory George Washington Innovation $1 Coin
2019 Delaware Classifying the Stars $1 Coin
2019 Pennsylvania Polio Vaccine $1 Coin
2019 New Jersey Light Bulb $1 Coin
2019 Georgia Trustees' Garden $1 Coin
2020 Connecticut Gerber Variable Scale $1 Coin
2020 Massachusetts Telephone $1 Coin
and this 2020 Maryland Hubble Space Telescope $1 Coin
Yet to be issued as part of the series is the 2020 South Carolina Septima Clark $1 Coin. Rolls and bags of them are scheduled for release on Jan. 10. 2021.