Catching up for lost time, the United States Mint issued today the 2020-S Reverse Proof South Carolina American Innovation Dollar for $11.95.
Struck for collectors as a part of the U.S. Mint's American Innovation™ $1 Coin Program, which honors innovations and innovators throughout the U.S. and its territories, this dollar depicts educator and activist Septima Poinsette Clark from the state of South Carolina. It carries the last of four innovation designs for 2020.
Septima Poinsette Clark was born in South Carolina in 1898. Despite the struggles of the time, she received a bachelor's and master's degrees from Hampton Institute. Using her education and personal drive, she would develop methods to teach literacy to African Americans — eventually helping to establish more than 800 citizenship schools.
The coin's design may look familiar as uncirculated South Carolina Innovation dollars launched last month in rolls and bags and a regular proof South Carolina dollar was part of a four-coin proof set issued in October.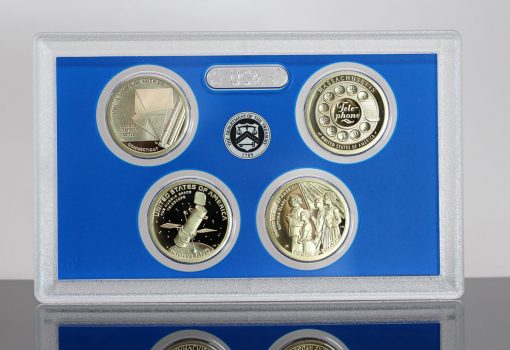 Uncirculated coins look most like those found in circulation, although they are generally sharper with more brilliance as extra care and steps are taken in their production.
Proof coins are more unique, featuring the highest quality with frosted design elements that contrast against mirror-like backgrounds.
| | |
| --- | --- |
| This CoinNews photo shows a regular proof 2019-S Delaware American Innovation dollar. Opposite of the dollar released today, this coin's finish has a frosted design that contrasts against a mirror-like background. | This CoinNews photo shows a reverse proof 2019-S Delaware American Innovation dollar. The finish on this coin is opposite of a proof with a frosted background that contrasts against mirror-like design elements. |
As an inverted proof, a reverse proof like on the coin released today has a numismatic appearance described as having a frosted background with brilliant, mirror-like design elements.
Designs on the South Carolina Innovation Dollar
Appearing the dollar's reverse (tails side) is a design showing Ms. Clark marching with three young African American students who carry books and an American flag, representing the link between education and literacy and their need to attain empowerment and enjoyment of civil rights.
The design was created by United States Mint artist Justin Kunz and sculpted by U.S. Mint Medallic Artist Phebe Hemphill. Inscriptions around the image read: "UNITED STATES OF AMERICA," "SEPTIMA CLARK," and "SOUTH CAROLINA."
All dollars from the Innovation series carry the same obverse (heads side) Statue of Liberty image. The statue is joined by the inscriptions of "IN GOD WE TRUST," "$1" and a stylized gear. Kunz and Hemphill are also responsible for this design and its sculpting.
Edge-incused inscriptions include "2020," an "S" mint mark for the San Francisco Mint, and "E PLURIBUS UNUM."
Coin Specifications
| | |
| --- | --- |
| Denomination: | Dollar |
| Finish: | Reverse Proof |
| Composition: | 6% Zinc, 3.5% Manganese, 2% Nickel, Balance Copper |
| Weight: | 8.100 grams |
| Diameter: | 1.043 inches (26.49 mm) |
| Edge: | Lettered |
| Mint and Mint Mark: | San Francisco – S |
Ordering and Limits
Order the 2020-S Reverse Proof South Carolina $1 Coin from the U.S. Mint's website page dedicated to American Innovation products.
Mintage for this product is capped at 50,000 with an initial household order limit of five.
About the Innovation $1 Coin Program
The U.S. Mint's Innovation series debuted in 2018 with a single coin. Since 2019, the program runs at a rate of four designs per year. It will end when an innovation or innovator is honored in every state, the District of Columbia and each of the five U. S. territories — Puerto Rico, Guam, American Samoa, the U.S. Virgin Islands, and the Northern Mariana Islands.
The first of the four 2021-dated dollars is scheduled for release in spring. This year's dollars will feature designs for New Hampshire, Virginia, New York, and North Carolina.