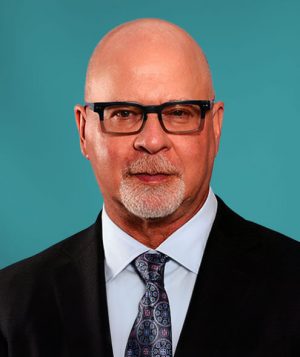 My Friends and Colleagues in the Collectibles Community: What can I say about last year that hasn't already been said? It was indeed unprecedented, turbulent and transformative. In March of 2020, none of us knew how the collectibles markets or any industry would fare. But now, at the beginning of 2021, I feel definitively optimistic.
During 2020, the CCG companies certified a number of truly amazing collectibles that went on to do incredibly well at auction — many even broke records. I am also thrilled to announce that CCG has now certified more than 60 million collectibles. This milestone is a testament to the strength of the collectibles markets through the COVID-19 crisis as well as the importance of the third-party certification services provided by the CCG companies.
Today, there is no question: Collectibles are a booming market and an asset class. Spurred by our internet-driven economy, a broad range of collectibles, including coins, banknotes, comic books and trading cards, have become more accessible, liquid, fungible and high profile — as demonstrated by headlines in the Wall Street Journal, Forbes and other mainstream publications.
The rising interest in collectibles has resulted in a corresponding increase in third-party certification. The CCG companies now have nearly 500,000 total members, including tens of thousands of people and companies who submit their collectibles for our expert and impartial services. We are proud to give collectors and dealers everywhere in the world confidence that collectibles certified by the CCG companies are genuine, accurately graded, properly described, securely protected by state-of-the-art holders and backed by comprehensive guarantees.
As I share some highlights from 2020, I would like to express my sincere gratitude to all of the collectors and dealers who trust their collectibles to the CCG companies. Thank you, and I wish you health and happiness in 2021!
Since 1987, NGC has helped to address two major threats to the marketplace for collectible coins: counterfeits and the need for accurate, unbiased grading. Today, NGC has certified over 48 million coins, medals and tokens, including many of the greatest rarities known.
Highlights from last year include two Brasher Doubloons that NGC certified from the Donald G. Partrick Collection, which will be sold soon by Heritage Auctions. The Partrick Collection, which is entirely certified by NGC, has already realized more than $27 million.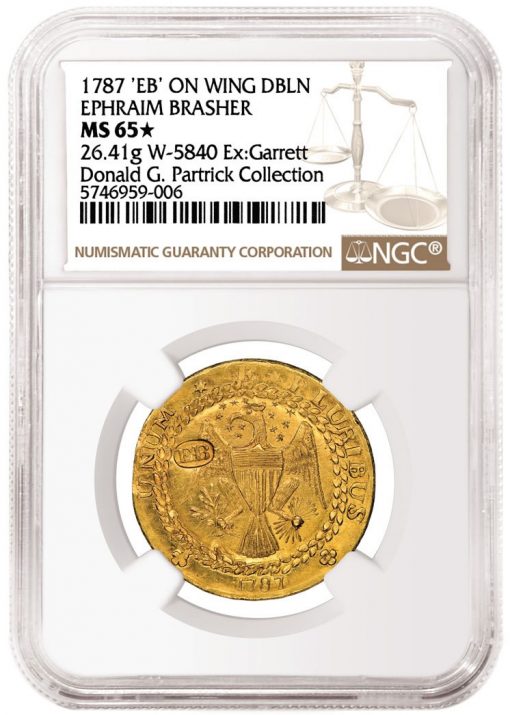 Meanwhile, a Roman coin certified by NGC Ancients set a record for the highest price ever paid for an ancient coin at auction. The EID MAR aureus of Brutus, an extremely rare gold example of the world's most famous ancient coin, realized $4.2 million in an October 29, 2020 sale in London.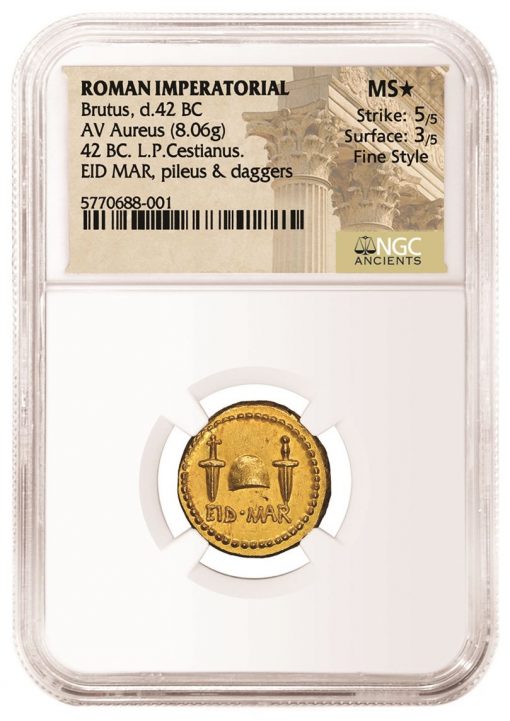 Incredibly, on the very same day, two British coins certified by NGC also set a record price at auction. An 1839 "Una and the Lion" Five Pounds and an 1831 Gold Crown each achieved a record price of more than $1.1 million.
| | |
| --- | --- |
| 1839 Great Britain Una and the Lion Five Pounds graded NGC PF Ultra Cameo | Great Britain 1831 Gold Crown graded NGC PF 66★ Ultra Cameo |
To close the year, two NGC-certified vintage US coins each realized more than $1 million in a Stack's Bowers sale. An example of the legendary 1894-S Barber Dime graded NGC PF 65 and pedigreed to the renowned Eliasberg Collection realized $1,440,000, while a 1794 Flowing Hair Silver Dollar graded NGC MS 62 realized $1,050,000.
Ancient and vintage rarities are not the only areas where NGC excels. NGC is also the leader in certifying modern coinage, including more than 11 million American Silver Eagles, the preeminent bullion coin of the United States. The many bold and exciting special labels, signatures, designations and holders that NGC offers for modern coins add to their appeal.
To coincide with the 35th anniversary of both the American Gold Eagle and Silver Eagle, the US Mint is introducing new reverse designs for each coin in 2021. NGC is celebrating with exciting special labels, exclusive signers and more. Stay tuned!
Fifteen years ago, PMG brought third-party certification services to the world of collectible banknotes. Since then, PMG has certified nearly 6 million banknotes, including some of the world's greatest rarities. These include a US 1891 $1,000 Silver Certificate that is worth well over $1 million.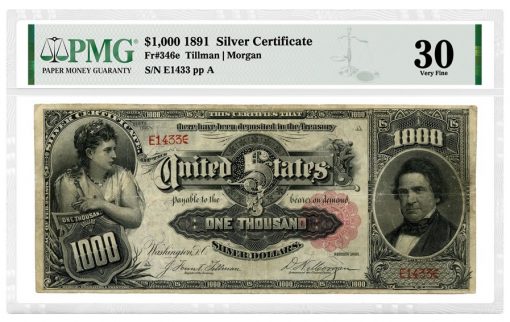 In March 2020, the PMG-certified Pogue Collection realized more than $9 million in a Stack's Bowers auction. Amazingly, 27 notes in the collection realized at least $100,000, led by an US 1863 $100 Legal Tender that realized $432,000.
In September, a terrific PMG-certified US note, a 1934 $10,000 Federal Reserve Note (Kansas City), realized $384,000 in a Heritage Auctions sale. This set a world record for any piece of small-size US currency.
Another superb collection was offered in November by Heritage Auctions. The first part of the Mike Coltrane Collection, almost entirely certified by PMG, realized over $2.5 million. It was led by a unique piece of paper money — a fully issued and uncanceled US 1815 $3 Treasury Note — that realized $168,000.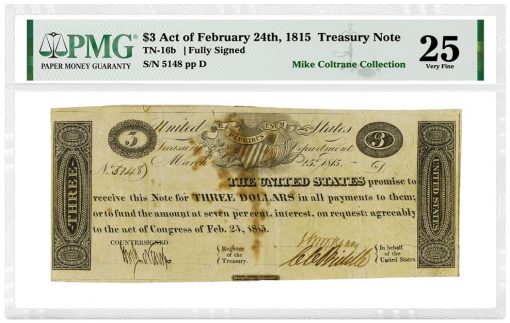 Recently, PMG had the great honor to certify the world's greatest collection of National Bank Notes, assembled by Andrew Shiva. This collection was astounding to behold for its quality and depth, and hearing Shiva's stories about specific notes in the collection — their historical significance and why they are special to him — was equally as fascinating.
CGC achieved its own milestones in 2020 — over 7 million collectibles certified, primarily comic books but also magazines, concert posters, trading cards and other collectibles. Notably, CGC has graded over 1 million collectibles in the past year alone.
The all-time record for a comic book sold at auction is an Action Comics #1 graded CGC 9.0 that sold in 2014 for $3.2 million. The June 1938 book introduced Superman to the world. But the Man of Steel has had plenty of competition over the years. November 2020 saw a copy of Detective Comics #27 graded CGC 7.0 realize an impressive $1.5 million in a Heritage Auctions sale.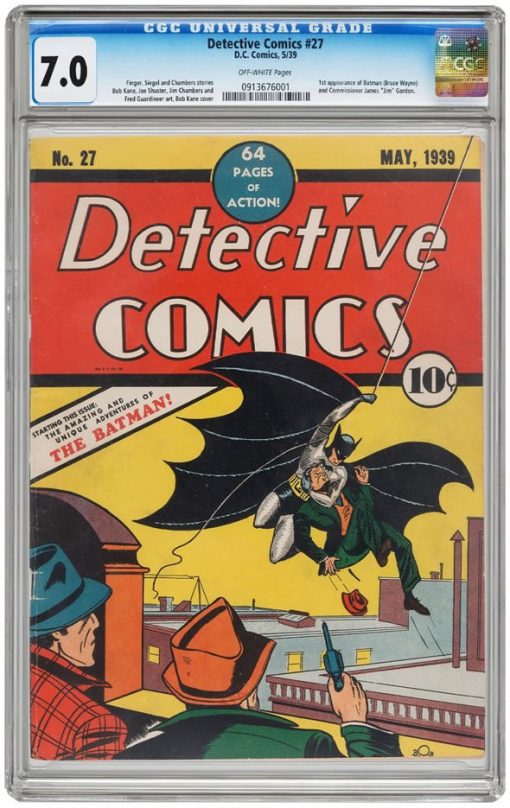 The May 1939 book features Batman's debut, and CGC certification helped bidders feel confident to compete for the highest-graded copy to reach the market in years.
A huge part of comic book collecting is attending comic cons and obtaining signatures from comic book artists and writers. The pandemic resulted in the cancellation of nearly all comic cons in 2020, leaving a serious void in the hobby. CGC took the initiative to organize dozens of In-House Private Signings, connecting fans and creators when most did not think it would be possible. In 2021, CGC already has more than 100 In-House Private Signing events planned.
In July, CGC Trading Cards launched to provide authentication, grading and encapsulation services for virtually all Pokémon and Magic: The Gathering cards. Already, CGC Trading Cards has graded many impressive collections with numerous rarities, like Magic's Power Nine, as well as exciting errors, variants, inadvertent early releases and more.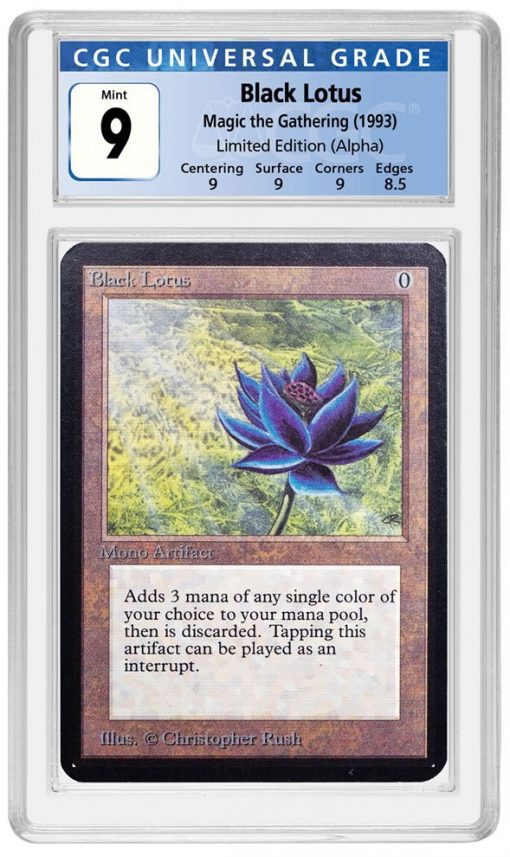 CAG was established to certify and preserve the provenance of historical artifacts. It certified the entire Armstrong Family Collection, which comprises items saved by astronaut Neil Armstrong and his immediate family members that continue to be sold in a series of Heritage Auctions sales. The centerpiece of the collection, a Gold Apollo 11 Robbins Medal that was flown to the moon, realized more than $2 million in July 2019.
CAG continues to certify new collections, including selections from another Apollo 11 astronaut, Michael Collins; pieces of the Wright Flyer from the aviation expert Otto Kallir; and pieces from a zepellin that made a historic trans-Atlantic flight.
ASG has certified more than 100,000 stamps since the company was founded in 2017, including some of the greatest rarities in Chinese philately. To help collectors verify and view the many ASG-certified stamps in the marketplace, ASG recently launched a free Verify ASG Certification tool that can be accessed anytime, anywhere on computers and smartphones. The Verify ASG Certification tool is available on all ASG websites and displays images of virtually every ASG-certified stamp.
And CCG continues to expand… A new company — Certified Sports Guaranty (CSG) — is launching soon to provide collectors and dealers with expert, impartial and efficient authentication, grading and encapsulation services for sports cards. Just as with CCG's other collectibles categories, CSG will revolutionize sports card grading by leveraging world-class expertise, advanced technology, innovation and operational excellence.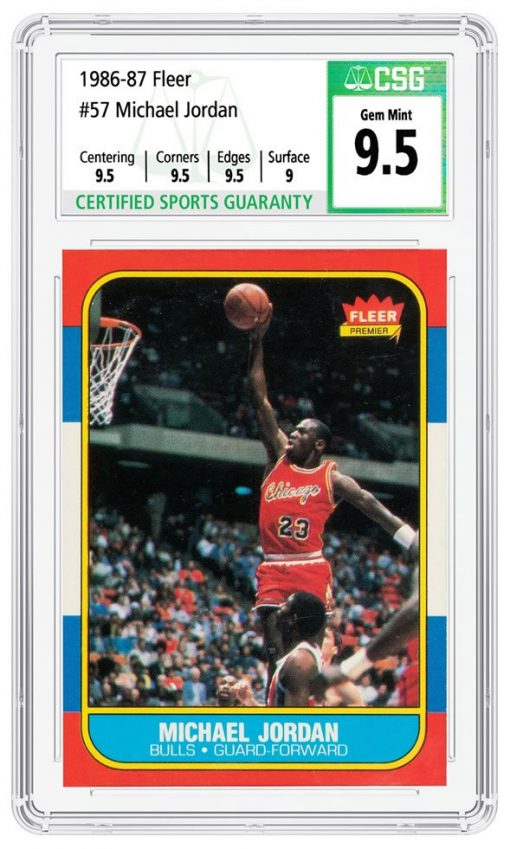 As an industry and, just as importantly, as a community, we rallied and thrived during 2020. With dedication, integrity and lots of hard work, we will continue to expand and enhance our services in 2021 to better serve the world of collectibles. I wish you all my best for 2021.
Cheers!

Mark Salzberg
Chairman
For the latest information about all the CCG companies, visit CollectiblesGroup.com.
About Certified Collectibles Group® (CCG®)
CCG is the world's leading provider of expert, impartial and tech-enabled services that add value and liquidity to collectibles. The CCG companies include Numismatic Guaranty Corporation® (NGC®), Numismatic Conservation Services™ (NCS®), Paper Money Guaranty® (PMG®), Certified Guaranty Company® (CGC®), Classic Collectible Services® (CCS®), Authenticated Stamp Guaranty® (ASG®) and Collectibles Authentication Guaranty® (CAG®). An eighth company, Certified Sports Guaranty™ (CSG™), is launching soon. Since 1987, the CCG companies have certified more than 60 million coins, banknotes, comic books, trading cards, stamps, estate items and related collectibles. Today, CCG serves the world of collectibles online and at its offices in the United States, United Kingdom, Germany and China. To learn more, visit collectiblesgroup.com.