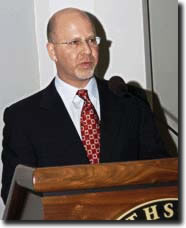 Every year I write a letter to all NGC submitters to describe what's happening at NGC. Communication is a very important part of what we do — we see NGC as being directly responsive to the wants and needs of the numismatic community. In no small part, it's because of this responsiveness that NGC has grown to become the largest rare coin certification company in the world. In fact, we are literally only days away from certifying our 20 millionth coin!
Before I get ahead of myself, I'd like to look back at 2009. We did so many things last year that I'm just going to get to it…
On January 1, 2009, we formally launched NGC Ancients, a grading division focused on coinage of the ancient world. David Vagi, an extraordinary numismatist, joined us to head this effort. Our goal is to provide independent expert evaluations for ancient coins, just as we do for coinage of the modern era. The precise grading system and encapsulation are both game-changing innovations in ancient numismatics, but I'm particularly proud of what it says about NGC. Now, we can provide our industry-leading services for the broadest range of coins, tokens and medals. We do this by having more and better experts than anyone, all under one roof and collaborating to continually improve the quality and value of our services.
At the 2009 FUN Show we introduced the Scratch-Resistant EdgeView® Holder. Coated in the same UV-cured materials as eyeglass lenses, it provides an optically clear surface that is resistant to nicks and scuffs. We absorb the cost on this very expensive material because we believe it's vitally important that your coins are always presented in the best possible way, whether you are offering them for sale or enjoying them in your home. If anyone is interested in having coins re-holdered in our scratch-resistant holder, just call customer service and they will be happy to take care of you.
We've also continued to upgrade and improve our Web site. Dealers will find an enhanced portal upon login, and all submitters have new, easy-to-use PDF submission forms. In April, we added a comprehensive library of grading articles to the Web site, one for every US coin type. Our coin grading guide, penned by NGC Research Director David W. Lange, is called From One to Seventy, and is certainly among the most readable and informative resources of its kind. But most significantly, we've upgraded our Online Verification tool. Now you can see images of every coin that was tier-graded after October 2008 by entering its certification number. We even have a mobile version so you can access these images on your cell phone! If you ever had a concern about buying a fake or bad NGC holder, you shouldn't anymore.
Also in 2009, the Smithsonian opened Stories on Money, a new coin exhibit co-sponsored by NGC and NCS. By supporting this exhibit, we played a critical role in ensuring that coins would have space on the National Mall in the newly renovated Museum of American History, so anyone with an interest in numismatics would have the opportunity to view them.
In June, we opened a submission center in Guangzhou, China. NGC-certified coins now appear regularly in Asia and Europe at coin shows and in auctions. Our world grading and authentication team is uniquely qualified and I think this is demonstrated by the widespread popularity of our product around the world.
The biggest introduction of the year was certainly NGC Details Grading. Details grading has been so widely accepted and has become such an integral part of the way many dealers and collectors buy and sell that it's hard to remember a time before it. We describe coins with detrimental surface conditions plainly and accurately, giving them Details Grades that correspond with their level of wear, and notations describing their surface problems. It's short and sweet, and it allows these coins to trade for exactly what they are in the marketplace.
A number of NGC dealers recently suggested to me that I advertise our Coin Grading Guarantee. They said it's important to remind everyone that NGC has the strongest and most expansive guarantee of its type. I believe that no one stands behind their product like we do for both US and World coins, and that's why NGC offers a written guarantee that is, quite simply, the single best consumer protection measure that exists in our hobby.
In addition to highlighting our new developments during the past year, I'd like to remind you all about our ongoing policies that make NGC the leader in certified grading and encapsulation. A central foundation of NGC is to remain impartial and to maintain the highest level of integrity always. NGC employees are not coin dealers and do not have a vested interest in the outcome of a grading submission. This practice is vigorously enforced, and the numismatic hobby is the ultimate beneficiary.
This policy of impartiality extends even to our online certified Registry. The NGC Coin Registry is the largest and most broad-reaching in the industry. To put some figures on this, it includes more than 425,577 coins in 54,394 sets. The NGC Registry provides full service to the collecting community by admitting both NGC and PCGS entries, replicating the way most collectors build their collections. NGC has always placed the customer first, and I'm pleased to say that this practice will continue without interruption.
We try year in and year out to stick to the fundamentals that have made NGC so successful for more than 20 years:
accurate grading,
fast turnaround time and
great customer service
We work very hard to always provide these three things to you.
I look forward to working with you in the year ahead.
Sincere regards,
Mark Salzberg
Chairman