Appearing as the sixth state in a fifty-six coin series, the United States Mint today started selling their 2020-S Reverse Proof Massachusetts American Innovation Dollar for $11.50.
Depicting a rotary telephone emblematic of the March 1876 call over wires made by Alexander Graham Bell to his assistant, the dollar is issued as part of the larger U.S. Mint American Innovation™ $1 Coin Program.
Finishes: Uncirculated vs. Proof vs. Reverse Proof
Its design may look familiar as last month uncirculated Massachusetts dollars launched in rolls and bags and a proof Massachusetts dollar was released in a proof set.
Uncirculated coins look most like those found in circulation, although they are generally sharper with more brilliance as extra care and steps are taken in their production.
Proof coins are more unique, showcasing the highest quality with frosted design elements that contrast against mirror-like backgrounds.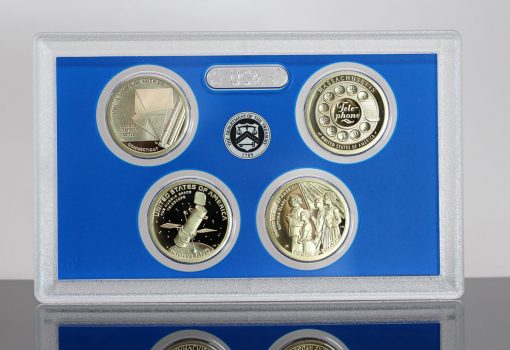 An inverse of proof, this release has a reverse proof finish which is identified as having frosted backgrounds and polished, mirror-like design elements. The following two photos highlight differences between proof and reverse proof coins by showing previously released 2019 Delaware American Innovation dollars in each collector quality.
| | |
| --- | --- |
| This CoinNews photo shows a regular proof 2019-S Delaware American Innovation dollar. Opposite of the dollar released today, this coin's finish has a frosted design that contrasts against a mirror-like background. | This CoinNews photo shows a reverse proof 2019-S Delaware American Innovation dollar. The finish on this coin is opposite of a proof with a frosted background that contrasts against mirror-like design elements. |
Designs on Massachusetts American Innovation Dollar
As mentioned earlier, the reverse (tails side) of Massachusetts Innovation $1 Coins depict the face of a rotary telephone. The design honors Massachusetts inventor Alexander Graham Bell and the device he called the "tele-phone."
Emily Damstra is listed as the design creator with Eric David Custer sculpting. Inscriptions around the dial read: "MASSACHUSETTS," "TELE-PHONE," and "UNITED STATES OF AMERICA."
All coins of the Innovation series bear the same obverse (heads side) representation of the Statue of Liberty in profile as designed by Justin Kunz and sculpted by Phebe Hemphill. Obverse inscriptions read "IN GOD WE TRUST" and "$1." 2020 dollars also feature a small privy mark of a stylized gear that is different from the one used for 2019-dated dollars.
Edge-incused inscription include "2020," an "S" mint mark indicating the coin was produced at the San Francisco Mint, and "E PLURIBUS UNUM."
Coin Specifications
| | |
| --- | --- |
| Denomination: | Dollar |
| Finish: | Reverse Proof |
| Composition: | 6% Zinc, 3.5% Manganese, 2% Nickel, Balance Copper |
| Weight: | 8.100 grams |
| Diameter: | 1.043 inches (26.49 mm) |
| Edge: | Lettered |
| Mint and Mint Mark: | San Francisco – S |
Price, Ordering and Limits
The 2020-S Reverse Proof Massachusetts $1 Coin is available from the U.S. Mint's online catalog dedicated to American Innovation products.
Mintage for this product is capped at 50,000 with an initial household order limit of five.
About the Innovation $1 Coin Program
The Innovation series, when completed, will depict an innovation or innovators from each state, the District of Columbia and the five U.S. territories. The program debuted in 2018 with a single strike containing a representation of President George Washington's signature on the first-ever U.S. patent issued on July 31, 1790.
Four different Innovation dollars will be issued annually until the series is completed in 2032. (See all four 2020 dollar designs.) To date, coins appearing in the program include:
2018 Washington Signature
2019 Delaware – Classifying the stars
2019 Pennsylvania – Polio vaccine
2019 New Jersey – Light bulb
2019 Georgia – Trustees' Garden
2020 Connecticut – Gerber variable scale
and this 2020 Massachusetts – Telephone
Yet to appear for 2020 are the Maryland – Hubble Space Telescope coin and the South Carolina – Septima Clark coin.