Scientific invention is highlighted in the newest United States Mint product for collectors with today's release of the 2020-S Reverse Proof Connecticut American Innovation Dollar.
Heinz Joseph Gerber's innovative Gerber Variable Scale is depicted on the coin. Gerber invented the device while studying aeronautical engineering at Rensselaer Polytechnic Institute in 1945, just a few years after escaping Nazi-controlled Austria.
Opposite of regular proof coins, the dollar has a unique reverse proof finish with polished mirror-like design elements that contrast against a frosted background.
The following two photos highlight differences between proof and reverse proof coins by showing previously released 2019 Delaware American Innovation dollars in each collector quality.
| | |
| --- | --- |
| This CoinNews photo shows a regular proof 2019-S Delaware American Innovation dollar. Opposite of the dollar released today, this coin's finish has a frosted design that contrasts against a mirror-like background. | This CoinNews photo shows a reverse proof 2019-S Delaware American Innovation dollar. The finish on this coin is opposite of a proof with a frosted background that contrasts against mirror-like design elements. |
Designs on Connecticut American Innovation Dollar
The dollar's reverse (tails side) design, created by Richard Masters and sculpted by Renata Gordon, depicts the Gerber Variable Scale being used to increase a geometric shape by 200%. The shape resembles the State of Connecticut.
Inscriptions around the scale read: "UNITED STATES OF AMERICA," "GERBER VARIABLE SCALE" and "CONNECTICUT."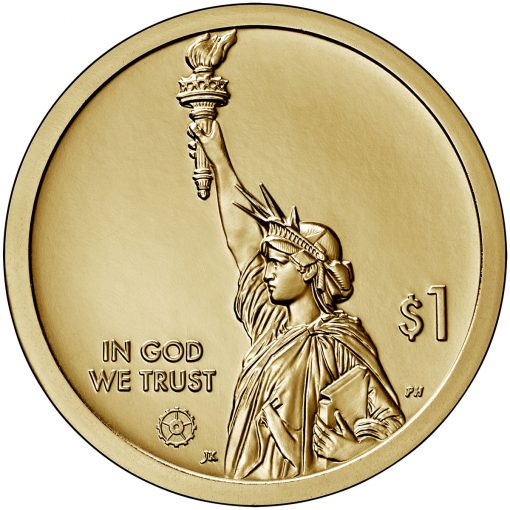 All program coins bear the same obverse (heads side) image of the Statue of Liberty as designed by Justin Kunz and sculpted by Phebe Hemphill. Obverse inscriptions include "$1" and "IN GOD WE TRUST." 2020 dollars also bear a small privy mark of a stylized gear that is different from the one used for 2019-dated dollars.
Incused on the dollar's edge are "2020," "E PLURIBUS UNUM" and a mintmark of "S" for the San Francisco Mint.
Coin Specifications
| | |
| --- | --- |
| Denomination: | Dollar |
| Finish: | Reverse Proof |
| Composition: | 6% Zinc, 3.5% Manganese, 2% Nickel, Balance Copper |
| Weight: | 8.100 grams |
| Diameter: | 1.043 inches (26.49 mm) |
| Edge: | Lettered |
| Mint and Mint Mark: | San Francisco – S |
Price, Ordering and Limits
Priced at $11.50, the 2020-S Reverse Proof Connecticut $1 Coin is available directly from the U.S. Mint's website page dedicated to American Innovation products.
Mintage for this product is capped at 50,000 with an initial household order limit of five.
About the Innovation $1 Coin Program
The U.S. Mint's American Innovation™ $1 Coin Program was authorized by Congress under the American Innovation $1 Coin Act. The series debuted in 2018 and is scheduled to run through 2032 with designs honoring innovation and innovators from each of the 50 states, the District of Columbia and the five U. S. territories — Puerto Rico, Guam, American Samoa, the U.S. Virgin Islands, and the Northern Mariana Islands.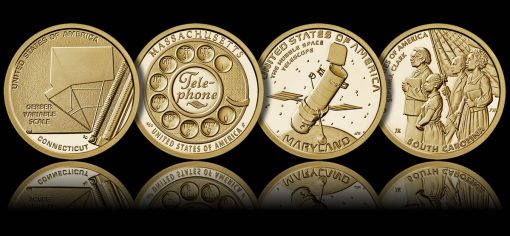 2020 dollar designs honor innovation from the states of Connecticut, Massachusetts, Maryland and South Carolina.