Debuting today from the United States Mint are two new collectibles commemorating the 75th anniversary of the end of the second world war. Available beginning at Noon ET are the End of World War II 75th Anniversary 24-Karat Gold Coin and Silver Medal.
These two pieces, which are struck in a collector proof finish, follow the End of World War II American Eagle Coins which launched Nov. 5. Both were hot ticket items selling out quickly, causing significant issues for most while ordering.
The latest anniversary products share designs and they have limited mintages — 7,500 for the 1/2-ounce $25 gold coins and 20,000 for the 1-ounce silver medal. As indicated in its name, the proof gold coin is struck from 24-karat. The proof medal is composed of 99.9% pure silver.
"The United States Mint is honored to salute the 'greatest generation' that rose to the occasion with the End of World War II 75th Anniversary Coin and Medals Program," the U.S. Mint describes. "The compelling collection includes magnificent representations of the values and ideals our service men and women fought to protect. Join us in celebration of the bravery, courage, and sacrifice of Americans who stood together to preserve our way of life."
$25 Gold Coin and Silver Medal Designs
Designs for the End of World War II 75th Anniversary Gold Coin and Silver Medal bear a common obverse (heads side) depicting an eagle in flight grasping an olive branch, symbolizing peace, in its right talon. This image was inspired by the 1945 version of the Great Seal of the United States.
Inscriptions read "LIBERTY," "1945" and "WORLD WAR II." U.S. Mint Artistic Infusion Program (AIP) artist Ronald Sanders created this design with Mint Medallic Artist Phebe Hemphill executing its sculpting. The artists' initials also appear, as does a "W" mint mark on the gold coin representing its production at the West Point Mint. The silver medal was struck at the Philadelphia Mint but it carries no mint mark, which is typical for medals.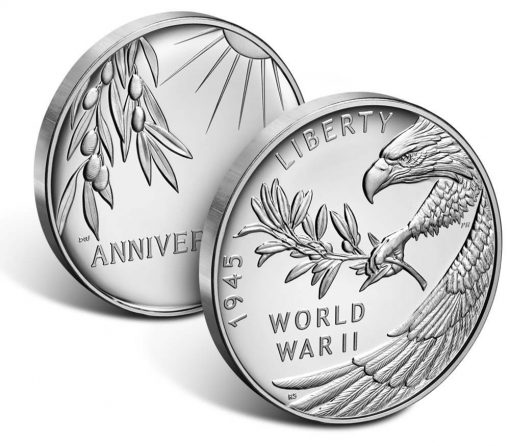 Created by Mint AIP artist Donna Weaver and sculpted by Mint Medallic Artist Renata Gordon, the reverses (tails side) share a design that echoes the sun element on the obverse of the 1945 World War II Victory Medal. Rays from the sun shine on olive branches.
Reverse inscriptions for the gold coin read: "UNITED STATES OF AMERICA," "E PLURIBUS UNUM," "IN GOD WE TRUST," "75th ANNIVERSARY," "2020," "AU 24K," "1/2 OZ." and "$25." The silver medal's reverse has "75th ANNIVERSARY." Both pieces also show artists' initials.
Coin and Medal Specifications
| | | |
| --- | --- | --- |
| | Gold Coin | Silver Medal |
| Denomination: | $25 | N/A |
| Finish: | Proof | Proof |
| Composition: | 99.99% Gold | 99.9% Silver |
| Diameter: | 1.063 inches (27.00 mm) | 1.598 inches (40.60 mm) |
| Weight: | 0.5000 troy oz. (15.554 grams) | 1.000 troy oz. (31.103 grams) |
| Edge: | Reeded | Plain |
| Minting Facility: | West Point | Philadelphia |
| Mint Mark: | W | N/A |
Ordering, Prices and Certificates
The End of World War II 75th Anniversary 24-Karat Gold Coin and Silver Medal may only be ordered from the U.S. Mint's online store.
Initial pricing for the gold coin is $1,335. The silver medal is $75. In addition to their mintage limits, each product has a household order limit of one until Tuesday, Nov. 10 at noon ET.
Each is accompanied by a certificate of authenticity along with WWII-related information. A limited quantity of hand-signed certificates of authenticity by the United States Mint Director David Ryder will be shipped at random with the silver medals.