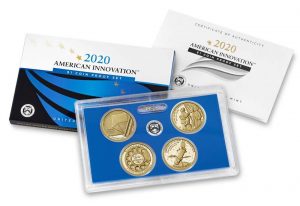 The United States Mint released two products last week, a circulating set of 2020 quarters and a proof set of 2020 dollars. Both sets topped the U.S. Mint's list of weekly top sellers. Each outperformed the sales starts of their prior sets.
Released last Thursday, Oct. 8, the 10-coin set of circulating 2020 P&D America the Beautiful quarter dollars logged four-day sales of 16,255 — the best sales debut in the product line to date, replacing last year's set which had held the quick-start title with its five-day opening of 14,113. Looking back further, other recent sales debuts include the set from 2018 at 12,758 in five days and the one from 2017 at 12,972 in six days.
Also released last Thursday, the 4-coin set of proof 2020-S American Innovation dollars registered starting sales of 46,546, making its the Mint's best weekly seller. Last year's set introduced the annual product line. It scored three-day opening sales of 43,995.
Weekly U.S. Mint Top Sellers
Here's the listing of the U.S. Mint's most popular numismatic products for the week ending Oct. 11:
2020 American Innovation Dollar Proof Set (+46,546)
2020 Quarters Circulating Coin Set (+16,255)
2020 Proof Set (+7,684 to 378,009)
2020-W Uncirculated Silver Eagle (+7,249 to 145,824)
2020 Silver Proof Set (+6,130 to 283,433)
2019 American Liberty Silver Medal (+1,125 to 44,744)
2020 America the Beautiful Quarters Silver Proof Set (+1,020 to 62,853)
2019-S Reverse Proof Connecticut American Innovation Dollar (+977 to 33,782)
2019 Proof Set (+899 to 588,805)
2019 America the Beautiful Quarters Silver Proof Set (+779 to 78,546)
In its latest report, the U.S. Mint published sales data for 183 numismatic products. Sixty-nine of them outperformed their prior weekly gains compared to 70 previously. Not counting the newest products so as to compare apples to apples, 5 products increased by more than 1,000 units, matching the previous report.
In addition, 14 products saw their sales reduced compared to 13 previously. The reductions were modest with the exception of recently released rolls and bags of American Innovation dollars for Connecticut which show losses ranging from 23 to 320.
US Mint Sales: Numismatic Products
Below are tables showing the latest available sales for U.S. Mint numismatic products. The sales period covers from Oct. 5 to 11. Products with an asterisk (*) are no longer available or had no reported sales.
American Liberty Products

Old
Sales
Latest
Sales
Gain/
Loss
%
Increase
2019-W $100 American Liberty Gold Coin
10,059
10,121
62
0.62%
2019-P American Liberty Silver Medal
43,619
44,744
1,125
2.58%
2018-W $10 American Liberty Gold Coin
35,366
35,474
108
0.31%
2017 American Liberty Silver Four-Medal Set*
32,647
32,647
–
–
2017-S Enhanced Uncirculated Coin Set*
210,419
210,419
–
–
2017-W $100 American Liberty Gold Coin
32,378
32,395
17
0.05%
2017-P Proof American Liberty Silver Medal*
55,187
55,187
–
–

2020 Basketball Hall of Fame Commemorative Coins

Old
Sales
Latest
Sales
Gain/
Loss
%
Increase
2020-W Proof $5 Basketball Gold Coin
7,626
7,642
16
0.21%
2020-W Uncirculated $5 Basketball Gold Coin
3,086
3,093
7
0.23%
2020-P Proof Basketball Silver Dollar
64,350
64,542
192
0.30%
2020-P Uncirculated Basketball Silver Dollar
19,964
20,007
43
0.22%
2020-S Proof Basketball Half Dollar
25,497
25,554
57
0.22%
2020-D Uncirculated Basketball Half Dollar
13,114
13,144
30
0.23%
2020 Basketball Kids Set
21,533
21,560
27
0.13%
2020-P Colorized Basketball Silver Dollar
22,620
22,850
230
1.02%
2020-S Colorized Basketball Half Dollar
27,617
27,940
323
1.17%

2020 Women's Suffrage Centennial Products

Old
Sales
Latest
Sales
Gain/
Loss
%
Increase
2020-P Proof Silver Dollar
20,846
21,380
534
2.56%
2020-P Uncirculated Silver Dollar
8,822
9,009
187
2.12%
2020-P Proof Silver Dollar and Medal Set
10,068
10,063
-5
-0.05%

2019 American Legion Commemorative Coins

Old
Sales
Latest
Sales
Gain/
Loss
%
Increase
2019 American Legion Gold Coin and Emblem Print*
277
277
–
–
2019 American Legion Silver Dollar and Emblem Print*
1,788
1,788
–
–
2019 American Legion 50c and Emblem Print*
1,026
1,026
–
–
2019 American Legion Silver Dollar and Medal Set*
9,888
9,888
–
–
2019-W Proof $5 American Legion Gold Coin*
3,190
3,190
–
–
2019-W Uncirculated $5 American Legion Gold Coin*
2,927
2,927
–
–
2019-P Proof American Legion Silver Dollar*
44,018
44,018
–
–
2019-P Uncirculated American Legion Silver Dollar*
13,789
13,789
–
–
2019-S Proof American Legion Half Dollar*
18,811
18,811
–
–
2019-D Uncirculated American Legion Half Dollar*
11,430
11,430
–
–
2019 American Legion Three-Coin Proof Set*
7,451
7,451
–
–

2019 Apollo 11 Commemorative Coins

Old
Sales
Latest
Sales
Gain/
Loss
%
Increase
2019-W Proof $5 Gold Coin & Intaglio Print*
1,162
1,162
–
–
2019-P Proof Apollo 11 Silver Dollar & Intaglio Print*
4,980
4,980
–
–
2019-W Proof $5 Apollo 11 Gold Coin*
32,862
32,862
–
–
2019-W Uncirculated $5 Apollo 11 Gold Coin*
12,035
12,035
–
–
2019-P Proof Apollo 11 Silver Dollar*
218,995
218,995
–
–
2019-P Uncirculated Apollo 11 Silver Dollar*
59,700
59,700
–
–
2019-S Proof Apollo 11 Half Dollar*
66,822
66,822
–
–
2019-D Uncirculated Apollo 11 Half Dollar*
41,742
41,742
–
–
2019-S Proof Apollo 11 Half Dollar Set*
99,998
99,998
–
–
2019-P Proof Apollo 11 Five Ounce Silver Coin*
68,301
68,301
–
–

Clad Proof Set

Old
Sales
Latest
Sales
Gain/
Loss
%
Increase
2020 Proof Set
370,325
378,009
7,684
2.07%
2019 Proof Set
587,906
588,805
899
0.15%
2018 Proof Set*
517,081
517,081
–
–
2017 Proof Set*
568,678
568,678
–
–
2020 American Innovation Dollars Proof Set
–
46,546
–
–
2019 American Innovation Dollars Proof Set
107,861
108,638
777
0.72%

2020 America the Beautiful Quarters Proof Set

58,872
59,358
486
0.83%
2019 America the Beautiful Quarters Proof Set
73,371
73,460
89
0.12%
2018 America the Beautiful Quarters Proof Set*
86,697
86,697
–
–
2020 Happy Birthday Gift Set
15,500
15,702
202
1.30%
2019 Happy Birthday Gift Set
18,491
18,523
32
0.17%
2018 Happy Birthday Gift Set*
17,719
17,719
–
–
2020 Birth Gift Set
20,077
20,499
422
2.10%
2019 Birth Gift Set
29,531
29,531
–
–
2018 Birth Gift Set
32,881
32,906
25
0.08%

Silver Proof Set

Old
Sales
Latest
Sales
Gain/
Loss
%
Increase
2020 Silver Proof Set
277,303
283,433
6,130
2.21%
2019 Silver Proof Set
412,159
412,548
389
0.09%
2018 Silver Proof Set*
332,274
332,274
–
–
2018 Silver Reverse Proof Set*
199,116
199,116
–
–
2020 America the Beautiful Quarters Silver Proof Set
61,833
62,853
1,020
1.65%
2019 America the Beautiful Quarters Silver Proof Set
77,767
78,546
779
1.00%
2018 America the Beautiful Quarters Silver Proof Set*
79,301
79,301
–
–
2020 Congratulations Gift Set
24,445
24,445
–
–
2019 Congratulations Gift Set
30,014
30,535
521
1.74%
2019 Limited Edition Silver Proof Set*
47,404
47,404
–
–
2018 Limited Edition Silver Proof Set*
49,479
49,479
–
–

US Mint Uncirculated Sets

Old
Sales
Latest
Sales
Gain/
Loss
%
Increase
2019 Native American $1 Coin and Currency Set
46,971
46,971
–
–
2019 Uncirculated Mint Set
338,421
339,069
648
0.19%
2018 Uncirculated Mint Set*
257,536
257,536
–
–
2017 Uncirculated Mint Set*
286,813
286,813
–
–

Kids Coin Sets

Old
Sales
Latest
Sales
Gain/
Loss
%
Increase
2019 Youth Coin and Currency Set
10,684
10,780
96
0.90%
2019 Explore and Discover Coin Set
33,941
33,990
49
0.14%
2019 Rocketship*
49,921
49,921
–
–
2014 Coin Discovery Set*
13,151
13,151
–
–

Ornaments

Old
Sales
Latest
Sales
Gain/
Loss
%
Increase
2019 Mighty Minters Ornament
4,588
4,598
10
0.22%
2019 U.S. Mint Ornament
8,002
8,016
14
0.17%

Proof Silver Eagles

Old
Sales
Latest
Sales
Gain/
Loss
%
Increase
2020-W Proof Silver Eagle
357,103
357,207
104
0.03%
2020-W Proof Silver Eagle (Bulk – 40 Coins)
600
600
–
–
2019-S Enhanced Reverse Proof Proof Silver Eagle*
29,910
29,910
–
–
2019-S Proof Silver Eagle
146,735
146,735
–
–
2019-S Proof Silver Eagle (Bulk – 40 Coins)*
137
137
–
–
2019 Pride of Nations Two-Coin Set*
99,675
99,675
–
–
2019-W Proof Silver Eagle*
345,380
345,380
–
–
2019-W Proof Silver Eagle (Bulk – 40 Coins)*
745
745
–
–
2018-S Proof Silver Eagle*
158,785
158,785
–
–
2018-W Proof Silver Eagle*
354,025
354,025
–
–
2018-W Proof Silver Eagle (Bulk Pack – 210 Coins)*
182
182
–
–

Uncirculated Silver Eagles

Old
Sales
Latest
Sales
Gain/
Loss
%
Increase
2020
138,575
145,824
7,249
5.23%
2020 Bulk 40*
15
15
–
–
2019
138,140
138,140
–
–
2019 Bulk 40*
66
66
–
–
2018*
138,947
138,947
–
–
2017*
176,739
176,739
–
–

2020 Proof American Eagle Gold Coins

Old
Sales
Latest
Sales
Gain/
Loss
%
Increase
1 oz
5,155
5,294
139
2.70%
1/2 oz
2,144
2,169
25
1.17%
1/4 oz
3,321
3,370
49
1.48%
1/10 oz
11,034
11,337
303
2.75%
4-Coin Set
7,994
8,016
22
0.28%

2019 Proof American Eagle Gold Coins

Old
Sales
Latest
Sales
Gain/
Loss
%
Increase
1 oz
5,861
5,861
–
–
1/2 oz*
1,876
1,876
–
–
1/4 oz*
3,035
3,035
–
–
1/10 oz*
10,231
10,231
–
–
4-Coin Set
7,573
7,578
5
0.07%

Uncirculated American Eagle Gold Coins

Old
Sales
Latest
Sales
Gain/
Loss
%
Increase
2019*
5,851
5,851
–
–
2018*
8,518
8,518
–
–
2017*
5,800
5,800
–
–

Proof American Buffalo Gold Coins

Old
Sales
Latest
Sales
Gain/
Loss
%
Increase
2020 Proof Gold Buffalo
11,893
11,890
-3
-0.03%
2019 Proof Gold Buffalo
14,830
14,830
–
–
2018 Proof Gold Buffalo*
15,756
15,756
–
–
2017 Proof Gold Buffalo*
15,810
15,810
–
–

Proof American Platinum Eagle

Old
Sales
Latest
Sales
Gain/
Loss
%
Increase
2020
7,500
7,526
26
0.35%
2019
10,793
10,805
12
0.11%
2018
14,392
14,405
13
0.09%
2017*
8,890
8,890
–
–

American Palladium Eagle

Old
Sales
Latest
Sales
Gain/
Loss
%
Increase
2020-W Uncirculated
9,997
9,997
–
–
2019-W Reverse Proof
17,980
18,004
24
0.13%
2018-W Proof*
14,986
14,986
–
–

First Spouse Gold Coins

Old
Sales
Latest
Sales
Gain/
Loss
%
Increase
2020-W Proof Barbara Bush First Spouse Gold Coin
1,910
1,903
-7
-0.37%
2020-W Uncirculated Barbara Bush First Spouse Gold Coin
1,268
1,261
-7
-0.55%

America the Beautiful 5 Oz Silver Coins

Old
Sales
Latest
Sales
Gain/
Loss
%
Increase
2020-P Salt River Bay Silver Uncirculated Coin
13,025
13,500
475
3.65%
2020-P Weir Farm Silver Uncirculated Coin
13,412
13,530
118
0.88%

2020-P National Park of American Samoa Silver Uncirculated Coin

15,774
15,774
–
–
2019-P River of No Return Silver Uncirculated Coin
16,407
16,406
-1
-0.01%
2019-P San Antonio Missions Silver Uncirculated Coin
16,206
16,205
-1
-0.01%
2019-P War In The Pacific Silver Uncirculated Coin
16,273
16,273
–
–
2019-P American Memorial Park Silver Uncirculated Coin
16,280
16,278
-2
-0.01%
2019-P Lowell Five Ounce Silver Uncirculated Coin
16,684
16,645
-39
-0.23%
2018-P Block Island Silver Coins*
15,913
15,913
–
–
2018-P Cumberland Island Silver Coins*
16,377
16,377
–
–
2018-P Voyageurs Silver Coins*
16,839
16,839
–
–
2018-P Apostle Islands Silver Coins*
16,802
16,802
–
–
2018-P Pictured Rocks Silver Coins*
17,773
17,773
–
–
2017-P George Rogers Clark Silver Coins*
14,731
14,731
–
–
2017-P Ellis Island Silver Coins*
17,670
17,670
–
–
2017-P Ozark Riverways Silver Coins
17,694
17,694
–
–
2017-P Frederick Douglass Silver Coins*
17,678
17,678
–
–
2017-P Effigy Mounds Silver Coins*
17,251
17,251
–
–

Presidential Silver Medals

Old
Sales
Latest
Sales
Gain/
Loss
%
Increase
2020 Andrew Jackson Presidential Silver Medal
11,829
11,974
145
1.23%
2019 John Quincy Adams Presidential Silver Medal
11,577
11,671
94
0.81%
2019 James Monroe Presidential Silver Medal
12,079
12,154
75
0.62%
2019 James Madison Presidential Silver Medal
12,938
13,008
70
0.54%
2019 Thomas Jefferson Presidential Silver Medal
17,006
17,106
100
0.59%
2018 George Washington Presidential Silver Medal
25,486
25,591
105
0.41%
2018 John Adams Presidential Silver Medal
19,339
19,412
73
0.38%

2020 American Innovation Dollars – Connecticut

Old
Sales
Latest
Sales
Gain/
Loss
%
Increase
Reverse Proof (S)
32,805
33,782
977
2.98%
25-coin roll set (P)
4,621
4,424
-197
-4.26%
25-coin roll set (D)
4,255
4,232
-23
-0.54%
100-coin bag (P)
1,832
1,695
-137
-7.48%
100-coin bag (D)
2,377
2,057
-320
-13.46%

2019 American Innovation Dollars – Georgia

Old
Sales
Latest
Sales
Gain/
Loss
%
Increase
Reverse Proof (S)
36,805
36,998
193
0.52%
25-coin roll set (P)
6,057
6,090
33
0.54%
25-coin roll set (D)
5,767
5,790
23
0.40%
100-coin bag (P)
2,340
2,346
6
0.26%
100-coin bag (D)
2,159
2,170
11
0.51%

2019 American Innovation Dollars – New Jersey

Old
Sales
Latest
Sales
Gain/
Loss
%
Increase
Reverse Proof (S)
40,328
40,497
169
0.42%
25-coin roll set (P)
6,508
6,541
33
0.51%
25-coin roll set (D)
6,026
6,047
21
0.35%
100-coin bag (P)
2,589
2,598
9
0.35%
100-coin bag (D)
2,352
2,363
11
0.47%

2019 American Innovation Dollars – Pennsylvania

Old
Sales
Latest
Sales
Gain/
Loss
%
Increase
Reverse Proof (S)
45,274
45,433
159
0.35%
25-coin roll set (P)
7,235
7,275
40
0.55%
25-coin roll set (D)
6,374
6,402
28
0.44%
100-coin bag (P)
2,249
2,257
8
0.36%
100-coin bag (D)
2,175
2,189
14
0.64%

2019 American Innovation Dollars – Delaware

Old
Sales
Latest
Sales
Gain/
Loss
%
Increase
Reverse Proof (S)
61,076
61,218
142
0.23%
25-coin roll set (P)
7,059
7,083
24
0.34%
25-coin roll set (D)
6,637
6,660
23
0.35%
100-coin bag (P)
2,231
2,237
6
0.27%
100-coin bag (D)
2,441
2,452
11
0.45%

2018 American Innovation Dollars

Old
Sales
Latest
Sales
Gain/
Loss
%
Increase
Reverse Proof (S)*
74,720
74,720
–
–
Proof Coin (S)
219,301
219,870
569
0.26%
25-coin roll set (P)
17,944
17,997
53
0.30%
25-coin roll set (D)
16,874
16,917
43
0.25%
100-coin bag (P)*
2,935
2,935
–
–
100-coin bag (D)*
2,954
2,954
–
–

Native American Dollar Rolls

Old
Sales
Latest
Sales
Gain/
Loss
%
Increase
2020-dated 25-coin roll set (P)
12,719
12,811
92
0.72%
2020-dated 25-coin roll set (D)
12,343
12,409
66
0.53%
2020-dated 100-coin bag (P)
1,952
1,952
–
–
2020-dated 100-coin bag (D)
1,971
1,971
–
–
2020-dated 250-coin box (P)
1,207
1,217
10
0.83%
2020-dated 250-coin box (D)
1,328
1,349
21
1.58%
2019-dated 25-coin roll set (P)
16,697
16,741
44
0.26%
2019-dated 25-coin roll set (D)
15,983
16,022
39
0.24%
2019-dated 100-coin bag (P)
1,829
1,829
–
–
2019-dated 100-coin bag (D)
1,766
1,766
–
–
2019-dated 250-coin box (P)*
1,734
1,734
–
–
2019-dated 250-coin box (D)
1,949
1,949
–
–
2018-dated 25-coin roll set (P)*
17,392
17,392
–
–
2018-dated 25-coin roll set (D)*
16,555
16,555
–
–
2018-dated 100-coin bag (P)*
1,931
1,931
–
–
2018-dated 100-coin bag (D)*
1,930
1,930
–
–
2018-dated 250-coin box (P)*
1,865
1,865
–
–
2018-dated 250-coin box (D)*
1,874
1,874
–
–

Kennedy Half Dollar Rolls

Old
Sales
Latest
Sales
Gain/
Loss
%
Increase
2020-dated 200-coin bag (P&D)
5,496
5,688
192
3.49%
2020-dated 2-roll set (P&D)
22,249
22,787
538
2.42%
2019-dated 200-coin bag (P&D)
10,395
10,431
36
0.35%
2019-dated 2-roll set (P&D)
23,640
23,697
57
0.24%
2018-dated 200-coin bag (P&D)*
9,498
9,498
–
–
2018-dated 2-roll set (P&D)*
22,622
22,622
–
–

America the Beautiful Quarters Uncirculated Coin Set

Old
Sales
Latest
Sales
Gain/
Loss
%
Increase
2020 Issue
24,798
24,798
–
–
2019 Issue
29,249
29,316
67
0.23%
2018 Issue*
32,648
32,648
–
–
2017 Issue*
29,972
29,972
–
–

America the Beautiful Quarters Circulating Coin Set

Old
Sales
Latest
Sales
Gain/
Loss
%
Increase
2020 Issue
–
16,255
–
–
2019 Issue
21,978
22,237
259
1.18%
2018 Issue
22,641
22,641
–
–
2017 Issue*
24,765
24,765
–
–
2016 Issue*
23,958
23,958
–
–

America the Beautiful Quarters Three-Coin Sets

Old
Sales
Latest
Sales
Gain/
Loss
%
Increase
Salt River Bay
11,764
11,871
107
0.91%
Weir Farm
11,995
12,061
66
0.55%
National Park of American Samoa
15,376
15,381
5
0.03%
River of No Return
13,195
13,218
23
0.17%
San Antonio Missions
15,218
15,218
–
–
War in Pacific
15,285
15,322
37
0.24%
American Memorial Park
14,654
14,682
28
0.19%
Lowell
14,814
14,833
19
0.13%
Block Island
13,889
13,905
16
0.12%
Cumberland Island
13,962
13,979
17
0.12%
Voyageurs
14,867
14,879
12
0.08%
Apostle Islands
14,910
14,926
16
0.11%
Pictured Rocks*
15,397
15,397
–
–
George Rogers Clark*
14,133
14,133
–
–
Ellis Island*
16,947
16,947
–
–
Ozark Riverways*
14,912
14,912
–
–
Frederick Douglass*
15,566
15,566
–
–
Effigy Mounds*
14,516
14,516
–
–
Fort Moultrie*
13,306
13,306
–
–
Theodore Roosevelt*
16,072
16,072
–
–
Harpers Ferry*
14,345
14,345
–
–
Cumberland Gap*
14,973
14,973
–
–
Shawnee*
15,474
15,474
–
–
Saratoga*
14,950
14,950
–
–
Bombay Hook*
13,400
13,400
–
–
Blue Ridge Parkway*
17,165
17,165
–
–
Kisatchie Set*
15,196
15,196
–
–
Homestead Set*
16,114
16,114
–
–
Everglades Set*
14,373
14,373
–
–
Great Sand Dunes Set*
14,119
14,119
–
–
Arches Three-Coin Set*
15,859
15,859
–
–
Shenandoah Three-Coin Set*
17,351
17,351
–
–
Great Smoky Mountains Set*
18,588
18,588
–
–
Mount Rushmore Quarters Set*
17,924
17,924
–
–
Fort McHenry Quarters Set*
16,345
16,345
–
–
Great Basin Quarters Set*
15,526
15,526
–
–
Perry's Victory Quarters Set*
17,643
17,643
–
–
White Mountain Quarters Set*
18,056
18,056
–
–
Denali Quarters Set*
18,193
18,193
–
–
Hawaii Volcanoes Quarters Set*
19,947
19,947
–
–
Acadia Quarters Set*
19,940
19,940
–
–
Chaco Culture Quarters Set*
20,028
20,028
–
–
El Yunque Quarters Set*
19,891
19,891
–
–
Chickasaw Quarters Set*
16,184
16,184
–
–
Vicksburg Quarters Set*
18,095
18,095
–
–
Olympic Quarters Set*
17,718
17,718
–
–
Glacier Quarters Set*
19,046
19,046
–
–
Gettysburg Quarters Set*
22,869
22,869
–
–
Mount Hood Quarters Set*
18,384
18,384
–
–
Grand Canyon Quarters Set*
22,133
22,133
–
–
Yosemite Quarters Set*
22,154
22,154
–
–
Yellowstone Quarters Set*
25,048
25,048
–
–
Hot Springs Quarters Set*
23,203
23,203
–
–

2020 Marsh-Billings-Rockefeller Quarters

Old
Sales
Latest
Sales
Gain/
Loss
%
Increase
100-Coin Bag (S)
3,019
3,122
103
3.41%
40-Coin Roll (S)
2,412
2,536
124
5.14%
Three-Roll Set
6,348
6,590
242
3.81%
100-Coin Bag (P)
1,729
1,804
75
4.34%
100-Coin Bag (D)
1,708
1,769
61
3.57%
Two-Roll Set
4,648
4,749
101
2.17%

2020 Salt River Bay Quarters

Old
Sales
Latest
Sales
Gain/
Loss
%
Increase
100-Coin Bag (S)
3,652
3,682
30
0.82%
40-Coin Roll (S)
3,491
3,536
45
1.29%
Three-Roll Set
7,604
7,658
54
0.71%
100-Coin Bag (P)
2,188
2,205
17
0.78%
100-Coin Bag (D)
2,150
2,161
11
0.51%
Two-Roll Set
5,150
5,168
18
0.35%

2020 Weir Farm Quarters

Old
Sales
Latest
Sales
Gain/
Loss
%
Increase
100-Coin Bag (S)
3,716
3,729
13
0.35%
40-Coin Roll (S)
3,974
3,974
–
–
Three-Roll Set
7,958
7,989
31
0.39%
100-Coin Bag (P)
2,448
2,446
-2
-0.08%
100-Coin Bag (D)
2,448
2,446
-2
-0.08%
Two-Roll Set
5,400
5,414
14
0.26%

2020 National Park of American Samoa Quarters

Old
Sales
Latest
Sales
Gain/
Loss
%
Increase
100-Coin Bag (S)
4,236
4,236
–
–
40-Coin Roll (S)
3,974
3,974
–
–
Three-Roll Set
8,930
8,930
–
–
100-Coin Bag (P)
2,456
2,456
–
–
100-Coin Bag (D)
2,480
2,480
–
–
Two-Roll Set
6,927
6,927
–
–

2019 River of No Return Quarters

Old
Sales
Latest
Sales
Gain/
Loss
%
Increase
100-Coin Bag (S)
3,994
4,004
10
0.25%
40-Coin Roll (S)
3,961
3,961
–
–
Three-Roll Set
8,395
8,408
13
0.15%
100-Coin Bag (P)
2,274
2,277
3
0.13%
100-Coin Bag (D)
2,160
2,166
6
0.28%
Two-Roll Set
5,748
5,752
4
0.07%

2019 San Antonio Missions Quarters

Old
Sales
Latest
Sales
Gain/
Loss
%
Increase
100-Coin Bag (S)
4,201
4,201
–
–
40-Coin Roll (S)
3,929
3,929
–
–
Three-Roll Set
8,858
8,858
–
–
100-Coin Bag (P)
2,442
2,442
–
–
100-Coin Bag (D)
2,367
2,367
–
–
Two-Roll Set
6,042
6,042
–
–

2019 War In The Pacific Quarters

Old
Sales
Latest
Sales
Gain/
Loss
%
Increase
100-Coin Bag (S)
4,203
4,203
–
–
40-Coin Roll (S)
3,838
3,838
–
–
Three-Roll Set
8,764
8,764
–
–
100-Coin Bag (P)
2,391
2,391
–
–
100-Coin Bag (D)
2,291
2,291
–
–
Two-Roll Set
6,049
6,049
–
–

2019 American Memorial Park Quarters

Old
Sales
Latest
Sales
Gain/
Loss
%
Increase
100-Coin Bag (S)
4,114
4,114
–
–
40-Coin Roll (S)
3,859
3,859
–
–
Three-Roll Set
8,478
8,478
–
–
100-Coin Bag (P)*
2,455
2,455
–
–
100-Coin Bag (D)*
2,421
2,421
–
–
Two-Roll Set
6,059
6,059
–
–

2019 Lowell Quarters

Old
Sales
Latest
Sales
Gain/
Loss
%
Increase
100-Coin Bag (S)*
4,006
4,006
–
–
40-Coin Roll (S)*
3,801
3,801
–
–
Three-Roll Set*
8,596
8,596
–
–
100-Coin Bag (P)*
2,435
2,435
–
–
100-Coin Bag (D)*
2,325
2,325
–
–
Two-Roll Set*
6,168
6,168
–
–