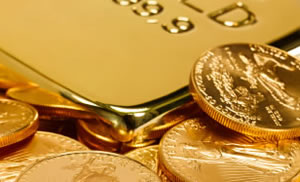 Not all precious metals gained on the final trading day of 2019 but they all surged in December and soared on the year. Gold stretched its winning streak to six consecutive sessions and ended Tuesday at a fourteen-week high.
Gold for February delivery added $4.50, or 0.3%, to close at $1,523.10 an ounce on the Comex division of the New York Mercantile Exchange. The settlement was the highest since Sept. 24.
"The yellow metal closed out December and the year 2019 with a technically bullish monthly high close. A slumping greenback on the world foreign exchange market is now in focus for precious metals market bulls, helping to propel prices higher," Jim Wyckoff, a senior analyst at Kitco Metals Inc., said in a daily research note.
Gold prices climbed 3.4% in December after dropping 2.8% in November. They scored an annual advance of 18.9% following their loss last year of 2.1%.
Silver for March delivery declined 8 cents, or 0.4%, to settle at $17.921 an ounce after closing Monday at their best level since Nov. 4.
As for the month, the precious metal rose 4.8% against a 5.3% loss in November. Silver prices gained 15.3% for the year. In 2018, they sank 9.4%.
In PGM futures on Tuesday and for December:
April platinum finished up $12.40, or 1.3%, to $977.80 an ounce, for an 8.6% monthly increase.

Palladium for March delivery tacked on $28.80 or 1.5%, to $1,909.30 an ounce, posting a December advance of 5.5%. Earlier in the month, on Dec. 16, palladium prices logged a record settlement of $1,963.60 an ounce.
The pair zipped higher on the year with returns of 22.1% for platinum and 59.5% for palladium.
London Precious Metals Prices
London bullion prices gained in a shortened day as UK markets closed early Tuesday to break for the New Year. When comparing London bullion prices from Monday PM to Tuesday AM:
Gold rose $8.25, or 0.5%, to $1,523 an ounce.
Silver advanced 22 cents, or 1.2%, to $18.045 an ounce.
Platinum added $19, or 2%, to $971 an ounce.
Palladium gained $15, or 0.8%, to $1,920 an ounce.
For December, advances included 4.3% for gold; 6.4% for silver; 8.6% for platinum; and 4.8% for palladium. In LBMA annual results, gains included 18.8% for gold; 16.7% for silver; 22.3% for platinum; and 52% for palladium.
US Mint 2019 Bullion Sales
Overall demand for United States Mint bullion products declined in 2019. In particular, the U.S. Mint's core American Eagle and Buffalo coins posted notable low annual sales. Here is a summary of the Mint's 2019 bullion sales by product:
2019 American Eagle silver coins reached 14,863,500 ounces for their weakest sales year since 2007. The annual retreat marks a third in a row. Silver Eagles sales logged in at 15.7 million ounces in 2018, hit nearly 18.1 million ounces in 2017, came in above 37.7 million ounces in 2016, and surged to an annual record of 47 million ounces in 2015. The 1 oz. silver coins have been produced annually since 1986.

2019 American Eagle gold coins combined to 152,000 ounces for the lowest annual total since the series was introduced in 1986. The level also marked a third straight annual slowdown following totals of 245,500 ounces in 2018; 302,500 ounces in 2017; and 985,000 ounces in 2016. The U.S. Mint strikes American Gold Eagles in four formats — 1 oz. coin; 1/2 oz. coin; 1/4 oz. coin; and 1/10 oz. coin.

American Buffalo gold coins registered 2019 sales of 61,500 ounces for the lowest sales year since the series was introduced in 2006. They reached 121,500 ounces in 2018. Their two best years were in 2013 at 239,000 ounces and their debut year at 323,000 ounces.

2019-dated America the Beautiful five ounce silver bullion sales totaled 312,700 coins for the highest amount since the 2016-dated issues reached 330,000 coins. Last year's releases combined for 222,500 coins.

The final allotment of 2019 American Platinum Eagles sold in April with their total for the year ending at 40,000 coins. Last year's edition topped out at 30,000 coins.
Below is a sales breakdown of U.S. Mint bullion products with columns listing the number of coins sold during varying periods. Products with an asterisk (*) are no longer available.
US Mint Bullion Sales (# of coins)
Tuesday / This Week
Last Week
November
December
2019 Sales
$50 American Eagle 1 Oz Gold Coin
0
0
8,000
2,000
108,000
$25 American Eagle 1/2 Oz Gold Coin*
0
0
5,000
0
30,000
$10 American Eagle 1/4 Oz Gold Coin
0
0
2,000
0
38,000
$5 American Eagle 1/10 Oz Gold Coin
0
0
0
0
195,000
$50 American Buffalo 1 Oz Gold Coin
0
0
5,000
1,500
61,500
$1 American Eagle 1 Oz Silver Coin
0
0
463,000
0
14,863,500
Frank Church River of No Return Wilderness 5 Oz Silver Coin
0
0
20,000
5,000
25,000
San Antonio Missions 5 Oz Silver Coin
0
0
0
0
55,200
War in the Pacific 5 Oz Silver Coin
0
0
0
0
72,500
American Memorial Park 5 Oz Silver Coin*
0
0
0
0
80,000
Lowell 5 Oz Silver Coin*
N/A
80,000
$100 American Eagle 1 Oz Platinum Coin*
N/A
40,000