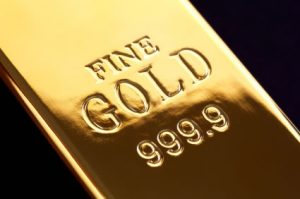 Precious metals prices declined Friday, paring gold's increase on the week while cementing weekly losses for silver, platinum and palladium.
Gold for June delivery declined $9.80, or 0.6%, to settle at $1,735.60 an ounce on the Comex division of the New York Mercantile Exchange.
Prices saw "a normal trading pullback after encountering technical resistance near $1,740," said Colin Cieszynski, chief market strategist at SIA Wealth Management. "Volumes have dropped off as well, suggesting this is just normal backing and filling with bulls taking a day off after two days [of gains] or running up on higher volumes, he told MarketWatch.
Gold futures traded 2.2% higher this week after falling 3.1% last week. On Thursday, they marked their best settlement since April 14 while on Wednesday they ended at $1,687.80 an ounce for their lowest close since April 8. Gold prices are 14% higher on the year to date.
In looking ahead to next week, Kitco News offers the following forecasts via their Wall Street & Main Street surveys:
"Twelve out of 15 Wall Street voters, or 80%, said they are bullish for the week ahead. One voter, or 7%, called for lower prices, while two, or 13%, were neutral.

Meanwhile, 1,031 votes were cast in an online Main Street poll. A total of 729 voters, or 71%, looked for gold to rise in the next week. Another 192, or 19%, said lower, while 110, or 11%, were neutral."
Elsewhere, silver for May delivery shed 9.4 cents, or 0.6%, to close at $15.263 an ounce. Silver futures edged lower this week by 0.2% after they fell 4.7% last week. On Wednesday, they settled at $14.876 an ounce for their worst finish since April 3. Silver prices are 15.8% lower on the year.
In PGM futures on Friday and for the week:
July platinum declined $14.20, or 1.8%, to end at $773.80 an ounce, for a 1.5% weekly loss.

Palladium for June delivery fell $15.70, or 0.8%, to close at $1,985.30 an ounce, for a drop of 6.8% on the week.
The two are divided on the year so far with platinum off 20.9% and palladium up 4%.
London Precious Metals Prices (LBMA)
London precious metals prices were mixed on Friday and for the week. In comparing their levels from Thursday PM to Friday PM:
Gold declined $20.35, or 1.2%, to $1,715.90 an ounce.
Silver edged up a cent, or 0.07%, to $15.315 an ounce.
Platinum lost $2, or 0.3%, to $765 an ounce.
Palladium gained $15, or 0.8%, to $2,005 an ounce.
In LBMA weekly results, gold rose 1.4%, silver gained 1%; platinum fell 2.2% and palladium declined 6.9%.
US Mint Bullion Sales in 2020
In United States Mint bullion sales, orders picked up for a second week in a row for gold coins and silver sales were muted for a second straight week. (In terms of 5-ounce silver bullion sales for 2020, the U.S. Mint is working on getting them automated and reported. Initial U.S. Mint-provided figures have the first two 2020-dated pieces at 45,000 produced and sold per issue. These amounts are being verified.) In week-over-week bullion coin comparisons:
Sales of American Platinum Eagles were flat after rising by 1,500 coins last week.

Sales of American Gold Eagles surged by 36,000 ounces after rising by 11,000 ounces last week.

Sales of American Silver Eagles were flat for a second week in a row.

Sales of American Buffalo gold coins jumped by 12,000 ounces after climbing by 4,000 ounces last week.
Below is a sales breakdown of U.S. Mint bullion products with columns listing the number of coins sold during varying periods.
US Mint Bullion Sales (# of coins)
Friday
Last Week
This Week
January
February
March
April
2020 Sales
$50 American Eagle 1 Oz Gold Coin
16,000
11,000
36,000
38,000
3,500
133,000
92,500
267,000
$25 American Eagle 1/2 Oz Gold Coin
0
0
0
23,000
2,000
8,000
0
33,000
$10 American Eagle 1/4 Oz Gold Coin
0
0
0
18,000
2,000
20,000
0
40,000
$5 American Eagle 1/10 Oz Gold Coin
0
0
0
60,000
20,000
95,000
0
175,000
$50 American Buffalo 1 Oz Gold Coin
6,500
4,000
12,000
21,000
1,000
65,500
16,000
103,500
$1 American Eagle 1 Oz Silver Coin
0
0
0
3,846,000
650,000
5,482,500
350,000
10,328,500
$1 American Eagle 1 Oz Platinum Coin
0
1,500
0
14,500
9,300
31,200
1,500
56,500