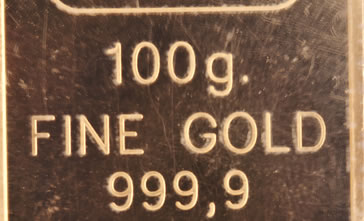 Precious metals futures mixed it up on Friday with losses for silver and platinum; a gain for palladium; and an unchanged price for gold. As for the week, they divided with silver and palladium higher and gold and platinum lower.
Gold for December delivery on Friday settled flat at $1,463.60 an ounce on the Comex division of the New York Mercantile Exchange. The yellow metal saw pressure, opined analysts, as the dollar advanced following favorable U.S. manufacturing data.
"Stronger data in the U.S. just strengthens the interpretation that the Federal Reserve is going to stay on the pause here, for the next few meetings," Reuters quoted Ryan McKay, a commodity strategist at TD Securities. "That means rates (Treasuries) and the dollar continue to move higher, which constrains gold."
Gold futures edged 0.3% lower this week after rising 0.4% last week. They are 14.2% higher on the year to date.
In looking ahead to next week, Kitco News offers the following forecasts via their Wall Street & Main Street surveys:
"This week, 16 market professionals took part in the Wall Street survey. In a tie, five analysts or 31% said they see higher, and other five analysts saw a sideways market next week. Six analysts, or 38%, predicted gold would fall.

Meanwhile, 587 respondents took part in an online Main Street poll. A total of 292 voters, or 50%, called for gold to rise. Another 173, or 29%, predicted gold would fall. The remaining 121 voters, or 21%, saw a sideways market."
Elsewhere, silver for December delivery lost 6.5 cents, or 0.4%, to settle at $17 an ounce. Silver futures traded 0.3% higher this week after rising 0.7% last week. They are up 9.4% on the year.
In PGM futures on Friday and for the week:
January platinum dropped $24.90, or 2.7%, to close at $892.60 an ounce, for a 0.2% weekly loss.

Palladium for December delivery climbed $11.50, or 0.7%, to end at $1,743.40 an ounce, for a 3.6% weekly increase.
Both metals are higher on the year so far with gains of 11.5% for platinum and 45.6% for palladium.
London Precious Metals Prices
London gold and silver divided on Friday and for the week. In comparing their latest day-over-day PM prices:
Gold declined $2.60, or 0.2%, to $1,464.45 an ounce.
Silver fell 8.5 cents, or 0.5%, to $17.175 an ounce.
In LBMA weekly results, prices for gold declined 0.2% while those for silver gained 1.8%.
US Mint 2019 Bullion Sales
United States Mint bullion sales were mixed this week — lower for gold coins and higher for silver coins. In week-over-week comparisons:
Gold bullion sales climbed by 6,000 ounces after rising by 9,000 ounces last week. Splits included 3,500 ounces in American Gold Eagles compared to 6,500 ounces previously and 2,500 ounces in American Gold Buffalos to match last week.

American Silver Eagles rose by 233,000 ounces compared to 65,000 ounces last week.

Five-ounce America the Beautiful silver coins rose by 13,500 units, or 67,5000 ounces, following four weeks of no gains. All sales came from the final 2019-dated issue, released Monday, which is emblematic of Frank Church River of No Return Wilderness in Idaho — just like its companion quarter.
Below is a sales breakdown of U.S. Mint bullion products with columns listing the number of coins sold during varying periods. Products with an asterisk (*) are no longer available.
US Mint Bullion Sales (# of coins)
Friday
Last Week
This Week
October
November
2019 Sales
$50 American Eagle 1 Oz Gold Coin
0
5,000
3,000
8,000
8,000
106,000
$25 American Eagle 1/2 Oz Gold Coin
0
3,000
0
1,000
5,000
30,000
$10 American Eagle 1/4 Oz Gold Coin
0
0
2,000
4,000
2,000
36,000
$5 American Eagle 1/10 Oz Gold Coin
0
0
0
20,000
0
190,000
$50 American Buffalo 1 Oz Gold Coin
0
2,500
2,500
3,000
5,000
60,000
$1 American Eagle 1 Oz Silver Coin
0
65,000
233,000
1,110,500
463,000
14,863,500
Frank Church River of No Return Wilderness 5 Oz Silver Coin
0
N/A
13,500
N/A
13,500
13,500
San Antonio Missions 5 Oz Silver Coin
0
0
0
17,500
0
55,200
War in the Pacific 5 Oz Silver Coin
0
0
0
500
0
72,500
American Memorial Park 5 Oz Silver Coin*
0
0
0
0
0
80,000
Lowell 5 Oz Silver Coin*
N/A
80,000
$100 American Eagle 1 Oz Platinum Coin*
N/A
40,000