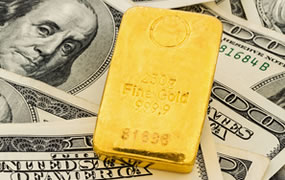 Gold and silver prices ended higher Thursday for the first time in three days, staying on track for a third straight weekly increase.
Gold for August delivery added $9.30, or 0.7%, to close at $1,328.80 an ounce on the Comex division of the New York Mercantile Exchange.
Gold traded from an intraday low of $1,308.40 to a high of $1,331.90 an ounce. A lower U.S. dollar and climbing U.S. jobless claims were supportive to gold.
"It's all about U.S. data and the Fed,"Chris Gaffney, the senior market Strategist at EverBank Wealth Management, said in a telephone interview according to Bloomberg News. "Today's jobless numbers are supporting prices."
Initial jobless claims rose to 343,000 for the week ended July 20, which was an increase of 7,000 from the previous week, the Labor Department said Thursday.
Gold in the previous session declined $15 for the largest daily loss since July 5. On Monday, the yellow metal soared $43.10 for the biggest increase since June 29, 2012. For the week so far, prices have advanced $35.90, or 2.8%.
Also reversing from a two-session losing streak, silver prices for September delivery gained 13.4 cents, or 0.7%, to $20.15. The metal traded between $19.75 and $20.23. Silver for the week so far is up 69.4 cents, or 3.6%.
PGMs moved opposite of gold and silver. In their breakdowns on Thursday:
Down for the first time in three days, October platinum dipped $7.30, or 0.5%, to settle at $1,447.90 an ounce. The precious metal ranged from $1,428.80 to $1,453.20.

Palladium for September delivery declined $4.55, or, 0.6%, to $740.75 an ounce, trading between $734.20 and $749.25.
London Fix Precious Metals
London precious metals fixings were mostly down. In contrasting the Wednesday PM to Thursday PM London Fix prices:
Gold shed $9, or 0.7%, to $1,326 an ounce,
Silver prices tumbled 47.5 cents, or 2.3%, to $19.92 an ounce,
Platinum fell $1, or 0.1%, to $1,443 an ounce, and
Palladium added $5, or 0.7%, to $743 an ounce
US Bullion Coin Sales in July
Sales totals for U.S. Mint bullion products were unchanged for a third day on Thursday. Increases on Monday were average for gold coins and exceptionally high for silver coins. The following table offers daily, July and year-to-date bullion coin totals as published by the U.S. Mint on its website.
American Eagle and Buffalo Bullion Coin Sales
Thursday Sales
Last Week
Week-To-Date Sales
July Sales
YTD Sales
$50 American Eagle Gold Bullion Coins
0
6,500
4,000
30,500
575,000
$25 American Eagle Gold Bullion Coins
0
0
0
4,000
47,000
$10 American Eagle Gold Bullion Coins
0
2,000
0
6,000
92,000
$5 American Eagle Gold Bullion Coins
0
10,000
0
25,000
440,000
$50 American Buffalo Gold Bullion Coins
0
2,000
0
13,500
175,000
White Mountain 5 oz. Silver Bullion Coins
0
1,100
0
2,900
29,900
Perry's Victory 5 oz. Silver Bullion Coins
0
2,400
800
6,600
20,800
Great Basin 5 oz. Silver Bullion Coins
0
1,200
0
7,500
17,400
American Silver Eagle Bullion Coins
0
875,000
925,000
3,456,500
28,500,000
Figures above are in the number of coins sold, not in ounces.