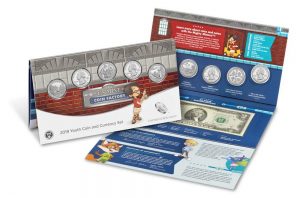 There is a problem with misaligned notes in 2019 Youth Coin and Currency Sets, the United States Mint confirmed Thursday, Nov. 14. They will be temporarily unavailable until the issue is corrected, the Mint noted, adding that those who already ordered can have theirs replaced or request a refund.
Released Oct. 31 for $29.95, the joint U.S. Mint and Bureau of Engraving and Printing product includes five proof 2019 quarter dollars and an uncirculated $2 Series 2009 note from Federal Reserve Banks in Cleveland, the Atlanta or Chicago. The coins and note are presented together in a children-themed, tri-fold presentation folder.
The following U.S. Mint statement describes the packaging issue and how to receive replacements or refunds:
The United States Mint has identified an issue with the 2019 Youth Coin and Currency Set.

There is a misalignment of the $2 dollar note in the set, which is not correctly sitting in the protective plastic sleeve. We are working to correct this issue. Customers cannot purchase this item until this issue has been corrected.

While the item is temporarily unavailable, customers have the option to request the "Remind Me" notification.

Customers who have received a Youth Coin and Currency Set can contact the United States Mint for a replacement or refund by calling:

1-800-USA-MINT (872-6468) or TTY at 1-888-321-MINT (6468).

Under the normal returns/exchange process, a credit/refund is issued to customer's credit card, and the customer then has to re-order the product.

This process will remain unchanged, except that the customer must sign up for the "Remind Me" in order to be notified when inventory is available.

Customers who purchased this item over-the-counter from the Mint must contact the gift shop where the set was purchased. However, if you purchased from us at a convention you should contact our gift shop located in Washington, DC. Contact information for gift shop locations are:

Washington, DC (202-354-6800)
Denver, CO (303-572-9500)
Philadelphia, PA (215-408-0230)

We apologize for any inconvenience this has caused for our customers.