On Friday, Oct. 11, the United States Mint will kick off sales of a four-coin set of proof 2019 American Innovation dollars that celebrate innovation and pioneering efforts in Delaware, Pennsylvania, New Jersey, and Georgia.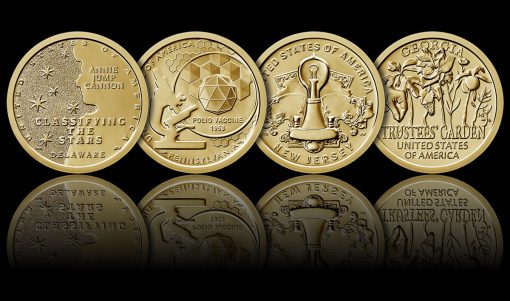 The U.S. Mint will conduct a launch ceremony for the set at the same time. Hosted by Mint Director David Ryder and Philadelphia Mint Superintendent Robert Kurzyna, the event will take place from 12:00 p.m. to 2:00 p.m. (EDT) at:
United States Mint Facility at Philadelphia
Public Tour Entrance
151 N. Independence Mall East
Philadelphia, Pa. 19106
Following the launch, Director Ryder will participate in hand signing Certificates of Authenticity.
The U.S. Mint series of American Innovation dollars is a multi-year program featuring reverse designs that pay homage to America's ingenuity and honor the pioneering efforts of individuals or groups from each of the 50 states, the District of Columbia, and the five U.S. territories — Puerto Rico, Guam, American Samoa, the U.S. Virgin Islands, and the Northern Mariana Islands.