The United States Mint will release over a half-dozen products for collectors in October. Most of them will be sets containing multiple coins.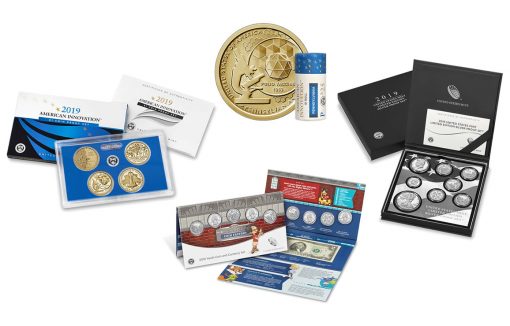 Offerings include a circulating set of quarters, a proof set of American Innovation dollars, a 99.9% silver set of proof coins, uncirculated American Innovation dollars for Pennsylvania, and a coin and currency set for children.
Ten-Coin Set of Circulating 2019 Quarters
The U.S. Mint will open the month on the 9th with its 10-coin set of circulating quarters for $8.95. The set contains pairs of circulating 2019 quarters from the Philadelphia and Denver Mints held in easy-to-open packaging.
"The packaging allows for the coins to be removed if desired for placement in albums or other collecting tools," the Mint touts.
Proof Set of 2019 American Innovation Dollars
Scheduled for an Oct. 11 release for $20.95, the U.S. Mint's 2019 Proof Set of American Innovation dollars holds four $1 coins produced at the San Francisco Mint. Their reverse designs celebrate innovations or innovators in Delaware, Pennsylvania, New Jersey, and Georgia.
99.9% Silver Coins in Limited Edition Proof Set
The year's Limited Edition Silver Proof Set launches Oct. 17 for $149.95. Issued annually, this year's set from the San Francisco Mint is unique in that it is the first with all 8 of its coins minted in 99.9% silver.
Past sets presented the Kennedy half-dollar, the year's five quarters, and the Roosevelt dime in 90% silver. Their purity was increased this year, matching the included American Silver Eagle. No more than 50,000 sets will be sold.
Over 48,400 of last year's set have sold. It remains available for $144.95 and also has a limit of 50,000.
Uncirculated American Innovation Dollars for Pennsylvania
This year's second of four American Innovation dollars becomes available Oct. 24 in large quantities. Honoring innovation in Pennsylvania, the coin's reverse design is emblematic of the extensive research conducted to develop a cure for polio.
Product options will include 25-coin rolls and 100-coin bags filled with Pennsylvania dollars produced in uncirculated finishes at the Philadelphia and Denver Mints. The rolls will be $32.95 each while the bags will cost $111.95 each.
Joint U.S. Mint-Bureau of Engraving Printing Set for Kids
Book-ending the month is a joint U.S. Mint and Bureau of Engraving Printing product made for kids. Scheduled for an Oct. 31 release and limited to 25,000 sets at $29.95 each, the offering includes five San Francisco Mint-struck 2019 proof quarters and a Series 2009 $2 Federal Reserve note designated for Cleveland, Atlanta or Chicago.
Here's a listing of scheduled U.S. Mint products for October:
U.S. Mint Product Schedule for October
| Release Dates | Numismatic Products | Price |
| --- | --- | --- |
| Oct. 9 | 2019 Quarters Circulating Coin Set | $8.95 |
| Oct. 11 | 2019 American Innovation Dollar Proof Set | $20.95 |
| Oct. 17 | 2019 Limited Edition Silver Proof Set | $149.95 |
| Oct. 24 | 2019 American Innovation Dollars for Pennsylvania | $32.95-$111.95 |
| Oct. 31 | 2019 Youth Coin & Currency Set | $29.95 |
U.S. Mint products launch at noon (ET) on the day of their release. Product information and ordering is available through the Mint's website at catalog.usmint.gov or by phone at 1-800-USA-MINT (872-6468).