The United States Mint is beginning to solidify some early sales dates for 2017-dated products. The calendar for January is filling up with launch dates for annual sets, Lions Club commemorative silver dollars, and Native American dollars. More information like product prices and images should be available soon.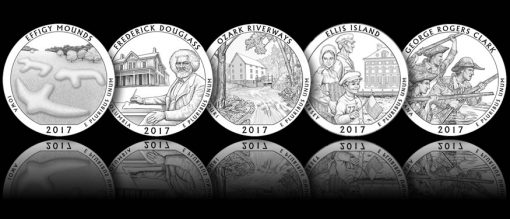 It looks like the U.S. Mint will kick their New Year off on Jan. 5 by releasing its annual set of proof quarters. This product will give collectors their first live look at the 2017 quarter designs commemorating:
Iowa's Effigy Mounds National Monument,
DC's Frederic Douglass National Historic Site,
Missouri's Ozark National Scenic Riverways,
New Jersey's Ellis Island, and
Indiana's George Rogers Clark National Historical Park.
Coins of the set are struck at the San Francisco Mint and carry the 'S' mint mark. This and last year's sets are still available for $14.95 each and have respective sales of about 82,000 and 99,000.
Special Occasion Sets
Two special occasion sets should follow. The 2017 Birth Set and 2017 Happy Birthday Coin Set are scheduled to launch on Jan. 10.
Coins in each set are in collector proof quality. They will include a Kennedy half-dollar, one of the five 2017 quarters, a Roosevelt dime, a Jefferson nickel and a Lincoln cent. All five coins ship in newborn- or happy birthday-themed packaging that has an area for a personalized message.
Previous sets remain available and are $19.95 each.
Lions Clubs Commemorative Coins
The U.S. Mint in early November hosted a first strike ceremony for the 2017 Lions Clubs International Century of Service Silver Dollar. Proof and uncirculated Lions Clubs commemoratives are set to go on sale Jan. 18.
Their obverse or heads side features a portrait of founder Melvin Jones paired with the organization's logo while their reverse depicts a male and female lion with a lion cub superimposed over a globe.
In related news, sales will end for this year's commemorative coins at noon ET on Dec. 29. There are two programs. One honors Mark Twain's life and legacy and the other celebrates the 100th anniversary of the National Park Service. Pricing for their silver dollars are $50.95 for the proof and $49.95 for the uncirculated. They actually debuted in their first 30 days with pricing that was discounted by $5. Expect the same for the 2017 commemoratives.
Native American $1 Coins
Lastly, circulating quality 2017 Native American dollars are planned for Jan. 25. Available product options will include dollars in U.S. Mint-branded 25-coin rolls, 100-coin bags, and 250-coin boxes from production facilities in Philadelphia and Denver. Typical prices have ranged from $32.95 to $275.95.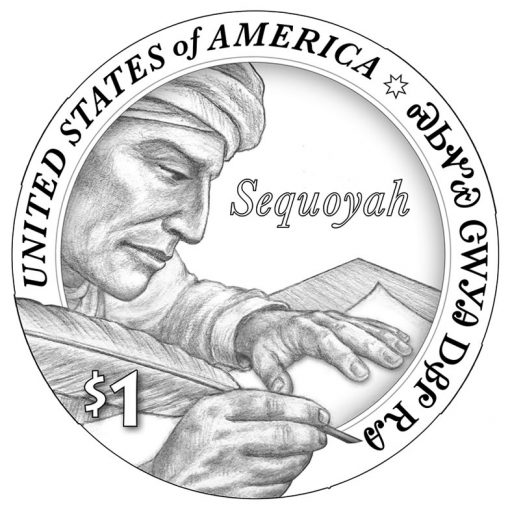 The series of Native American $1 Coins features annually changing reverses. The 2017 dollar design depicts Sequoyah writing "Sequoyah from Cherokee Nation."
US Mint January Product Schedule
Here's a grid breakdown of the currently scheduled U.S. Mint products for January 2017:
| Release Dates | Numismatic Products |
| --- | --- |
| Jan 5 | 2017 ATB Quarters Proof Set |
| Jan 10 | 2017 Birth Set |
| Jan 10 | 2017 Happy Birthday Coin Set |
| Jan 18 | 2017 Lions Club International Centennial Silver Dollars |
| Jan 25 | 2017 Native American $1 Coins in Rolls and Bags |
Collector products launch at noon (ET) on the day of their release. Orders may then be placed through the U.S. Mint website at www.usmint.gov or by phone at 1-800-USA-MINT (872-6468).