Three sets issued jointly today by United States Mint and the Bureau of Engraving and Printing (BEP) continue celebrations of the centennial of the American Legion.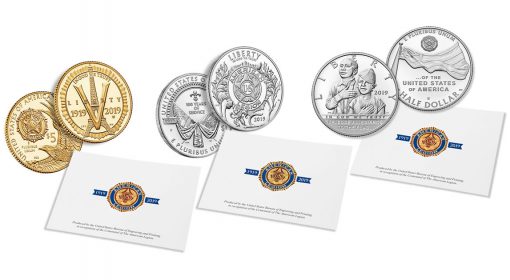 The Legion (www.legion.org) was charted by Congress in 1919 as a patriotic organization for veterans. It quickly grew into one of the largest veteran's service organization in the United States.
Each new product includes an American Legion Centennial Emblem Print from the BEP and a different proof American Legion 100th Anniversary Commemorative Coin from the U.S. Mint (a $5 gold coin, a silver dollar, or a clad half dollar). The coins are also available separately, having debuted individually in March. The 6" x 8" emblem is exclusive to the three sets.
"The Bureau of Engraving and Printing is pleased to celebrate the 100th Anniversary of the American Legion with the American Legion Centennial Emblem Print," the BEP describes. "This vibrant print features embossed gold foil to capture the artistry of the emblem."
The sets cost $8.95 more than the individually sold coins, as highlighted in the table below.
| | | |
| --- | --- | --- |
| American Legion Commemorative Coin Product | Individual Coin | Coin and Print Set |
| Proof Clad Half Dollar | $32.95 | $41.90 |
| Proof Silver Dollar | $59.95 | $68.90 |
| Proof $5 Gold Coin* | $485.00 | $493.95 |
*U.S. Mint gold coin prices are subject to change weekly based on the Mint's precious metal coin pricing matrix.
Specifications for the proof American Legion coins are shown here:
$5 Gold
Silver Dollar
50c
Finish
Proof
Proof
Proof
Mintage Maximums
50,000
400,000
750,000
Composition
90% Gold,
6% Silver,
Balance Copper
99.9% Silver
8.33% Nickel, Balance Copper
Weight
8.359 Grams
26.73 Grams
11.34 Grams
Diameter
0.850 Inches
1.500 Inches
1.205 Inches
Edge
Reeded
Reeded
Reeded
Mint and Mint Mark
West Point – W
Philadelphia – P
San Francisco – S
A surcharge of $5 per half dollar, $10 per silver dollar and $35 per gold coin has been added to the price of each associated product. The authorizing legislation for the coins dictates that proceeds from the surcharge be forwarded to the American Legion to support its programs for veterans, members of the Armed Forces, and other purposes.
Ordering
Those looking to buy American Legion Centennial Coin and Emblem Print Sets may do so directly from the U.S. Mint's online catalog for commemorative products or by calling 1-800-USA-MINT (872-6468).