A coin bearing last year's date is the United States Mint's newest product for collectors. The U.S. Mint's reverse proof 2018-S American Innovation dollar goes on sale today at noon EDT for $9.95.
Opposite of a standard proof, coins featuring a reverse proof finish have polished, mirror-like design elements that contrast against frosted backgrounds.
This dollar carries the first design from a multi-year coin series that honors innovation and innovators from each state, the District of Columbia and the five U.S. territories.
Poised For Sellout?
The reverse proof is limited to 75,000 pieces and initial ordering is further restricted to 5 coins per household.
Based on sales performances of earlier released proof and uncirculated editions, the new dollar seems poised for an eventual sellout. Since their Dec. 14 release, the standard proof 2018-S Innovation dollar has sales of more than 184,000 and uncirculated 2018 P&D Innovation dollars have combined for sales of over 1.4 million.
Designs on 2018 American Innovation Dollars
American Innovation $1 Coin reverses (tails side) will be unique to an innovation or innovators honored from each location.
The 2018-dated design introduces the series with a reverse paying homage to President George Washington who issued the first U.S. patent to Samuel Hopkins on July 31, 1790, for developing a process for making potash.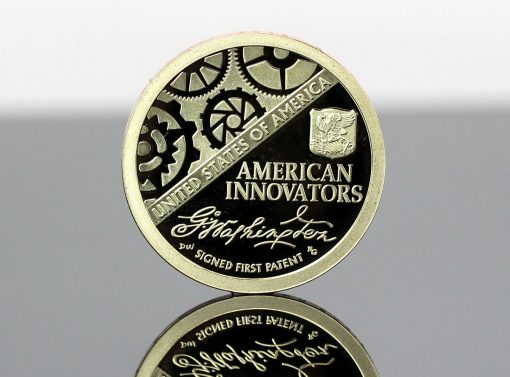 Designed by Donna Weaver and sculpted by Renata Gordon, it features Washington's signature, stylized gears to represent industry and innovation, and a privy mark-like collage showing an eagle atop tools within a shield. Inscriptions include "UNITED STATES OF AMERICA," "AMERICAN INNOVATORS," and "SIGNED FIRST PATENT."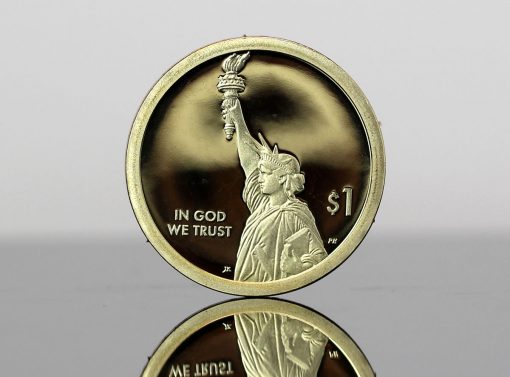 Designed by Justin Kunz and sculpted by Phebe Hemphill, the dollar's obverse (heads side) depicts the Statue of Liberty in profile with inscriptions "IN GOD WE TRUST" and "$1." This image will be shared across all 57 coins in the program.

Edges of $1 coins are incused with their year of minting, a mint mark and "E PLURIBUS UNUM."
Ordering
When released at noon, the 2018-S Reverse Proof American Innovation is available from the U.S. Mint's online section of American Innovation products, found here. Orders may also be placed by calling 1-800-USA-MINT (872-6468).