Artists from around the nation are being sought by the United States Mint to create a design for dome-shaped coins celebrating the sport of basketball. The winning artist will receive $5,000 and their initials will appear on each coin.
Authorized under Public Law 115-343, the 2020 Naismith Memorial Basketball Hall of Fame Commemorative Coins will minted in denominations of $5, $1, and 50c with corresponding compositions of gold, silver and regular clad like those in circulation.
On Dec. 21, 1891, James Naismith introduced the game of "basket ball" to his physical education class. In 1959, the Naismith Memorial Basketball Hall of Fame was dedicated to Naismith and founded in Springfield, Massachusetts, "The Birthplace of Basketball."
Basketball Coin Designs
The Basketball coins will share the same obverse (heads side) and reverse (tails side) designs. Their curved shape will be similar to the baseball coins issued in 2014 and the Apollo 11 coins released earlier this year.
Each coin's reverse will depict a basketball, as mandated by Congress. This reverse design will be developed by the U.S. Mint and is not part of the competition.
As for the common imagery to appear on coin obverses, artists who enter the public competition must submit designs that are emblematic of the game of basketball.
Two Competition Phases
The competition has two phases. The first phase opened Tuesday, March 19, and lasts through April 15.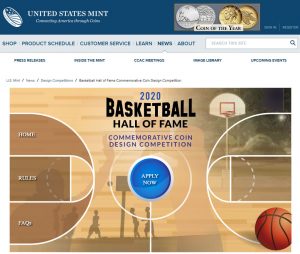 During this time, artists age 18 and older are asked to submit digital portfolios of their prior work. Three to five examples are required.
Following a review of qualified applications by an expert panel, up to 25 entries will be selected to participate in the competition's second phase.
In this phase, artists will be paid a stipend of $1,000 to submit a two-dimensional digital design for review and possible selection.
The Citizens Coinage Advisory Committee (CCAC) and the U.S. Commission of Fine Arts (CFA) will review the submitted designs. After consulting with the Naismith Memorial Basketball Hall of Fame and receiving recommendations from the CCAC and the CFA, the Secretary of the Treasury will select the final design.
Key dates for the design competition include:
Applications Open: March 19, 2019
Application Deadline: April 15, 2019
Artists Notified if Selected to Submit a Design: May 2019
Submissions Must Be Received By: June 2019
Winner Announced: By the end of 2019
For more information, official rules and FAQ's, the United States Mint has a webpage devoted to the design competition.
Basketball Commemorative Coins and Surcharges
2020 Naismith Memorial Basketball Hall of Fame Commemorative Coins will be issued in collector finishes of proof and uncirculated. Maximum mintages are established at:
50,000 $5 gold coins,
400,000 silver dollars, and
750,000 clad half-dollars.
Surcharges for the 2020 commemorative coins are authorized to be paid to the Naismith Memorial Basketball Hall of Fame (www.hoophall.com) to fund an endowment that will enable increased operations and educational programming.